Instacart is a retail company that operates a grocery delivery and pick-up service in the United States. The service allows for customers to order groceries from participating retailers that have been approved by the United States Department of Agriculture to accept Food Stamps (SNAP benefits) online. In this post, we will provide step-by-step instructions on how to use SNAP EBT online at Instacart to shop for groceries for pickup and delivery.
Table of Contents:
Instacart Now Accepts SNAP EBT Online
States where you can use EBT Online at Instacart
Retailers partnered with Instacart to provide SNAP EBT Online
How to Use SNAP EBT Online at Instacart
SNAP EBT Card FAQs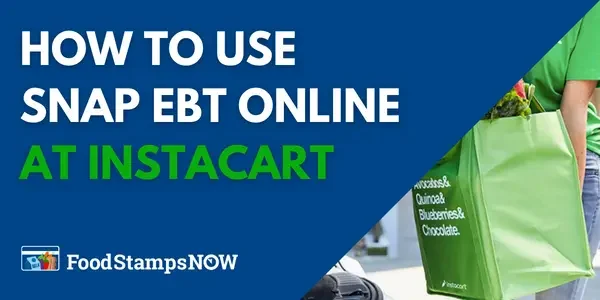 Instacart Now Accepts SNAP EBT Online
Since March 2020, the United States Department of Agriculture (USDA) has added more grocery stores to the EBT online pilot program.
As part of the pilot, Instacart is the first and only platform to have pioneered the retailer on-boarding process with the United States Department of Agriculture's Food & Nutrition Service (USDA FNS), accelerating retailers' abilities to certify for SNAP EBT online acceptance.
The company launched SNAP EBT payments in November 2020 and continues to expand the program with new retailers.
As a result, more than half of all federally-approved retailers have received their SNAP EBT online certification for their stores on the Instacart platform.
Additionally, Instacart now powers SNAP EBT online payments to reach more than 25 million people experiencing food insecurity across the U.S.
As of 2023, Instacart now accepts EBT online in 49 states, Alaska excluded, for delivery and pickup, as listed below.
States where you can use EBT Online at Instacart
There are currently more than 100 participating retailers in various states where Instacart allows SNAP EBT Cards to be used online for delivery and pick-up.
Below is the list of the 49 States and the District of Columbia that you will find Instacart partners in:
Alabama
Arizona
Arkansas
California
Colorado
Connecticut
Delaware
Florida
Georgia
Hawaii
Idaho
Illinois
Indiana
Iowa
Kansas
Kentucky
Louisiana
Maine
Maryland
Massachusetts
Michigan
Minnesota
Mississippi
Missouri
Montana
Nebraska
Nevada
New Hampshire
New Jersey
New Mexico
New York
North Carolina
North Dakota
Ohio
Oklahoma
Oregon
Pennsylvania
Rhode Island
South Carolina
South Dakota
Tennessee
Texas
Utah
Vermont
Virginia
Washington
Washington, D.C.
West Virginia
Wisconsin
Wyoming
If you currently receive SNAP benefits, you can now purchase groceries online with your EBT card from Instacart – for delivery or pick up.
You can only use your EBT card to buy eligible grocery items. You will have to add a credit or debit card to pay for non-EBT-eligible items.
Retailers partnered with Instacart to provide SNAP EBT Online
3 Guys From Brooklyn
ACME Markets
Ahold Delhaize USA (Food Lion, Hannaford, Giant, GIANT Food Stores, Giant Heirloom Market, Martin's, Stop & Shop)
Albertsons (Albertsons, Jewel-Osco, O Organics, Pavilions, Randalls, Shaw's, Star Market, Vons)
Bashas', My Food City, AJ's Fine Foods, Eddie's Country Store
Big Y (Big Y NOW)
Brookshire's Food & Pharmacy, Spring Market, Super 1 Foods, Fresh by Brookshire's
Cardenas Markets
Coborn's (Hornbacher's)
Co-opportunity Market
Dave's Markets (Dave's Market, Dave's Mercado, Lucky's Market)
Deep Roots Market
Earth Fare
Fairplay Foods
Food Bazaar
Green Star Foods
Harps Food Store
Homeland, United Supermarkets, CashSaver, Food-World
Jacksons Food Stores
Jimbo's Naturally
K-VA-T Food Stores, Inc. (Food City)
Little Giant Farmers Market
Meijer
McKinnon's Supermarkets
Niemann Foods (County Market)
PAQ, Inc. (Food 4 Less, Rancho San Miguel Markets)
Piggly Wiggly
Price Chopper Supermarkets (Price Chopper, Market 32, Market Bistro)
Roche Bros.
Save Mart, FoodMaxx, and Lucky Supermarkets
Schnucks (Schnucks, EatWell, Schnucks Now)
Shoppers Value Foods
Stater Bros. Markets
Strack & Van Til, Van Til's Supermarket, Town and Country
Superior Grocers
Super King
SuperLo Foods
Tony's Fresh Market
Tops Friendly Markets
Wakefern Food Corporation (The Fresh Grocer)
Warehouse Market
Woodman's Market
For a concise list of stores specific to your zip code visit www.instacart.com/store to see what delivery and pick-up partners are in your local.
How to Use SNAP EBT Online at Instacart
Follow the steps below to use your SNAP EBT card on Instacart for delivery or curbside pickup.
Step 1 – Create an Account or Sign In
To start off using your EBT benefits online at Instacart, you will need  to visit their website at www.instacart.com. Once on the website, start the new account creation process by clicking the Sign up button.
If you already have an account, you can Log in with your existing Instacart account.

For new account Sign up you have the option of linking a Google account, Facebook account or a Phone number to Instacart. You can also enter an email address to get started.

You can also log in with an existing Instacart account, as shown below.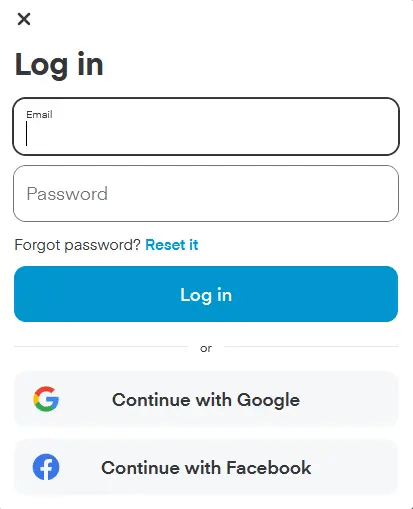 Step 2 – Go to Account Settings to add SNAP EBT card
Next, click on the hamburger menu icon.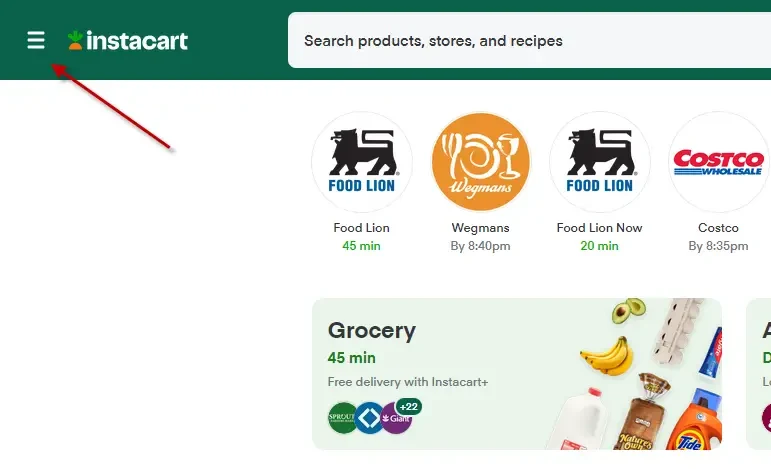 Once the menu appears, scroll down and select the Your account settings option.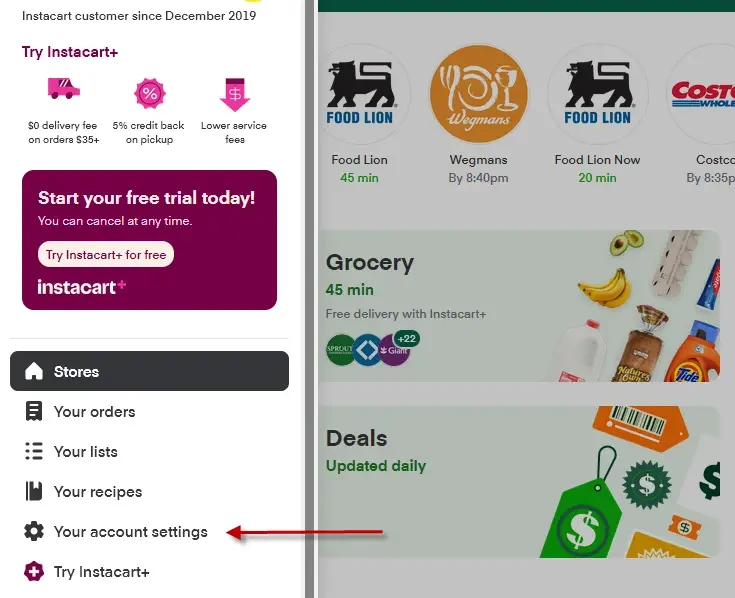 You will then see the Payment methods button (arrow "1" in screenshot below). Click on the button and Add your SNAP EBT card information (arrow "2").

Now is a good time to add an alternate form of payment (credit card, debit card or PayPal).
A separate form of payment must also be linked to your Instacart account to cover fees, bottle deposits, taxes, delivery tips, and any other non-SNAP EBT-eligible items, per government regulation.
Step 3 – Shop for SNAP EBT eligible items
Once your payment methods are set, click on the hamburger menu icon once again.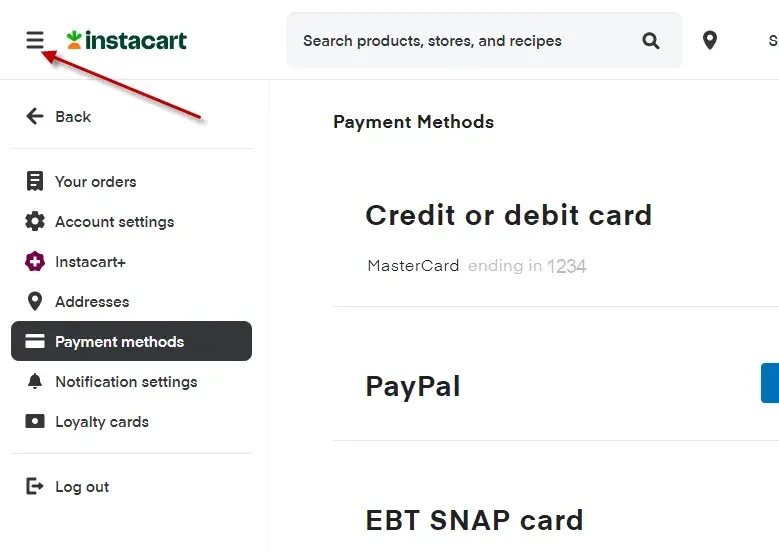 Click on the Stores button in the pop up navigation menu to proceed to the shopping section of the Instacart website.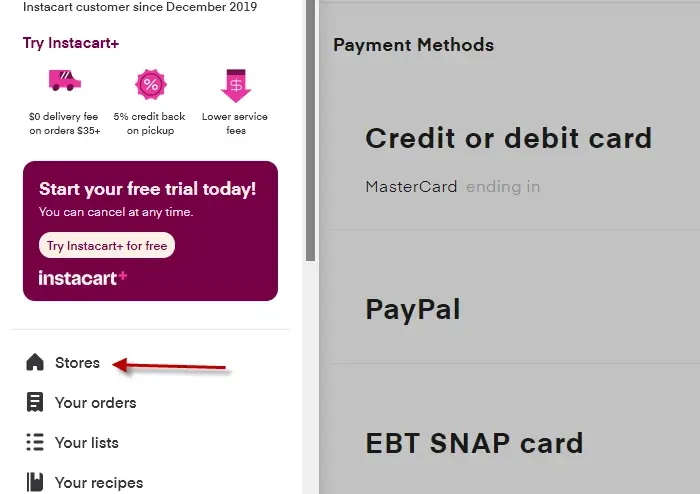 Instacart will show you retailers that are either the closest you for pickup or have the quickest delivery times. This is based on the address information you typed in during account set up.

Click on the View all stores button to see more retailers in your locality.

You will notice some store choices have the Accepts EBT tag (see screenshot below). These are retailers in your area that accept SNAP EBT online.

Pick a store and start building your shopping cart by adding items. Simply click on the Add button next to each item, and use the + toggle to increase the count of each item.
Note that at anytime during your shopping, you can toggle between Delivery or Pickup options right until Checkout.

Step 4 – Proceed to Checkout with SNAP EBT
Once you are done selecting items, click the shopping basket to review your cart items.

You have the opportunity review a list of your selected items and make modifications before completing the checkout process.
Click Go to Checkout after you have confirmed your selections.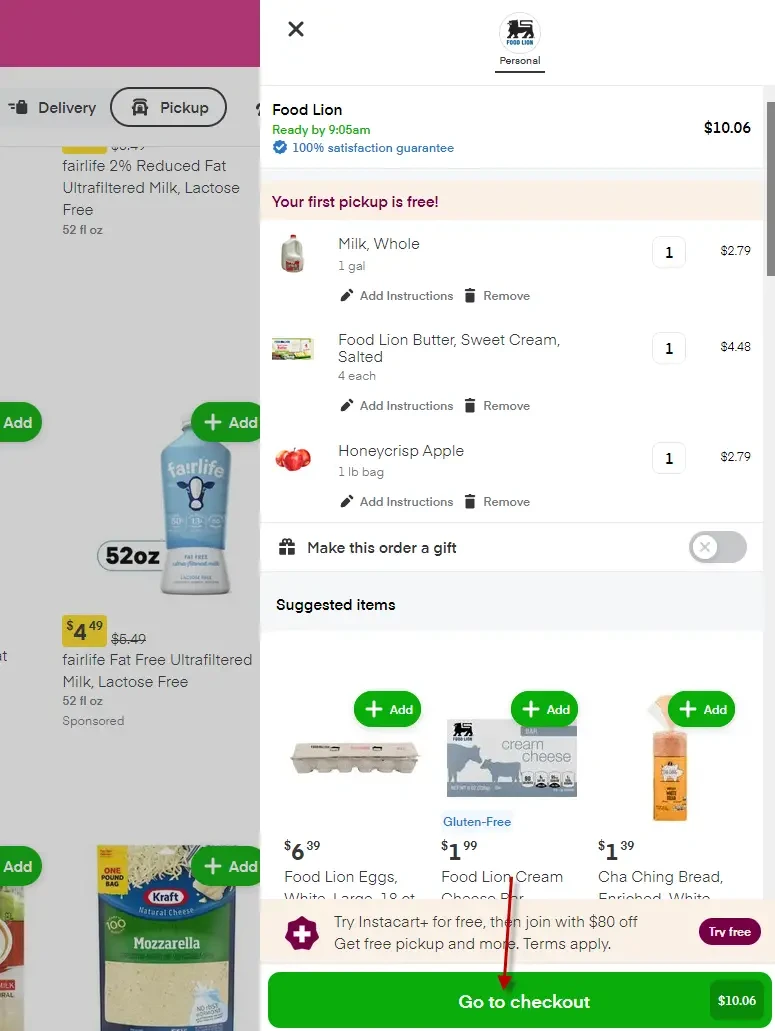 Next, you will be asked to confirm your payment method to place your order.
Step 5 – Review Payment Information & EBT Card
Enter a credit card or debit card payment method if not already done in Step 2 above. This will be used for non-eligible SNAP items, taxes, delivery tips and fees.
Select SNAP EBT Card as the primary payment method and click Confirm payment method.
Step 6 – Place Order & Receive your Groceries
Once completed with payment selection, click the Place order button to complete shopping.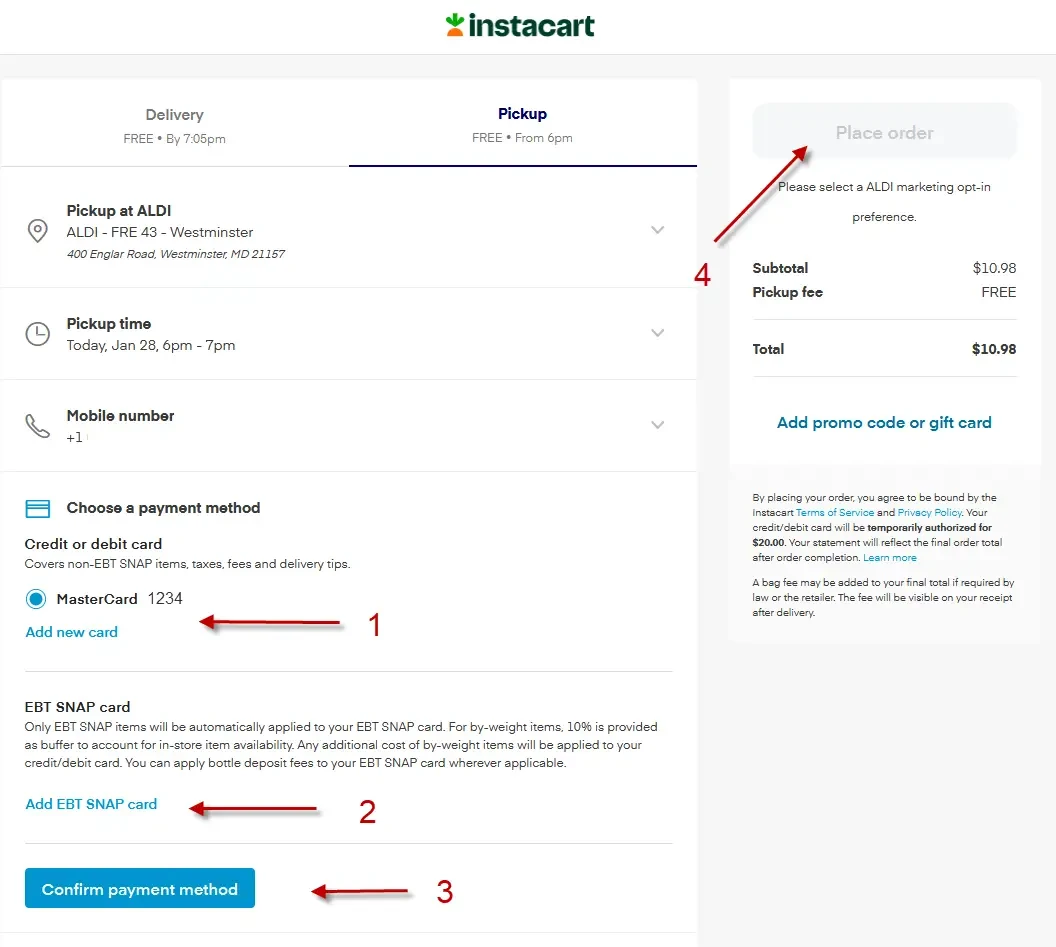 If you opted for Pickup, pull up to the designated store location and spot at the date and time selected. Look for a curbside space and follow instructions on signage. An employee will bring groceries to your car.
If you opted for Delivery, an Instacart Personal Shopper will deliver your groceries direct to your door.
SNAP EBT Card FAQs
Here is a list of our most frequently asked about the SNAP EBT, including grocery shopping online at Instacart and other grocery stores.
What is an EBT card?
Electronic Benefits Transfer (EBT) is an electronic system that allows a Supplemental Nutrition Assistance Program (SNAP) participant to pay for food using SNAP benefits
An EBT card works similar to a debit card, but funds come from these government-provided nutrition benefits—rather than your bank account.
Does Instacart accept SNAP benefits?
SNAP (Supplemental Nutrition Assistance Program) refers to a federal program that provides nutrition benefits to low-income individuals and families.
Instacart accepts SNAP benefits via EBT cards at select stores in many states.
Can I use SNAP EBT for grocery delivery or pickup orders on Instacart?
Yes, SNAP EBT-eligible Instacart customers in the U.S. can pay for online grocery orders containing eligible items with a valid EBT card, in full or in part, from participating stores in select states.
You can shop at any participating stores as long as the state that issued your EBT card is participating in the SNAP Online Purchasing Pilot.
Who is eligible to use SNAP EBT on Instacart?
Instacart is part of a pilot run by the United States Department of Agriculture (USDA) to accept EBT benefits online.
Currently, customers with a valid SNAP EBT card in all states except Alaska can use their SNAP funds on Instacart at participating retailers. EBT funds must be used in the state in which they were provided. Learn more about SNAP eligibility on the USDA SNAP recipient website.
If you don't see SNAP EBT as an option at your local store, make sure you have the latest version of the Instacart app. If you still don't see SNAP EBT, check back later as we work to expand participation to more stores.
What items are eligible for purchase with SNAP EBT funds on Instacart?
SNAP EBT funds can only be used for eligible staple food items on Instacart.
SNAP item eligibility is set by the government and follows the same guidelines as purchases made with SNAP EBT cards in-store.
View the current list of USDA SNAP EBT-eligible food items on the USDA website.
Can I check out using multiple forms of payment on
Instacart?
Yes, you can use multiple forms of payment, such as a SNAP EBT card and a personal credit card, when you check out.
Please note that only one SNAP EBT card can be used per order.
All delivery and service fees, bottle deposit fees, taxes, tips, and any items that are not SNAP EBT-eligible will be charged to the credit or debit card linked with your account.
What can you buy at Instacart with EBT?
What you can purchase online at Instacart with SNAP EBT depends on the retailer you opt to shop from. Each store has a wide range of generic and signature items that they offer.
Here's the list of the most popular food items at Instacart you can purchase with SNAP EBT:
Fruits and vegetables
Meat, poultry, and fish
Dairy products including eggs, cheese, and milk
Breads and cereals
Snacks and non-alcoholic beverages
Seeds and plants, which produce food for the household to eat
How to Use SNAP EBT Online at Instacart -Summary
We hope this post about how to use SNAP EBT online at Instacart was helpful to you.
Questions?
If you have any questions about Food Stamps, EBT cards, or shopping online at Instacart, please let us know in the comments section below. We are here to help you!
Also, be sure to check out our other articles about SNAP and EBT, including:

Comments
comments