ALDI is one of the retailers approved by the United States of Agriculture to accept Food Stamps (SNAP benefits) online. In this post, we will provide step-by-step instructions on how to use SNAP EBT online at ALDI to shop for groceries for pickup and delivery.
Table of Contents:
ALDI Now Accepts SNAP EBT Online
States where you can use EBT Online at ALDI
How to Use SNAP EBT Online at ALDI
SNAP EBT Card FAQs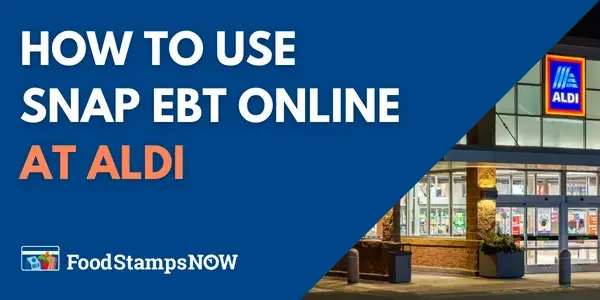 ALDI Now Accepts SNAP EBT Online
Since March 2020, the United States Department of Agriculture (USDA) has added more grocery stores to the EBT online pilot program.
ALDI was approved in November 2020 by the USDA to start accepting SNAP EBT online.
As of 2023, ALDI now accepts EBT online in 37 states for delivery and pickup, as listed below.
States where you can use EBT Online at ALDI
There are currently 37 states and the District of Columbia where ALDI allows SNAP EBT Cards to be used online for delivery and pick-up.
Below is the list of States:
Alabama
Arizona
Arkansas
California
Connecticut
Delaware
District of Columbia
Florida
Georgia
Illinois
Indiana
Iowa
Kansas
Kentucky
Maryland
Massachusetts
Michigan
Minnesota
Mississippi
Missouri
Nebraska
New Hampshire
New Jersey
New York
North Carolina
North Dakota
Ohio
Oklahoma
Pennsylvania
Rhode Island
South Carolina
South Dakota
Tennessee
Texas
Vermont
Virginia
West Virginia
Wisconsin
If you currently receive SNAP benefits, you can now purchase groceries online with your EBT card from ALDI – for delivery or pick up.
The delivery service is offered in partnership with Instacart.
You can only use your EBT card to buy eligible grocery items. You will have to add a credit or debit card to pay for non-EBT-eligible items.
How to Use SNAP EBT Online at ALDI
Follow the steps below to use your California EBT card on Instacart for delivery or curbside pickup.
Step 1 – Create an Account or Sign In
The first thing you want to do when using your EBT benefits online at ALDI is to visit their website at shop.aldi.us. Once on their website, enter your zip code to start the new account creation process. (See screenshot with arrow "A")
If you already have an account, you can log in with an existing Instacart account. (See screenshot with arrow "B")

Next, enter your email to get started with a new account, or use your existing Google or Facebook account.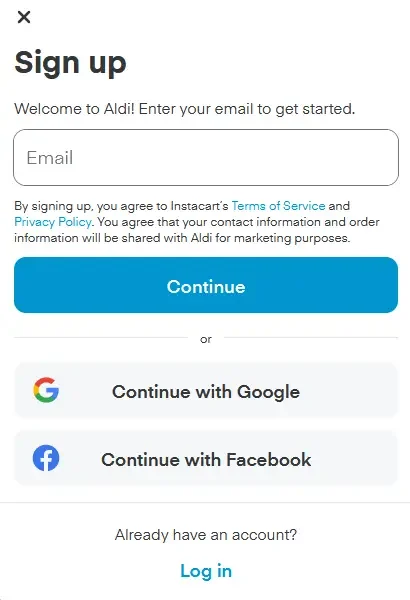 You can also log in with your existing Instacart account, as shown below.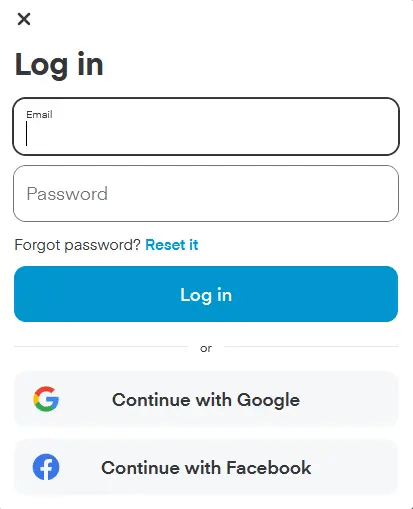 Step 2 – Select Delivery or Pickup
Next, select either Delivery or Pickup for your online shopping option.


Once selected, you can begin shopping for your favorite items and adding them to your cart.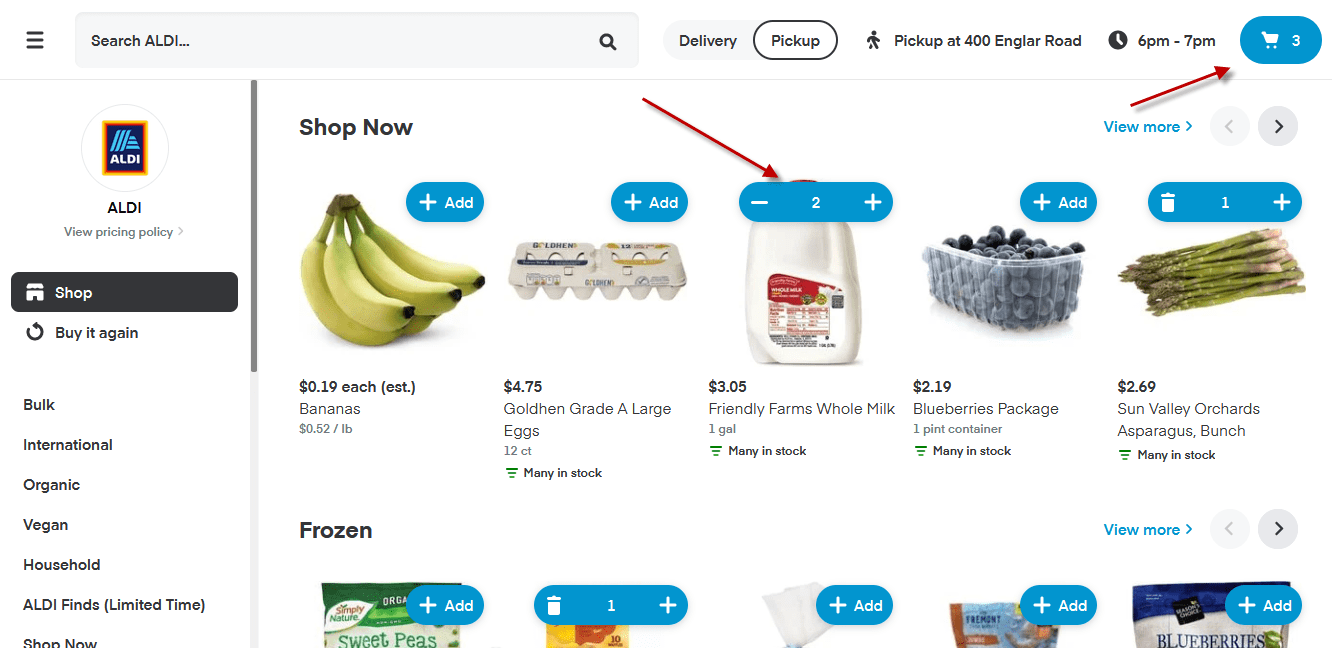 Step 3 – Shop for Grocery Items
When done selecting your items go to checkout by clicking the shopping cart button.
If you chose pickup, before checking out, select your pickup location and desired time frame.
If you chose delivery, select a delivery time up to seven (7) days out.

Step 4 – Proceed to Checkout
After that, you can click the blue "Go to checkout" button, as shown below.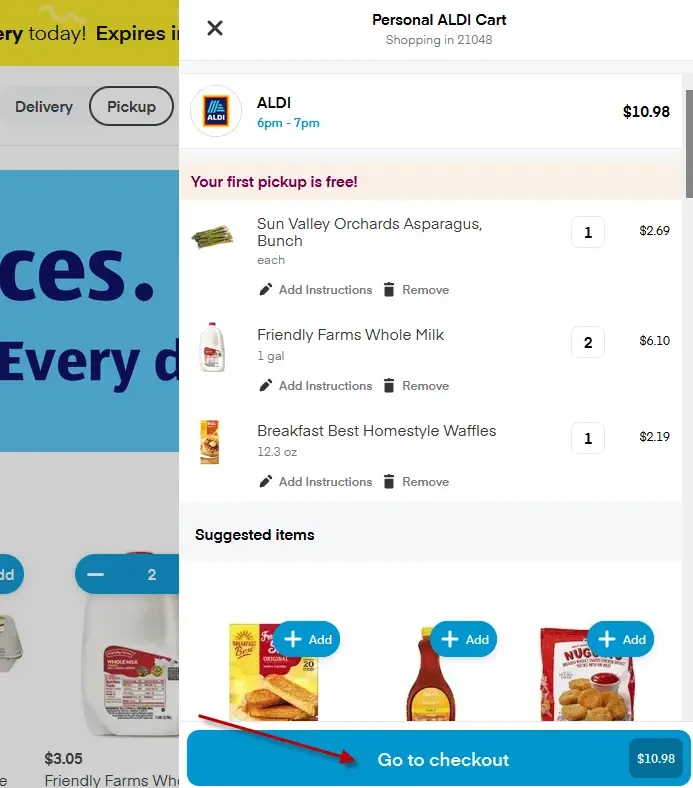 Next, you will be asked to confirm your payment method to place your order.
Step 5 – Add your Payment Information & EBT Card
Enter a credit card or debit card payment method. This will be used for non-eligible SNAP items, taxes, tips and fees.
After that, add your EBT SNAP card if you didn't already during account creation.
Select EBT SNAP Card as the primary payment method then click "Confirm payment method".
Step 6 – Place Order & Receive your Groceries
Once complete, click the "Place order" button to complete shopping.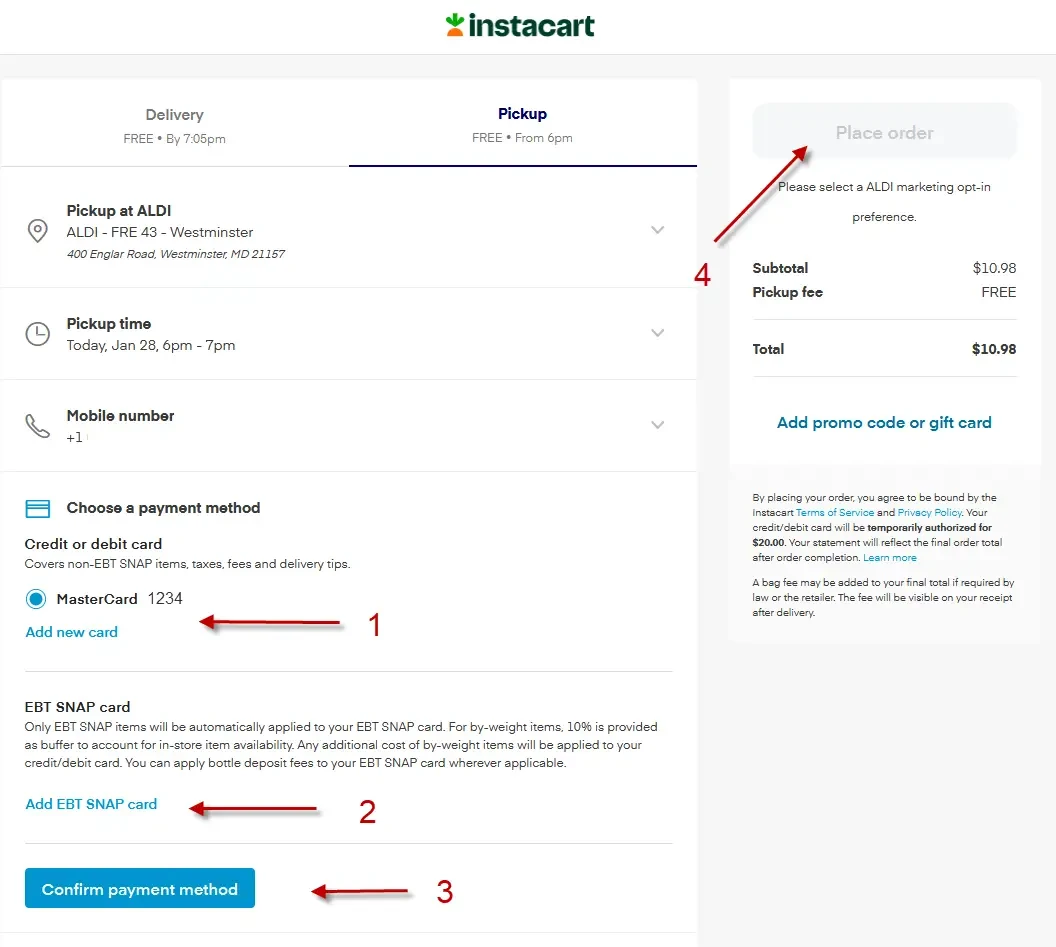 If you opted for Pickup, pull up to the designated ALDI location and spot. Look for blue curbside space and follow instructions on signage. An employee will bring groceries to your car.
If you opted for Delivery, an Instacart Personal Shopper will deliver your groceries direct to your door.
SNAP EBT Card FAQs
Here is a list of our most frequently asked about the SNAP EBT, including grocery shopping online at ALDI and other grocery stores.
What is SNAP and EBT?
SNAP (Supplemental Nutrition Assistance Program) is the largest federal nutrition assistance program in the country.
Aiding low-income individuals and families, SNAP works with an EBT (Electronic Benefits Transfer) card, which is like a debit card that purchases SNAP eligible food and drinks.
Can I use SNAP/EBT with curbside and delivery at ALDI?
Yes, SNAP/EBT is available in store or online with options for delivery or curbside pickup.
To use the SNAP EBT benefits enter your EBT card information on the Instacart app or shop.aldi.us.
Enter another form of payment to cover non-eligible SNAP items like taxis, tips and fees.
You can then enter your zip code to determine if you are near a participating ALDI store and begin shopping.
Once EBT SNAP-eligible items are added to your cart, you can select how much of your benefits you would like to allocate to the order.
Can I buy non-SNAP eligible items alongside SNAP eligible products in a single order?
Yes, ALDI offers multiple payments on a single order so you can also buy non-SNAP products with a credit or a debit card online.
What are SNAP EBT eligible items?
Any food for the household, such as:
Fruits and vegetables
Meat, poultry, and fish
Dairy products
Breads  and cereals
Other food such as snack foods and non-alcoholic beverages
Seeds and plants which produce food for the household to eat
For more information, please visit the USDA's website.
What items are NOT eligible with SNAP EBT?
Households cannot use SNAP benefits to buy:
Beer, wine, liquor, cigarettes, or tobacco
Vitamins, medicines, and supplements and/or any item that has a Supplement Facts label
Live animals (except shellfish, fish removed from water, and animals slaughtered prior to pick-up from the store
Foods that are hot at the point of sale
Any nonfood items:

Pet foods
Cleaning supplies, paper products and other household supplies
Hygiene items, cosmetics
For more information, please visit the USDA's website.
Do all ALDI locations accept SNAP/EBT?
Yes, all ALDI locations provide the option to pay with SNAP/EBT.
www.aldi.us provides delivery or curbside pickup options for online purchases.
Note that delivery may not be available if your address is more than 20 mins away from a location.
How are customer service issues for SNAP EBT benefits resolved for online ALDI Instacart purchases?
Please contact Instacart: shop.aldi.us/help
Who will shop for and delivery the ALDI Instacart order?
Instacart Personal Shoppers conduct the shopping trip and deliver all orders directly to customers' homes or businesses.
How fast does Instacart deliver for ALDI?
At checkout, you can select a delivery time. Instacart can deliver in as little as one hour.
Alternatively, you can also schedule delivery for a later date, up to seven days out.
What are the Instacart delivery hours?
Deliveries can occur within the horus of when ALDI stores are open.
This also applies to holidays when ALDI stores may be closed or operating condensed hours.
What happens if an item ordered for delivery via Instacart is out of stock?
If an item is out of stock, the Instacart Personal Shopper fulfilling the order will contact the customer suggesting a replacement  product based on similar items available in-store.
You have the option to cancel the item, removing it from the order, if you are not satisfied with the replacement.
Is it possible to make changes after placing an ALDI Instacart order?
If Instacart has not started fulfilling an order, you can add to or modify orders.
You can also make changes while the shopper is shopping the order.
Is there a way to cancel ALDI Instacart orders?
You can cancel Instacart orders for a full refund prior to an Instacart Personal Shopper beginning shopping to fulfill the order.
What can you buy at ALDI with EBT?
Here's the list of the most popular food items at ALDI you can purchase with SNAP EBT:
Appleton Farms premium-sliced bacon
Specialty Selected bagels
Clancy's kettle chips
Friendly Farms' dairy free milks
Fresh Family Pack chicken breasts
Mama Cozzi's deli pizza
PurAqua Belle Vie sparkling flavored water
Happy Farms string cheese
Fruits, with strawberries being one of the most beloved produce items
How to Use SNAP EBT Online at ALDI -Summary
We hope this post about how to use SNAP EBT online at ALDI was helpful to you.
Questions?
If you have any questions about Food Stamps, EBT cards, or shopping online at ALDI, please let us know in the comments section below. We are here to help you!
Also, be sure to check out our other articles about SNAP and EBT, including:

Comments
comments