The United States Department of Agriculture has approved Shaw's as one of the retailers to accept Food Stamps (SNAP benefits) online. In this post, we will provide step-by-step instructions on how to use SNAP EBT online at Shaw's to shop for groceries for pickup and delivery.  
  Table of Contents:
Shaw's Now Accepts SNAP EBT Online
States where you can use EBT Online at Shaw's
How to Use SNAP EBT Online at Shaw's
SNAP EBT Card FAQs
Shaw's Now Accepts SNAP EBT Online
Since March 2020, the United States Department of Agriculture (USDA) has added more grocery stores to the EBT online pilot program after a successful launch in April 2019 with eight retailers.
In July of 2022, after receiving USDA approval, Albertsons with its subsidiaries started providing online grocery purchasing to SNAP EBT participants, including Shaw's. By integrating SNAP EBT benefits into same-day grocery delivery and curbside pickup, access to nutritious food has been improved for customers.
The delivery service is provided in partnership with Instacart.
As of 2023, Shaw's now accepts EBT online in 5 states for delivery and pickup, as listed below.
States where you can use EBT Online at Shaw's
Shaw's currently allows SNAP EBT Cards to be used online for delivery and pick-up in 5 states. Below is the list of States:
Maine
Massachusetts
New Hampshire
Rhode Island
Vermont
If you currently receive SNAP benefits, you can now purchase groceries online with your EBT card from Shaw's – for delivery or pick up. You can only use your EBT card to buy eligible grocery items. You will have to add a credit or debit card to pay for non-EBT-eligible items.
How to Use SNAP EBT Online at Shaw's
Follow the steps below to use your EBT card on Shaw's for delivery or curbside pickup.
Step 1 – Select Delivery or Pickup
To get started shopping online at Shaw's, visit the website and choose between Delivery or Pickup.

If you opt for Delivery and service is not available in your area, the Shaw's website will present a link button to their Instacart powered store front for you to continue your online experience with Instacart.

Follow the instructions here for using Instacart's store front for Grocery stores.
If delivery is available in your location, the website will present you with a confirmation message and a Shaw's Shop button. Click the button and continue with Step 2.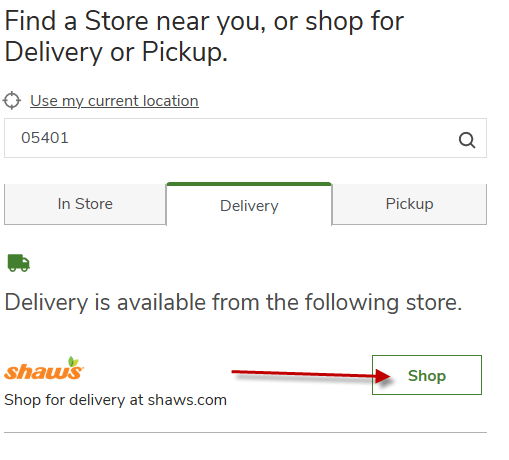 If you opt for Pickup instead, a list of stores in close proximity to your zip code is presented. Select a store that is the most convenient.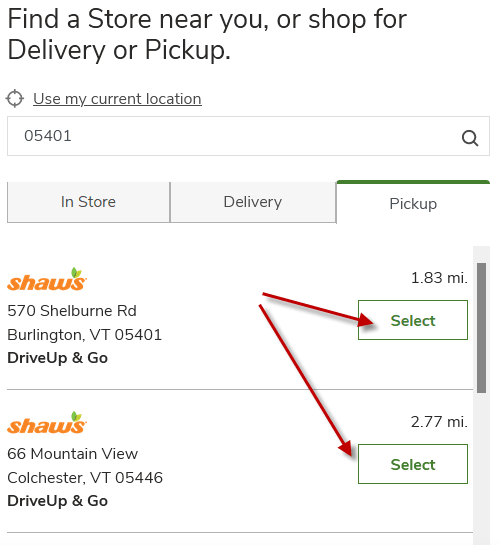 You can toggle between either option at any time during your online visit to Shaws.com. Simply click on the Change link next to your displayed choice to change your selection. See arrow in image below.

Of opting for Pickup, be sure to reserve a pickup time.
Note that for Delivery and Pickup with www.Shaws.com, the account you use for sign-in is different from that of the Instacart powered store front.
Step 2 – Create an Account or Sign In
The next thing you want to do is sign in to your account, or create a new one at www.shaws.com.
Simply click the Sign In/Up button in the upper right corner.


Sign in to an existing account with your email address. You may use a password or have the website send you a One-time verification code (see screenshot below with arrow "A").
The Create Account button (arrow "B") is also available to start the new account creation process.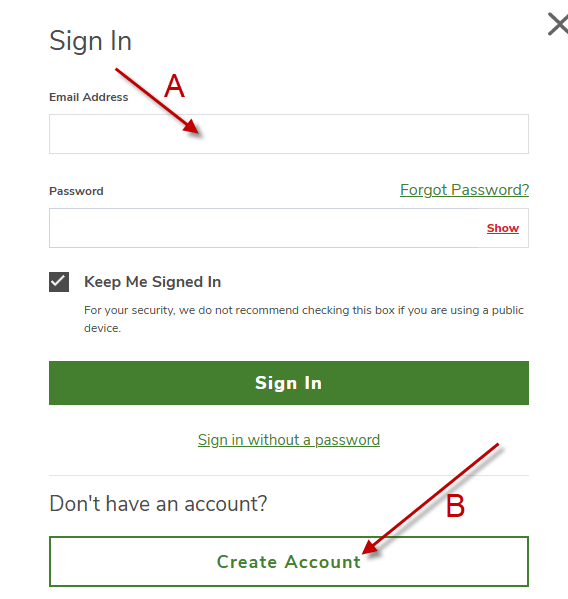 Step 3 – Shop for Grocery Items
Shaw's has a menu on the left that categorizes items on the website to make shopping easier. Additionally, it provides a featured items section. To toggle it, simply click on the Shop link in the main menu bar at any time during your online visit.

Fill your cart by clicking on the green Add buttons by each grocery item. Use the "+" sign to increment the number of each selected item. The "-" button reduces the count of the item selected.

Step 4 – Proceed to Checkout
After building your cart with all the selected items desired, click on the cart button in the upper right corner of the webpage to review all selected items. This starts the checkout process.

After finalizing your cart items (the View order button expands the list), click the blue Checkout button as shown below with the "A" arrow. Make sure to review any items that are flagged as unavailable and/or set substitutions for items (red box with "B" arrow).

After clicking the Checkout button, you will be prompted to provide payment confirmation and will be able to place your order. You are almost finished!
Step 5 – Add your Payment Information & EBT Card
On the order summary page, ensure that your contact information is correctly filled out. This information is auto-populated from your sign-up details. Click Continue to proceed to Payment options.

After confirming your contact details you can now add your EBT Card information. If you already added it during account creation, simply confirm the details at this time.
You also want to enter a credit or debit card payment option here as a secondary form of payment. Shaw's will use this information for non-eligible SNAP items, taxes, tips, and fees.

Ensure that you select the EBT card as the primary payment method and choose which EBT eligible items your card will apply to.
Step 6 – Place Order & Receive your Groceries
Once you've completed setting your payment options, click the Place Order button to complete shopping (arrow "B" in image above).
The website will prompt you to enter your EBT card pin to verify your identity for the purchase.
If this order is for Pickup, drive to the opted Shaw's location and pull up to the pickup spot. Look for the curbside space and follow instructions on signage. An employee will bring groceries to your car.
If this was a Delivery order, then an Instacart or Shaw's Personal Shopper will deliver your groceries direct to your door.
SNAP EBT Card FAQs
Here is a list of the most frequently asked questions about SNAP EBT, including grocery shopping online at Shaw's and other grocery stores:
What is SNAP EBT?
SNAP, or Supplemental Nutrition Assistance Program , provides nutrition benefits to supplement the food budget of needy families so they can purchase healthy food and move towards self-sufficiency.
EBT, or Electronic Benefits Transfer, is a system that allows government programs like SNAP to local funds onto payment cards for their recipients.
Which locations offer EBT grocery delivery and pickup?
Shaw's and the Albertsons Companies are working diligently to offer EBT grocery delivery and pickup to all their stores. Please visit the Shaw's Store Locator page to find out if a store in your area is accepting EBT for online payments.

Search with Zip Code or City and State and click on "View More" for each result to see if SNAP EBT Online is listed.
What items are eligible for SNAP EBT?
Visit the official What Can SNAP Buy? | USDA-FNS website for information on items that can be purchased using SNAP EBT.
How do I check my SNAP EBT/EBT Cash balance?
You can check your balance during checkout by selecting "EBT Balance Check" in the EBT Payment Entry section.
What is EBT Weight Debit and why does it appear as a charge on my grocery order?
A 10% weight debit surcharge is added to items that are priced by weight (fruits, vegetables, etc.) when you pay with SNAP and/or EBT Cash.
The final price is determined once the item is picked and weighed. If the final price is less than what you paid at checkout, the difference will be refunded to your EBT card, and/or reduce the amount charged on your credit card.
How do you manage refunds when there are multiple payment types used to pay for my order?
You may request a refund if you are not satisfied with any item purchased at Shaws.com. When using SNAP EBT as a payment method, Shaw's will adhere to the USDA guidelines for processing SNAP-eligible refunds.
If your item is eligible for SNAP refund and you paid using SNAP, Shaw's will reimburse the amount to your SNAP card.
Once all the SNAP funds have been refunded, Shaw's will issue refunds for any remaining payment types used in the order.
For non-SNAP eligible refunds, they will process refunds according to the EBT Cash and/or other payment card amounts you used to pay for your order.
Can I make an edit after placing my order with SNAP EBT/EBT Cash?
You have a limited time frame after placing your order to make any edits.
Sign in and click "Orders" in the drop-down next to your name at the top of the page to edit or cancel your order.
You can only edit your cart items and the delivery or pickup date on the same day your order is placed.
What is Shaw's for U®?
Shaw's for U® is a loyalty program that offers you personalized deals, digital coupons, rewards, meal plans (where available), and so many more perks. It's easy (and free) to become a member of Shaw's for U®!
What are the benefits of enrolling into Shaw's for U®? How do I sign up?
Becoming a Shaw's for U® member is free, easy, and offers you all-new, all-awesome deals, rewards and perks!
As a Shaw's for U® member, you will receive weekly personalized deals, earn points on all eligible purchases, redeem Rewards for discounts on gas and groceries, receive an annual birthday treat, receive a free item every month, pet perks, and more.
Also, new Shaw's for U® members will receive 2 Welcome offers, good for "$5 off your next purchase of $25 or more" AND "Earn 2 Rewards when you shop in our store". For more details on the Welcome offers, online grocery orders and other perks, visit Shaw's for U®.
To join Shaw's for U® program, sign-up to create a free account or download the Shaw's for U® mobile app.
How to Use SNAP EBT Online at Shaw's -Summary
We hope this post about how to use SNAP EBT online at Shaw's was helpful to you. Questions? If you have any questions about Food Stamps, EBT cards, or shopping online at Shaw's, please let us know in the comments section below. We are here to help you! Also, be sure to check out our other articles about SNAP and EBT, including:
Comments
comments