Wegmans is one of the retailers approved by the United States Department of Agriculture to accept Food Stamps (SNAP benefits) online. In this post, we will provide step-by-step instructions on how to use SNAP EBT online at Wegmans to shop for groceries for pickup and delivery.
Table of Contents:
Wegmans Now Accepts SNAP EBT Online
States where you can use EBT Online at Wegmans
How to Use SNAP EBT Online at Wegmans
SNAP EBT Card FAQs

Wegmans Now Accepts SNAP EBT Online
Since March 2020, the United States Department of Agriculture (USDA) has added more grocery stores to the EBT online pilot program after a successful launch in April 2019 with eight retailers.
In February of 2023 Wegmans started to provide online grocery purchasing to SNAP EBT participants, via their website and the Wegmans App.
Both curbside pickup and delivery orders are available by the online service.
The service is provided through Instacart.
As of February 2023, Wegmans now accepts EBT online in 8 states and Washington D.C. for delivery and pickup, as listed below.
States where you can use EBT Online at Wegmans
In addition Washington D.C.,  there are currently 8 states where Wegmans allows SNAP EBT Cards to be used online for delivery and pick-up.
Below is the list of States:
Delaware
District of Columbia
Maryland
Massachusetts
New Jersey
New York
North Carolina
Pennsylvania
Virginia
If you currently receive SNAP benefits, you can now purchase groceries online with your EBT card from Wegmans – for delivery or pick up.
The delivery service is offered in partnership with Wegmans.
You can only use your EBT card to buy eligible grocery items. You will have to add a credit or debit card to pay for non-EBT-eligible items.
How to Use SNAP EBT Online at Wegmans
Follow the steps below to use your EBT card on Wegmans for delivery or curbside pickup.
Step 1 – Create an Account or Sign In
To start using your EBT card online at Wegmans, you need to first create an account. Visit www.wegmans.com and click the Sign In/Register button in the upper right corner.


If you already have an account, you can log in with your email and password (arrow "A" in the screenshot below) . If you need to  create a new account, click on the Create an Account link (arrow "B") and fill in you name, email address and a secure password.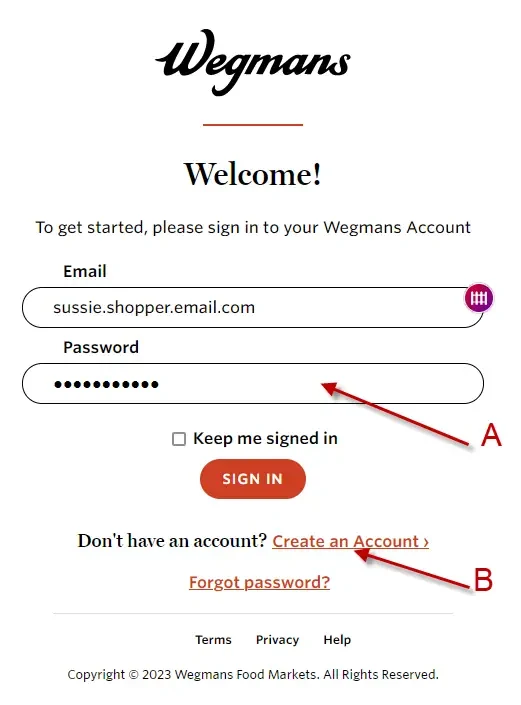 Step 2 – Select Delivery or Pickup
Once signed in, you want to select either Delivery or Pickup for your online shopping option. Using the drop down menu on the right of the search box to toggle between shopping options.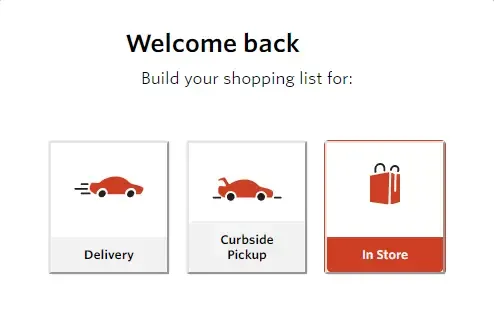 You also want to ensure you're shopping at the correct location for either delivery or pickup. Use the same drop down menu tool to chose your optimal store based on zip code.
If opting for Pickup, it's best to confirm an order date and time during the checkout process.
Step 3 – Shop for Grocery Items
Wegmans provides an EBT Eligible filter under the Departments menu. Toggle the filter to narrow down the plethora of choices on the website.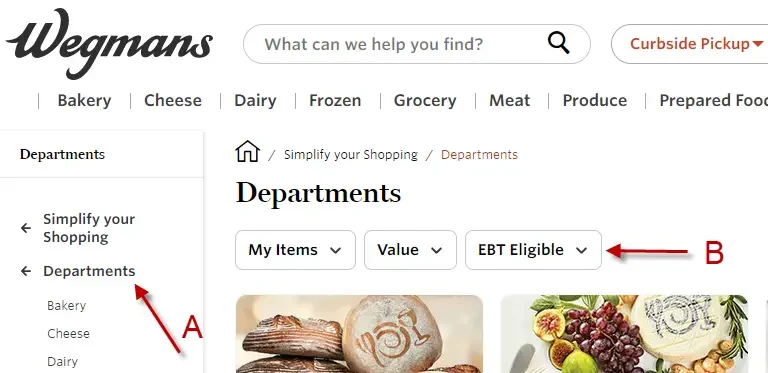 If you do not see the filter, try clicking on Departments on the left side menu (arrow "A" above), then the filter should appear for you to toggle (arrow "B").
Build your shopping cart by clicking on the red "+" buttons by each grocery item. To increase the number of each desired item, simply keep on clicking the "+" button. The little bin decreases the item count in your cart.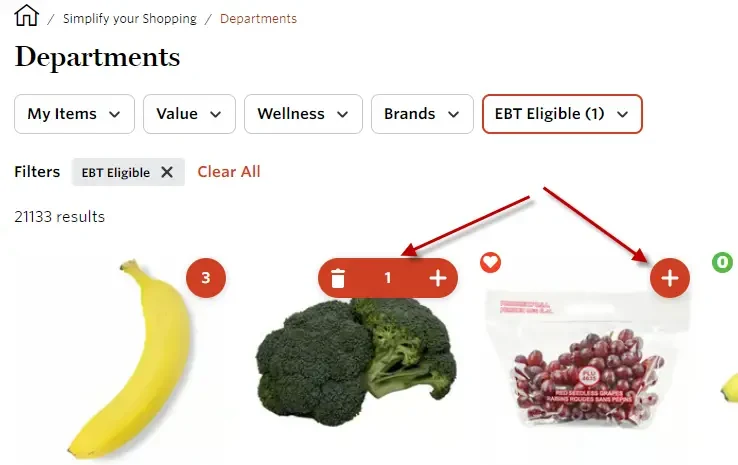 Step 4 – Proceed to Checkout
After you're done adding all items to the cart, click on the shopping cart icon to start the check out process. The button is located in the upper right corner of the webpage.

You will be able to give all items in your shopping cart a final look over. After finalizing your cart items, click the red Go to Checkout button as shown below.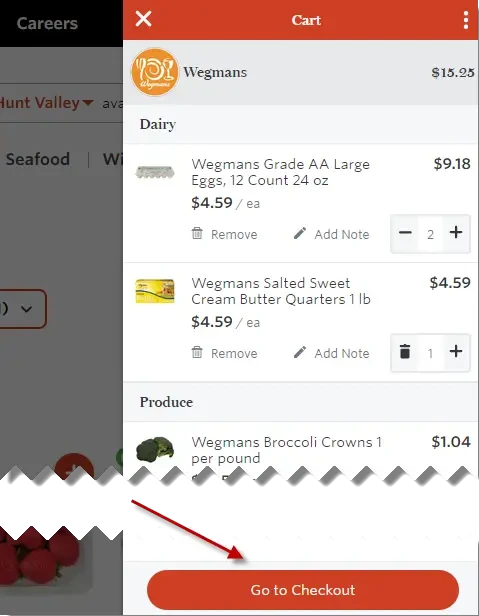 You are almost done. Next, you will be prompted for payment confirmation and will be able to place your order.
Step 5 – Add your Payment Information & EBT Card
If you opted for Delivery, add a delivery address and confirm a delivery time.

If Pickup at a Wegmans location is preferred, then you need to choose a pickup date and time.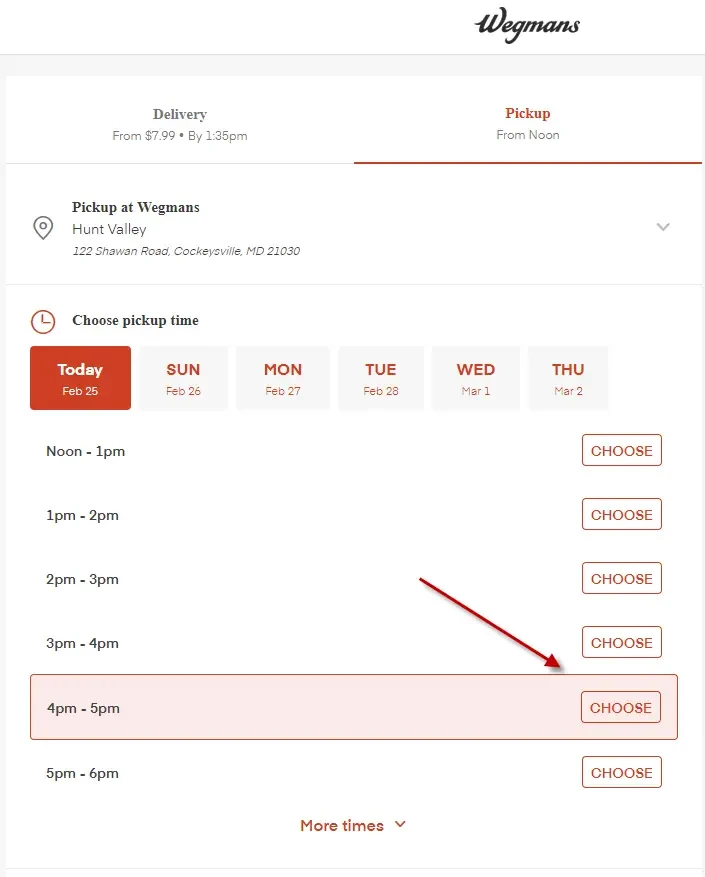 After sorting Delivery or Pickup details, you will now be presented with the Payment options section (arrows "A" in screenshot below). Add your SNAP EBT card now. If you had already added your EBT card under your Account profile it would already populate here with the card details.
You will need to add a second form of payment (a credit or debit card) to cover items and fees that are not EBT-eligible. This will be used for non-eligible SNAP items, taxes, tips and fees.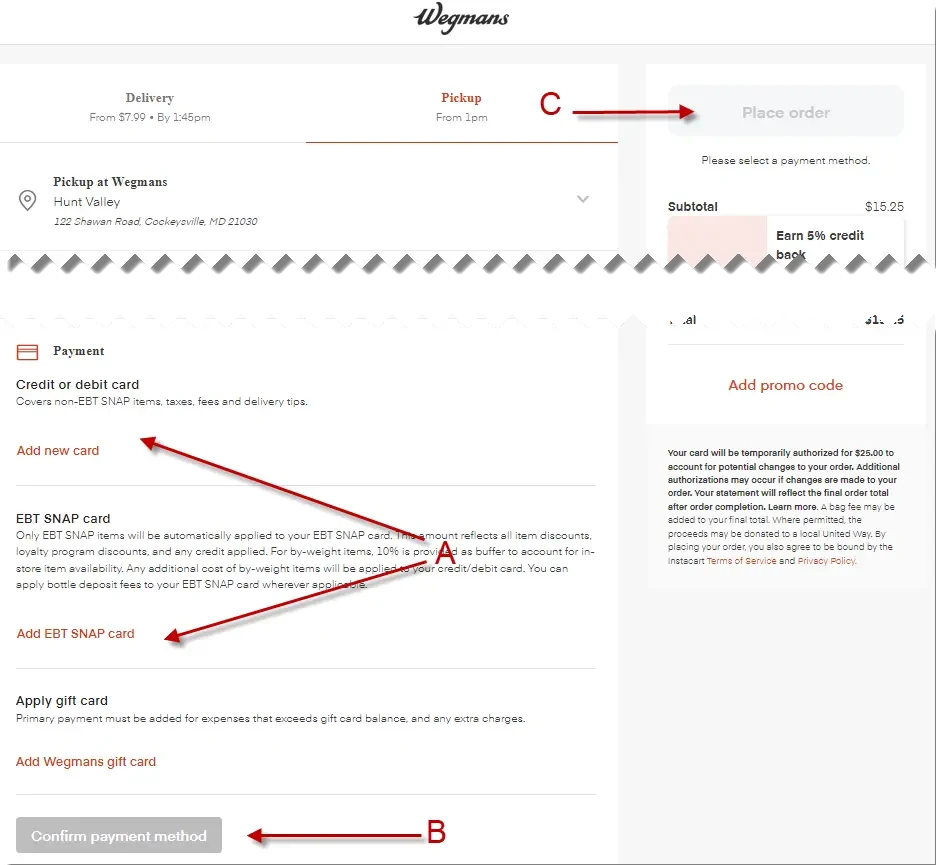 Confirm your payment method (arrow "B"). Make sure you select the EBT card as the primary payment method and choose which EBT eligible items your card will be applied to.
Step 6 – Place Order & Receive your Groceries
Once you've completed setting your payment options, click the Place Order button to complete shopping (arrow "C" in image above).
After placing your order, you will be prompted to enter your EBT card pin to verify your purchase.
If this order is for Pickup, drive to the Wegmans location and pull up to the pickup spot. Look for the curbside space and follow instructions on signage. An employee will bring groceries to your car.
If this was a Delivery order, then an Instacart Personal Shopper will deliver your groceries direct to your door, at the indicated delivery time.
SNAP EBT Card FAQs
Here is a list of our most frequently asked about the SNAP EBT, including grocery shopping online at Wegmans and other grocery stores.
Am I eligible for SNAP?
To get SNAP benefits, you must apply in the state in which you currently live and you must meet certain requirements, including resource and income limits, which are described on the USDA SNAP Eligibility page.
Review your state specific requirements and note that SNAP income and resource limits are updated annually.
Can I use my SNAP EBT card to order groceries online at Wegmans?
Yes! Customers can now use EBT SNAP cards when placing an order online. Please note that only EBT-eligible items can be paid for using SNAP funds. A primary payment method is required for non-EBT-eligible items and fees.
How do I know which online items are SNAP eligible at Wegmans?
Wegmans has an EBT filter online and an EBT tag on items to quickly identify eligible products.
Is there an order minimum when I am paying with a SNAP EBT card online at Wegmans?
No, there is not an order minimum for EBT payments.
Can I designate the amount to pay with a SNAP EBT card?
You can determine the amount charged to your SNAP EBT card up to the total amount of eligible products.
How can I add my SNAP EBT card online at the Wegmans website?
You may add your card under your account profile or during checkout.
Do I need to also use a credit card when paying with my SNAP EBT card?
Yes, you will need to enter a credit or debit card in addition to SNAP EBT for ordering online to cover items and fees that are not EBT-eligible.
What do I do if I have a problem after receiving my grocery order? Will you refund my SNAP funds?
If EBT-eligible items require a refund, the refund will go back to the EBT SNAP card.
What can you buy at Wegmans with EBT?
Here's the list of some Wegmans branded/signature items you can purchase with SNAP EBT:
Guacamole in Medium, Spicy or Mild Snack packs
Cracker Crisps in Raisin, Rosemary & Almond, or Cranberry & Seeds, or Plain Vanilla
Bon Vivant cheese and other dairy products
Butter Boy Cookies
Organic Kombucha Spritzers (multiple flavors available)
Marinated Chicken Breast Cutlets – your choice of BBQ and Buffalo style
Cook-in-Bag Sunday Sauce with Meatballs, Sausage and Pork
Various pasta types like Ricciolli, Amore Girelle, Amore Orecchiette, Paccheri Rigate to name a view
How to Use SNAP EBT Online at Wegmans -Summary
We hope this post about how to use SNAP EBT online at Wegmans was helpful to you.
Questions?
If you have any questions about Food Stamps, EBT cards, or shopping online at Wegmans, please let us know in the comments section below. We are here to help you!
Also, be sure to check out our other articles about SNAP and EBT, including:

Comments
comments