(Last updated on 2/16/23)
If you are currently receiving SNAP Benefits (Food Stamps) and want to know what foods you can buy with your EBT card, you've come to the right place. In this post, we are going to provide the list of eligible food stamp items you can buy with the EBT card.
The key point to remember is that the SNAP benefits program is aimed at providing nutritious foods to eligible low-income persons and families.
The United States Department of Agriculture (USDA), which manages the program has strict guidelines to make sure that the money is being spent to buy nutritious foods.
You will find below the list of foods you can buy with your EBT/Food Stamp Card below.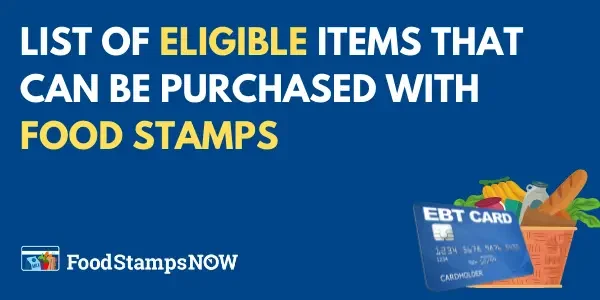 List of Eligible Food Stamp Items
As a general rule, you can use SNAP food stamps to buy any food item except food that is hot when sold, or food that is sold to be eaten in the store.
Here's what you can buy with SNAP EBT:
Fruits and Vegetables
Meat and Poultry
Fish and Shellfish
Dairy Products
Bread and Cereals
Snack Items and Soda
Water and Non-Alcoholic Beverages
Seeds and Plants (grown for at-home consumption)
Examples of eligible SNAP EBT Food Items
For your reference, we've provided you with a list of specific food items that are eligible to be purchased with your SNAP EBT Card benefits.
Items that can be purchased with SNAP EBT include:
Cookies
Brownies
Cupcakes
Chips
Snack Crackers
Soft drinks and sodas
Energy Drinks (with nutrition label)
Live seafood – lobster, shrimp, oysters, clams
Birthday cakes
Bakery items – donuts, muffins, bagels
Ice cream and Frozen Yogurt
Popsicles and Frozen Treats
Steak
Gum and Mints
Chicken Nuggets
Bakery Items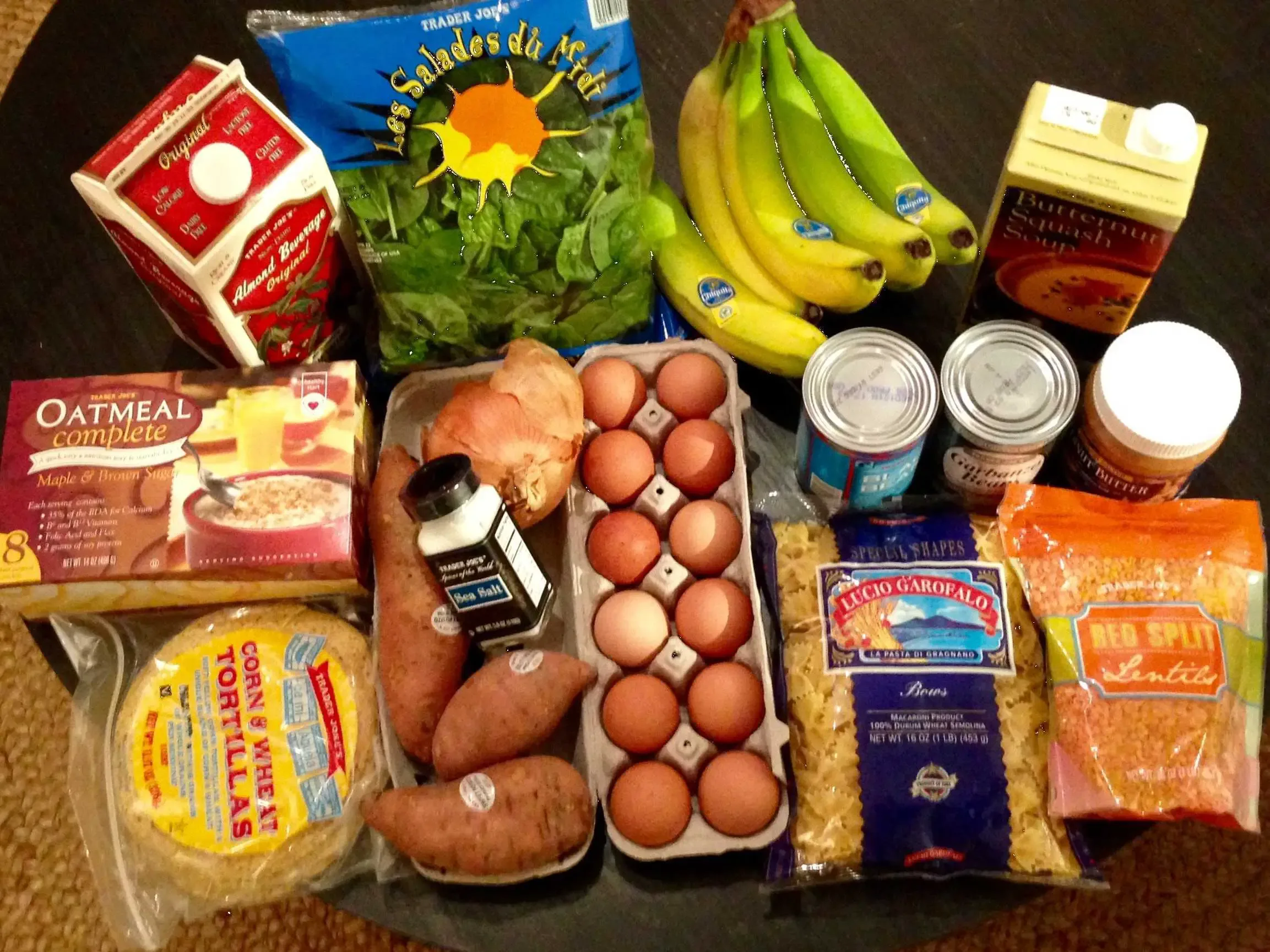 While you can buy snacks such as cookies and chips, there are guidelines outlined by the USDA for items such as Junk Food, Energy Drinks, Live Animals and Birthday Cakes.
For more information, continue reading below.
The Food and Nutrition Act of 2008 defines eligible food as any food or food product for home consumption. This includes seeds and plants that produce food that can be eaten at home.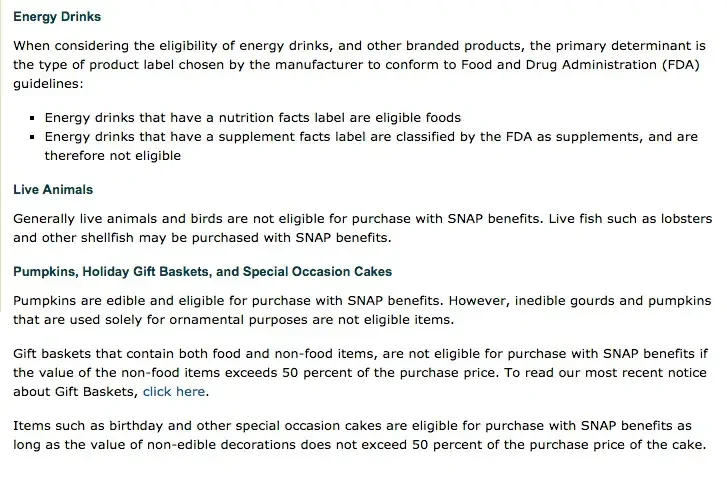 Items not Eligible with Food Stamps
There are several items that you cannot purchase using your SNAP EBT Card food stamp benefits.
You CANNOT use SNAP EBT benefits to buy:
Beer, wine, liquor, cigarettes, or tobacco
Vitamins, medicines, and supplements. If an item has a Supplement Facts label, it is considered a supplement and is not eligible for SNAP purchase.
Live animals (except shellfish, fish removed from water, and animals slaughtered prior to pick-up from the store).
Prepared Foods fit for immediate consumption
Hot foods
Any nonfood items such as:

Pet foods
Cleaning supplies, paper products, and other household supplies.
Hygiene items or cosmetics
It is important that you pay close attention to this list, as violating the rules, or conspiring with another person to violate any of the rules constitutes Food Stamp Fraud.
Food stamps fraud could land you in big trouble with the government, including possible jail time.
To show how serious the government takes food stamps fraud, see the stories below:
That's the List of Eligible Food Stamp Items you can buy with your EBT Card. If you stay within these guidelines, you will be within the law and will not risk facing criminal charges.
Food Stamps EBT FAQs
Check out our list of answers to the most frequently asked questions about the SNAP EBT Card.
Can you buy energy drinks with food stamps?
Yes, your SNAP EBT Card benefits can be used to purchase energy drinks. However, they must contain a nutrition label to be eligible for purchase with your food stamp benefits.
Energy drinks that do not have a nutrition label are not eligible for purchase with SNAP EBT. That is because these items are considered supplements by the USDA. As a result, they are not eligible under the food stamp rules.
Can you buy cold rotisserie chicken with EBT?
Unfortunately, your SNAP EBT Card cannot be used to purchase a cold or hot rotisserie chicken. The USDA SNAP rules prohibit the spending of food stamp benefits on prepared and heated foods.
Can I buy deli food with SNAP EBT?
You cannot use your SNAP EBT Card to purchase any prepared or hot food that can be eaten on the store premise.
However, you can purchase deli meats (turkey, ham, salami, etc.) and cheeses, as well as cold, uncooked items from the deli with your Food Stamps Card.
Ask your deli counter for SNAP EBT eligible items before purchasing.
Can you buy a Birthday or Ice Cream cake with EBT?
Items such as birthday and other special occasion cakes are eligible for purchase with your food stamp benefits. However, for birthday cake, the value of any non-edible decorations should not exceed 50 percent of the purchase price of the cake.
If they do, then this item will no longer be eligible for purchase with your SNAP EBT Card.
Can you buy Vitamins, Supplements, and Power Bars with EBT?
The eligibility of vitamins and supplements, power bars, energy drinks, and other branded products must meet the following guidelines:
Items that carry a nutrition facts label are eligible foods
Items that carry a supplement facts label are classified by the FDA as supplements and are therefore NOT eligible
Can I purchase a pumpkin with my EBT Card?
Yes, your food stamps and EBT Card benefits can be used to purchase a pumpkin that is used for food consumption. However, you cannot use your food stamp benefits to purchase pumpkins and gourds that are solely used for ornamental decorations.
Can you buy Pet Food with SNAP EBT?
No, you cannot use your SNAP EBT benefits to purchase pet food or supplies including dog food, dog treats, cat food, cat litter, or toys.
This is directly from the USDA Website.
If you attempt to use your EBT card to buy pet or dog food, you will be violating the law – which could land you in jail.
List of Eligible Food Stamp Summary
We hope this post about the List of Eligible Food Stamp Items was helpful to you. If you have questions about your EBT Card or food stamps in general, please let us know in the comments section below.
For your convenience, we have also included below the top 5 articles on where you can use your EBT card that our readers love the most.
Here are our Top 5 Articles on Where to Use EBT
List of Grocery Stores that accept Food Stamps
The 50 Gas Stations that accept EBT
Does Sam's Club Accept EBT Card?
Can you Buy Pet Food with EBT Card?
Amazon Prime Discount for EBT Recipients
If you have an EBT Card, your card comes with amazing perks and discounts. Check out our list of EBT Discounts and Perks by State!
Comments
comments