FoodStampsNow is reader-supported. When you buy through links on our site, we may earn an affiliate commission at no additional cost to you. You can read our full disclaimer here.
If you are an adult and are currently on Medicaid, here is some good news. Amazon.com is now offering a 50% discount on Prime to Medicaid recipients. In this post, we will show you how to sign up for Amazon Prime Medicaid Discount, including a step by step process.
In addition, see our Amazon Prime Discount FAQs below for our answer regarding whether you can use your child's Medicaid card to get the Prime membership discount.
This post about Amazon Prime Medicaid Discount will cover:
The Best Perks you get with an Amazon Prime
What is Amazon Prime Discount for Medicaid?
How to Sign up for Amazon Prime Medicaid discount
Amazon Prime Discount FAQs
Best Amazon Prime Perks
Free Two-Day, Same Day, and One-Day Shipping
Amazon Prime's oldest and possibly most famous benefit is free 2-day shipping for Prime items. Depending on where you live, that can sometimes be reduced to one day.
Prime Now
If you live in a city, you can get select items delivered to you within 2-hours with Prime Now.
You can also get 2-hour deliveries of food and alcohol from local establishments and restaurants.
Free grocery delivery
Amazon recently announced that it would start offering free grocery delivery to all of its Prime members. Previously, Amazon Fresh cost $15 per month.
Not all Prime members will be able to get free grocery delivery, however — if you haven't shopped on Amazon Fresh before, you'll have to request an invite to join as of right now.
Prime Pantry
Prime Pantry lets you order lower-priced groceries and household products and have them shipped altogether to your house for an extra fee.
All Prime members can purchase products from the Prime Pantry store and get FREE delivery on all orders of $35 and over. All Prime Pantry orders under $35 will incur a $5.99 delivery fee.
Early Access to Lightning Deals
Amazon.com is always running lightning deals on its website. These deals can sell out quickly, but Prime members get a 30-minute head start.
Access to Prime Day sales
Each year, Amazon offers some of the best discounts of the year on Prime Day – which is like a Black Friday.
Prime day is only open to Amazon Prime subscribers.
Great discounts at Whole Foods
Amazon owns Whole Foods and that has been great news for Prime Members.
Amazon Prime members get benefits at Whole Foods, such as an extra 10 percent off of items with yellow sale signs.
You could also get five percent back on Whole Foods purchases with an Amazon Prime Rewards Visa Card.
Download thousands of movies 
Amazon Prime membership gives you access to a whole library of films that can be downloaded.
Select Prime Video titles are available to be downloaded to compatible mobile devices, which include Fire tablets, Fire phones, Android phones and tablets, and iOS devices.
Find the Prime title you want to download and open the video details. After that, tap on "Download" to start the process.
Note that for TV shows, you will want to select the episode you want to download and then look for the specific download icon, which will be a down arrow.
Twitch Prime
By signing up for Twitch Prime, members can get access to a rotating selection of free PC games, an ad-free experience on Twitch, and a free monthly Twitch channel subscription.
Free magazines, podcasts, and audiobooks
Whether you're looking to entertain or inform yourself, here's how to get free reading and listening material through your Amazon Prime membership.
Magazines: With Prime Reading, you get free access to issues of popular magazines, including Vogue, Bon Appetit, Popular Mechanics, Esquire, and Better Homes & Gardens.
Just start at the Prime Reading page to browse the magazines that are included with your membership.
Podcasts and audiobooks: Audible is a division of Amazon that's best known for providing audiobooks, but Amazon also uses it to deliver a service called Audible Channels.
You will need to download the Audible app to get started with Channels. Open the app, tap on the menu and choose Channels for Prime.
Here, you can choose from a variety of short-form audio programs that explore sketch comedy, music culture, world history, and news.
What is Amazon Prime Discount for Medicaid?
Amazon is now offering Prime discounts to Americans enrolled in Medicaid.
If you are an adult with a Medicaid Card, you will now only have to pay $5.99 a month for Prime, down from the usual $12.99 monthly rate (or $8.25 a month if you choose the $99 annual option).
That's more than a 50% discount on the regular monthly price. Click here to sign up or see the details instructions below.
How to Sign up for Amazon Prime Medicaid discount
Here's how to sign up for Amazon Prime Medicaid Discount:
Step 1 – Visit the Prime Medicaid Discount Site
Visit the Amazon Prime Discount website and click on "Get Started". Click here to be taken to the website.
Step 2 – Upload Medicaid Card to Activate Discount
Next, you will be taken to a page where you will have to log in to your Amazon.com account or sign up for an amazon.com account if you don't already have an account.
You need a current and valid Medicaid card to sign up.
Once you have logged into your Amazon account, you will be taken to a page like the one below.
Once there, perform the following functions as shown in the image below with arrows:
Select "Medicaid" under "Choose how you want to qualify"
Upload a picture of your Medicaid ID card
Select your state under "Issuing State"
Check the box to confirm that your Medicaid card is current and valid.
Once you enter the requested information, click the "Continue" button. The continue button will only show once you enter all the requested information.
Step 3 – Start Enjoying Prime Discount on Amazon
Once your Medicaid ID has been verified, you can start enjoying Amazon Prime benefits right away.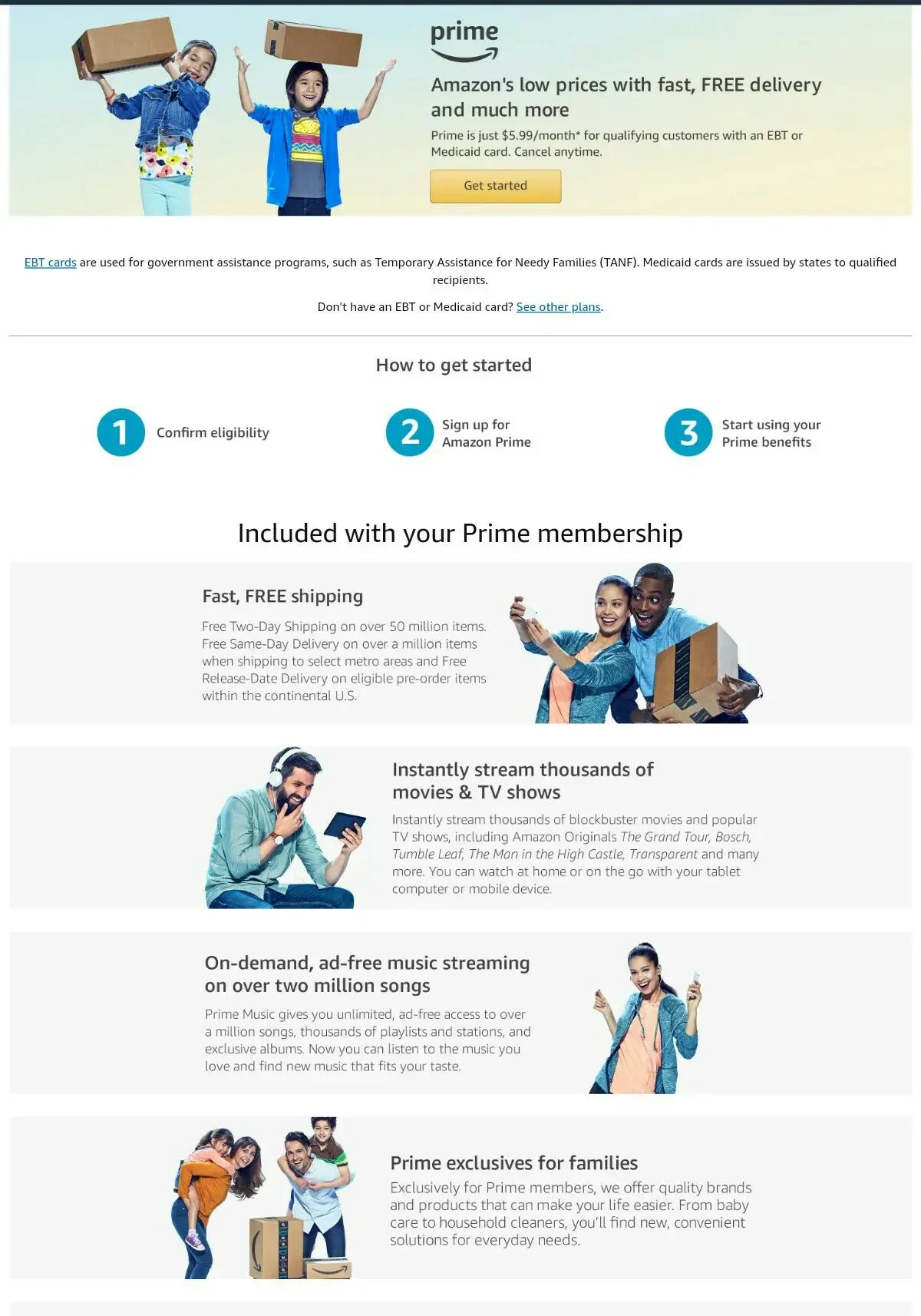 Note: Every 12 months, you'll have to verify you still have a current and valid Medicaid card.
You can enjoy your Amazon Prime Medicaid Discount for four years.
However, you will not be able to share your Prime membership with a second adult like you can with the full-priced membership.
Amazon Prime Discount Questions
Here are the most frequently asked questions about Amazon Prime Discount.
Can I use my child's Medicaid card for amazon prime?
More than 74.4 million people are enrolled in Medicaid or the Children's Health Insurance Program.
There are adults whose children are enrolled in Medicaid but the parents themselves are not enrolled under Medicaid so they do not have a Medicaid card.
That's why one of the questions we often get about the Amazon Prime Medicaid discount is whether an adult can use their child's Medicaid card to sign up for the Prime Discount.
Unfortunately, the answer is No. Only the 35 million Adults under Medicaid qualify for the Prime Discount.
However, you can qualify for the Amazon Prime discount if you have an EBT Card – for Food stamps, WIC or TANF programs. See our Amazon Prime Discount for EBT Cardholders post.
Summary
We hope this post on Amazon Prime Medicaid discount was helpful.
If your question was not answered and are still having trouble signing up for the Prime Medicaid discount, please let us know in the comments section below.
Be sure to check out our other articles, including Amazon Prime Discount for EBT Cardholders. 
Comments
comments