Hannaford is one of the retailers approved by the United States Department of Agriculture to accept Food Stamps (SNAP benefits) online. In this post, we will provide step-by-step instructions on how to use SNAP EBT online at Hannaford to shop for groceries for pickup.
Note that Hannaford.com does NOT accept the actual EBT card payment online, when shopping for pickup. You make payment with your EBT card at the pickup location itself.
If you opt for delivery, you need to use Hannaford's store front on Instacart in order to use EBT card payments online with delivery. Hannaford.com does not do delivery with SNAP EBT payments.
Table of Contents:
Hannaford Now Accepts SNAP EBT Online
States where you can use EBT Online at Hannaford
How to Use SNAP EBT Online at Hannaford
SNAP EBT Card FAQs
Hannaford Now Accepts SNAP EBT Online
Since March 2020, the United States Department of Agriculture (USDA) has added more grocery stores to the EBT online pilot program after a successful launch in April 2019 with eight retailers. Shortly after, with USDA approval, Hannaford started to provide online grocery purchasing to SNAP EBT participants. The service is provided through the "Hannaford To Go" service and covers pickup orders.  The delivery service with EBT card payment is provided by partnership with Instacart. As of 2023, Hannaford now accepts EBT online in 5 states for delivery and pickup, as listed below.
States where you can use EBT Online at Hannaford
There are currently 5 states where Hannaford allows SNAP EBT Cards to be used online for delivery and pick-up. Below is the list of States:
Maine
Massachusetts
New Hampshire
New York
Vermont
If you currently receive SNAP benefits, you can now purchase groceries online with your EBT card from Hannaford – for delivery or pick up. You can only use your EBT card to buy eligible grocery items. You will have to add a credit or debit card to pay for non-EBT-eligible items.
How to Use SNAP EBT Online at Hannaford
Follow the steps below to use your EBT card on Hannaford for curbside pickup.
(For the grocery delivery options with EBT card payment, see how to use SNAP EBT with Hannaford's store front on Instacart here.)
Step 1 – Create an Account or Sign In
The first thing you need to do in order to shop online with Hannaford is to create an account. Go to Hannaford's website and click on the Sign In/Up button, in the upper right corner.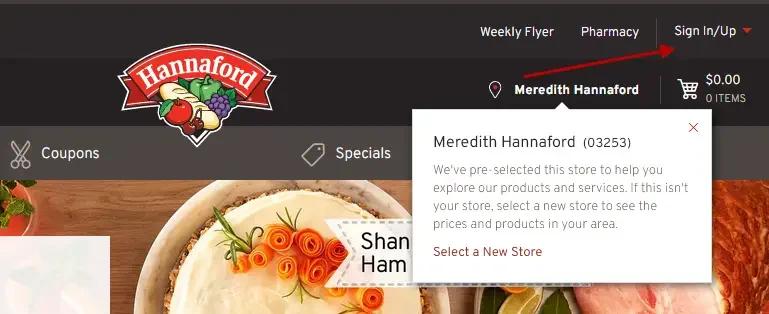 Sign In with an existing account using your email address and password (arrow "A" in screenshot below), or click the Sign up button (arrow "B" in screenshot below) to start the new account process. Simply fill in all required fields. Be sure to use a primary address that is convenient for pick up as it aids with easier store filtering in your area.
Step 2 – Select Pickup
After a successful login, click on the text next to the "Hannaford to go" tomato-on-wheels icon. It may say "Delivery" or "Pickup".

An options window will pop-up. You can use the red select button (arrow "A" in image below) to toggle shopping for pickup.

Your may change your pick up store using the red Change links under the provided options.
You can return to this screen at anytime during your online visit to change the desired pickup store.
Step 3 – Shop for Grocery Items
With your account and shopping option set, it is time to start building your shopping cart. Hannaford has a search bar and 3 dropdown guide menus to make it easier to find grocery items, and navigate the online store.
The search bar uses text to match items. For example, a search for "eggs" will return all types of farm eggs as well as egg substitutes avaliable at Hannaford.

The Shop dropdown menu provides the different grocery departments, other ways to shop and save as well as links to Hannaford signature items.

The Save menu is all about savings and displays the Weekly Flyer, Coupons and other Specials options available at the time of your visit.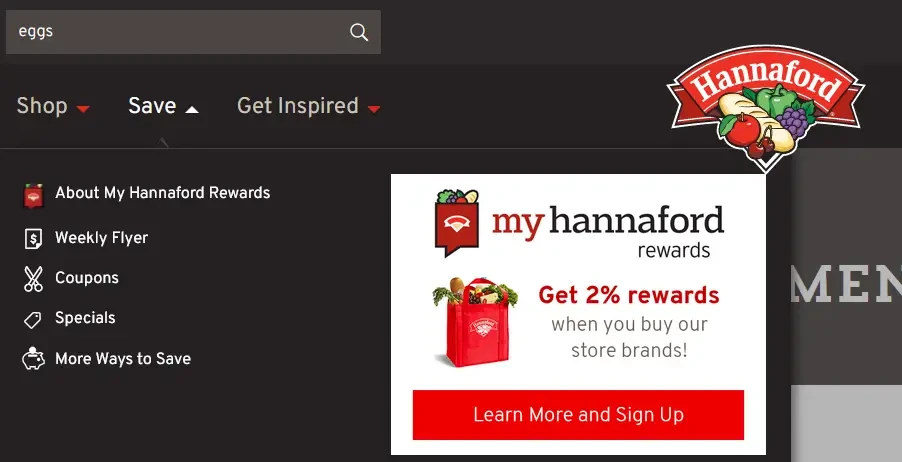 Get Inspired is a menu that links third party publications for menu tips and guides to healthy living.

After locating a desired grocery item, click the green Add to Cart button to add the item to your cart. Clicking the "+" increment the count of each added item in the cart. The "-" button does the reverse. See the screenshot below for each example.

Step 4 – Proceed to Checkout
After picking out all items for your cart it is time to check out. Click on the shopping cart icon to review the items in your cart.

Here you can increase the count of items in your cart, or reduce them. If you realize you forgot an item from your grocery list, simply click the Continue Shopping button (arrow "B" below) to leave the cart and return to the store. If the cart build meets your satisfaction then click the Checkout button (arrow "A").

There is also an Empty Cart link (arrow "C") that can be used to reset the cart so you can start from a clean slate.
After clicking the Checkout button you may be prompted for credentials again, depending on how long it's been since you started. Your session may have timed out. Simply sign in again with your email and password .
Step 5 – Select EBT/eWIC for Payment Information
At the main check out screen, confirm your contact information, the pickup store address and the pick up time. Be sure to pick an available time that allows you a timely commute to the store of choice.
For payment options DO NOT select Credit/Debit Card as an option. Instead, select EBT/eWIC (arrow "A" in screenshot below) as your payment method.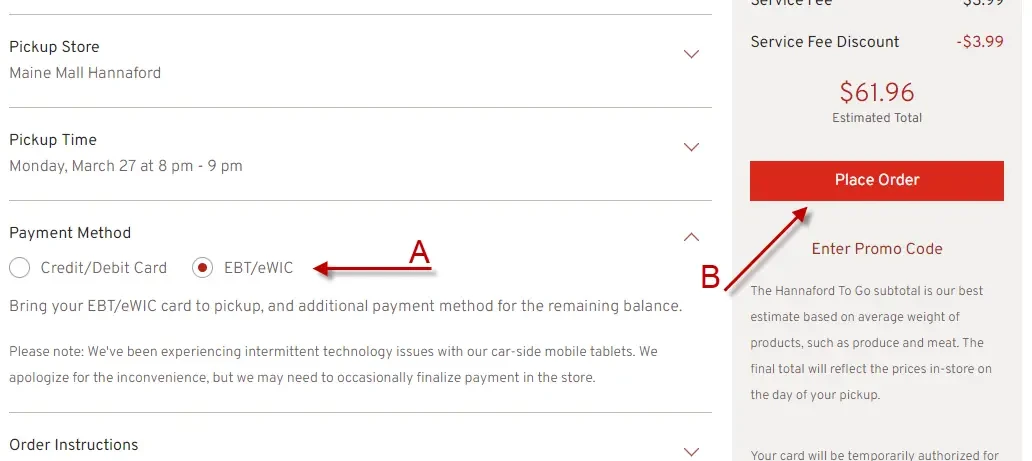 Selecting EBT allows  you to bypass paying online. You will need to bring your SNAP EBT card to pickup, as well as an additional pament method for the remaining balance, taxes and fees.
Step 6 – Place Order & Pick up your Groceries
Clicking the Place Order button (arrow "B" above) completes your shopping visit. That's it! All you have to do now is arrive at the shopping location at the designated pickup time and follow the Hannaford To Go signs when you arrive.
Be sure to carry your EBT card with you for payment on eligible items. Have a secondary form of payment (credit or debit card) for all non-EBT-eligible items.
SNAP EBT Card FAQs
Here is a list of our most frequently asked about the SNAP EBT, including grocery shopping online at Hannaford and other grocery stores.
What is SNAP and EBT?
SNAP (Supplemental Nutrition Assistance Program) is the largest federal nutrition assistance program in the country.
Aiding low-income individuals and families, SNAP works with an EBT (Electronic Benefits Transfer) card, which is like a debit card that purchases SNAP eligible food and drinks.
Can I buy non-SNAP eligible items alongside SNAP eligible products in a single order?
Yes, Hannaford allows you to combine non-SNAP products with EBT eligible items. At pickup, have a credit/debit card on you to pay for the non-SNAP eligible items.
What if I can't find an item on the site?
If you're unable to locate a product online, but think we carry it, add a note in the order comments when you check out. Enter as much information about the product as possible and we will make our best effort to find it for you.
Can I order my regular groceries and special occasion items like deli platters and birthday cakes together?
Special occasion items like personalized cakes and platters require a 24-hour lead time before pickup. These items will have a "select preferences" button. During your online checkout you'll be asked to specify a pickup time for these items and a pickup time for your Hannaford To Go order.
Can I add special instructions regarding products?
You can add special instructions to each item in your shopping cart. You can also leave a note if there are items on your list for which you don't want any substitutions.
Can I buy alcohol or other age restricted items online?
If your store carries alcohol or other age restricted items, you can order them for pickup. Please ensure you have suitable ID at pickup. If an adult over the age of 21 is not picking up the age restricted items, they will be removed from the order.
Not that alcohol and age restricted items like tobacco do NOT fall under Hannaford.
Can I modify or cancel an order?
For same-day orders placed at least five hours in advance you will have one hour to modify. For next day orders, the last chance to modify your order is 4 a.m., day of pickup.
Log in and visit your account page to modify your order. If the store has not begun processing your order you can edit or cancel. If your order is already being processed, you may contact the store to reschedule or add items.
When you edit your order online please be aware that you will need to go through the online checkout steps again and will receive an updated email confirmation and a new order number.
What will I receive for order confirmation?
Hannaford will send you an email confirmation. You can also choose to have a text reminder sent on the day of your pickup. Select your email and text preferences in your account.
Are there any items I can't order online?
There may be a few select items that are not available for online purchase. However, Hannaford continues to improve their online assortment.
Can I use Hannaford To Go to order large quantities and bulk orders?
To accommodate very large or bulk orders please call your home store 48 hours prior to placing the order with Hannaford To Go so our associates can verify quantity on hand.
Providing the store with advance notice will help ensure products will be available when you want to pick them up.
Please note that bulk pricing for turkeys and hams applies to orders of 10 cases or more and will need to be ordered directly through the meat department.
What can you buy at Hannaford with EBT?
Hannaford is renowned for supporting local formars and industry across all of their stores. Here's a list of some popular local food items at Hannaford you can purchase with SNAP EBT:
Live in the state of Massachusetts? How about a tub of New England Clam Chowder from Boston Chowda Co. Or maybe a bag of party sized Cape Cod Potato Chips. Pick up some Hood champions Fenway Ice Cream on your next visit.
Maine isnt only known for it's seafood. Have some Wyman's Fresh Frozen Wild Blueberries for breakfast. Portland Pie White Pizza Dough Ball is available for pickup if you know how to twirl a pizza. Kate's Saltered Butter Quarters from Maine cow milk will go well with some Country Kitchen Canadian White bread.
Nellie's Free Range Large Brown eggs are known for their deep yellow yolk. Boil them and serve with Lef Farms Spice Lettuce Blend. Slurp some Stoneyfield Organic milk with your salad, if you please.
New Yorkers can hav a Heluva Good time with some French Onion Dip. Haul some Nathan's Bun Length Beef Franks to the next ball game, and wash it down with some Adirondack Lemon Water.
Vermonters simply cannot resist some Ben & Jerry's Ice Cream. Green Mountain makes some great coffee for your Keurig machine. Mayble Grove Farms Maybe Syrup is to awesome on waffles and pancakes.
How to Use SNAP EBT Online at Hannaford -Summary
We hope this post about how to use SNAP EBT online at Hannaford was helpful to you. Questions? If you have any questions about Food Stamps, EBT cards, or shopping online at Hannaford, please let us know in the comments section below. We are here to help you! Also, be sure to check out our other articles about SNAP and EBT, including:
Comments
comments