Price Rite is one of the retailers approved by the United States Department of Agriculture to accept Food Stamps (SNAP benefits) online. In this post, we will provide step-by-step instructions on how to use SNAP EBT online at Price Rite to shop for groceries for delivery and pickup.
Table of Contents:
Price Rite Now Accepts SNAP EBT Online
States where you can use EBT Online at Price Rite
How to Use SNAP EBT Online at Price Rite
SNAP EBT Card FAQs

Price Rite Marketplace Now Accepts SNAP EBT Online
Since March 2020, the United States Department of Agriculture (USDA) has added more grocery stores to the EBT online pilot program after a successful launch in April 2019 with eight retailers.
On February 22, 2022, Price Rite Marketplace and Instacart announced that all Price Rite stores had begun to accept SNAP EBT as online payment for groceries through Instacart.
SNAP EBT is accepted for Price Rite Marketplace orders placed via Instacart and Price Rite's own online storefront, powered by Instacart.
As of 2023, Price Rite now accepts EBT online in 8 states for delivery and pickup, as listed below.
States where you can use EBT Online at Price Rite
There are currently 8 states where Price Rite allows SNAP EBT Cards to be used online for delivery and pick-up.
Below is the list of States:
Connecticut
Maryland
Massachusetts
New Hampshire
New Jersey
New York
Pennsylvania
Rhode Island
If you currently receive SNAP benefits, you can now purchase groceries online with your EBT card from Price Rite – for delivery and pickup.
You can only use your EBT card to buy eligible grocery items. You will have to add a credit or debit card to pay for non-EBT-eligible items.
How to Use SNAP EBT Online at Price Rite
Follow the steps below to use your EBT card on Price Rite's Instacart store front for delivery and pickup.
Step 1 – Create an Account or Sign In
To start off using your EBT benefits online at Price Rite, you will need to visit Instacart's website at www.instacart.com. Once on the website, start the new account creation process by clicking the Sign up button.
If you already have an account, you can Log in with your existing Instacart account.

For new account sign up, you have the option of linking a Google account, a Facebook account or a phone number to Instacart. Additionally, you can enter an email address to get started.

You can also log in with an existing Instacart account, as shown below.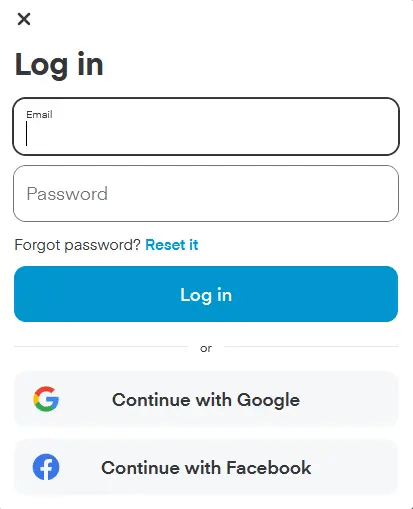 Step 2 – Go to Account Settings to add SNAP EBT card
Next, click on the hamburger menu icon.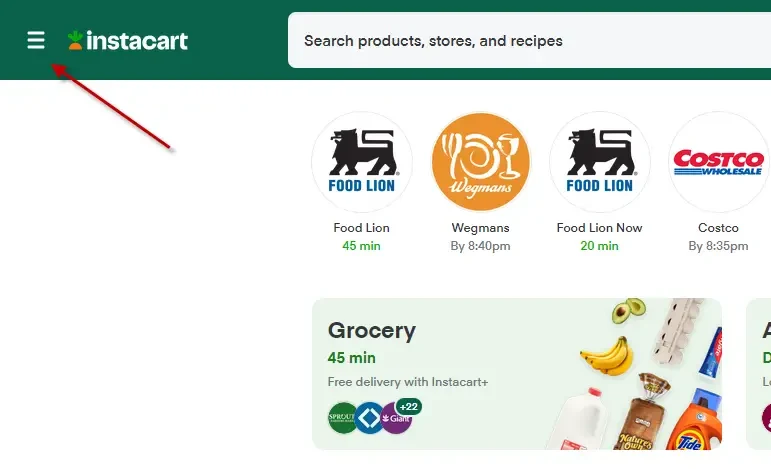 Once the menu appears, scroll down and select the Your account settings option.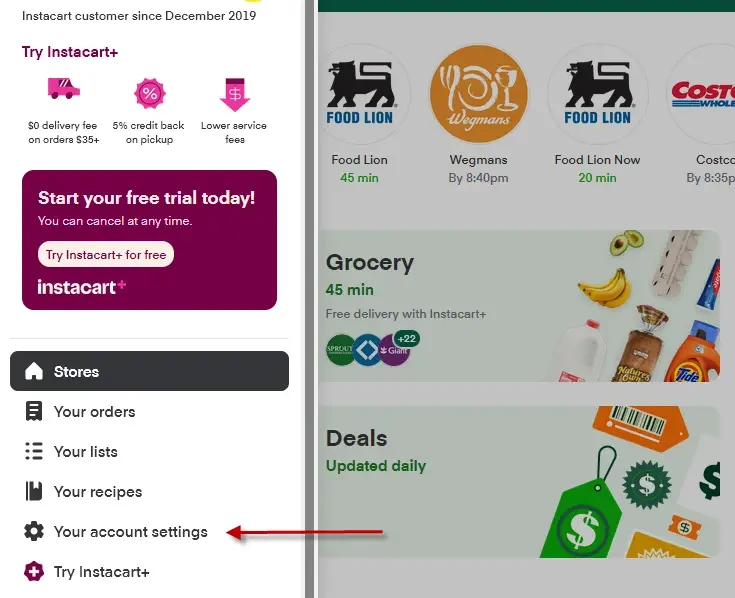 After that, you will then see the Payment methods button (arrow "1" in screenshot below). Click on the button and Add your SNAP EBT card information (arrow "2").

Now is a good time to add an alternate form of payment (credit card, debit card or PayPal).
A separate form of payment is a must to cover fees, bottle deposits, taxes, delivery tips, and any other non-SNAP EBT-eligible items, per government regulation.
Step 3 – Shop for SNAP EBT eligible items
Once your payment methods are set, click on the hamburger menu icon once again.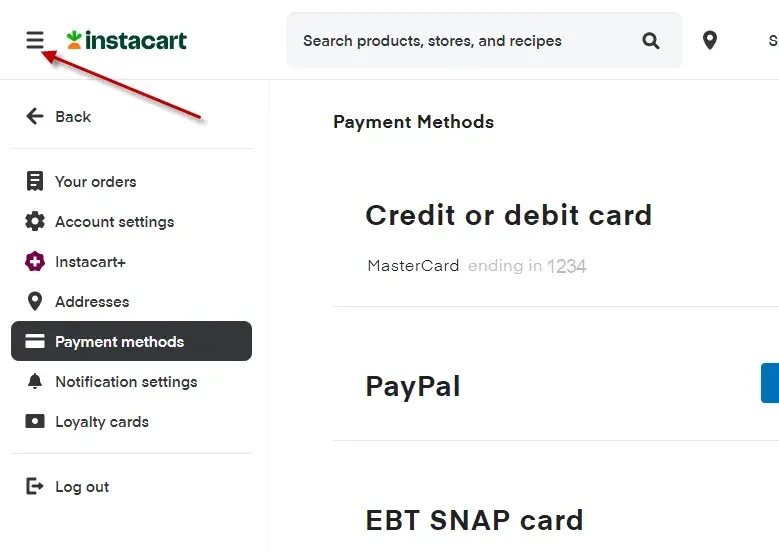 This will display the main navigation menu again. Next, click on the Stores button in the menu to proceed to the shopping section of the Instacart website.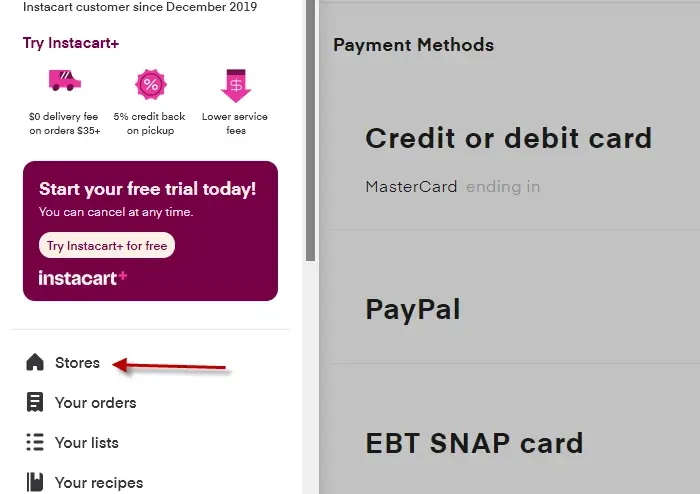 Instacart will show you retailers that are either the closest you for pickup or have the quickest delivery times. This is based on the address information you typed in during account set up.

If you do not see an icon for Price Rite, click on the View all stores button to see more retailers in your locality.

After that, a list of stores will appear. You have an option to select a Price Rite location if they have a store available in your state and locality. Availability is based on your Instacart home address.
In addition, you will notice that Price Rite (and other stores) has the Accepts EBT tag (see screenshot below). This indicates retailers in your area that accept SNAP EBT online.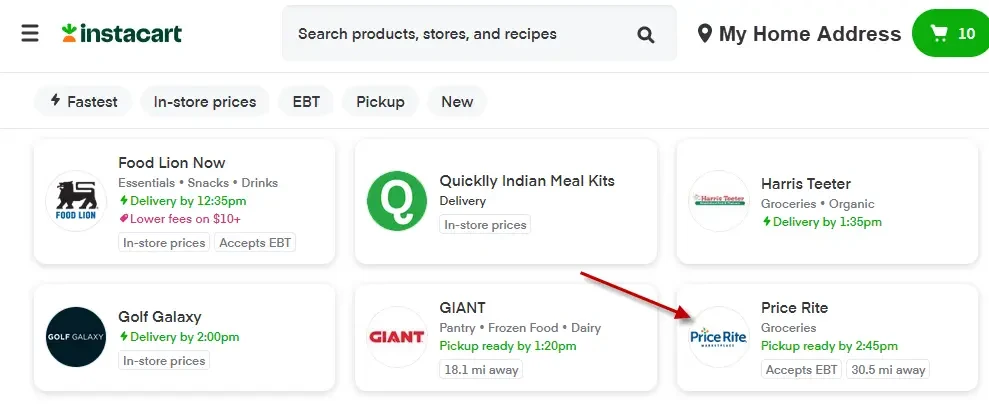 Once you pick a Price Rite location you can start building your shopping cart by adding items. To do so, simply click on the Add button next to each item. After that, use the + toggle to increase the count for each item you add.
You can toggle between Delivery or Pickup options at anytime during your online visit, right until Checkout. Please note, if you exceed the Instacart delivery radius, delivery may be unavailable at the store you selected.

Step 4 – Proceed to Checkout with SNAP EBT
Once you are done selecting items, click the shopping basket to review your cart items.

You have the opportunity update your selected items before completing the checkout process.
When complete, click Go to Checkout after you have finalized the items in your cart.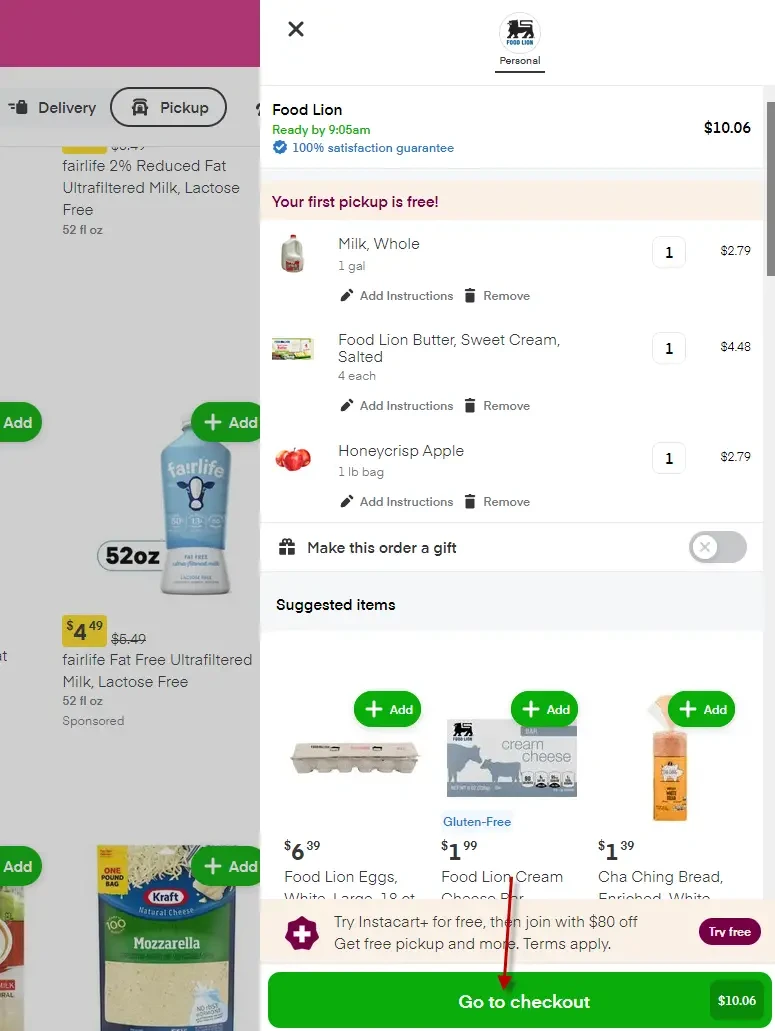 Next, you will be asked to confirm your payment method to place your order.
Step 5 – Review Payment Information & EBT Card
Enter a credit card or debit card as a secondary payment method, if not already done in Step 2 above. This will be used for non-eligible SNAP items, taxes, delivery tips and fees.
After that, you can add an EBT Card now – if you skipped this in Step 2.
Next, select SNAP EBT Card as the primary payment method and click Confirm payment method.
Step 6 – Place Order & Receive your Groceries
Once completed with payment selection, click the Place order button to complete shopping.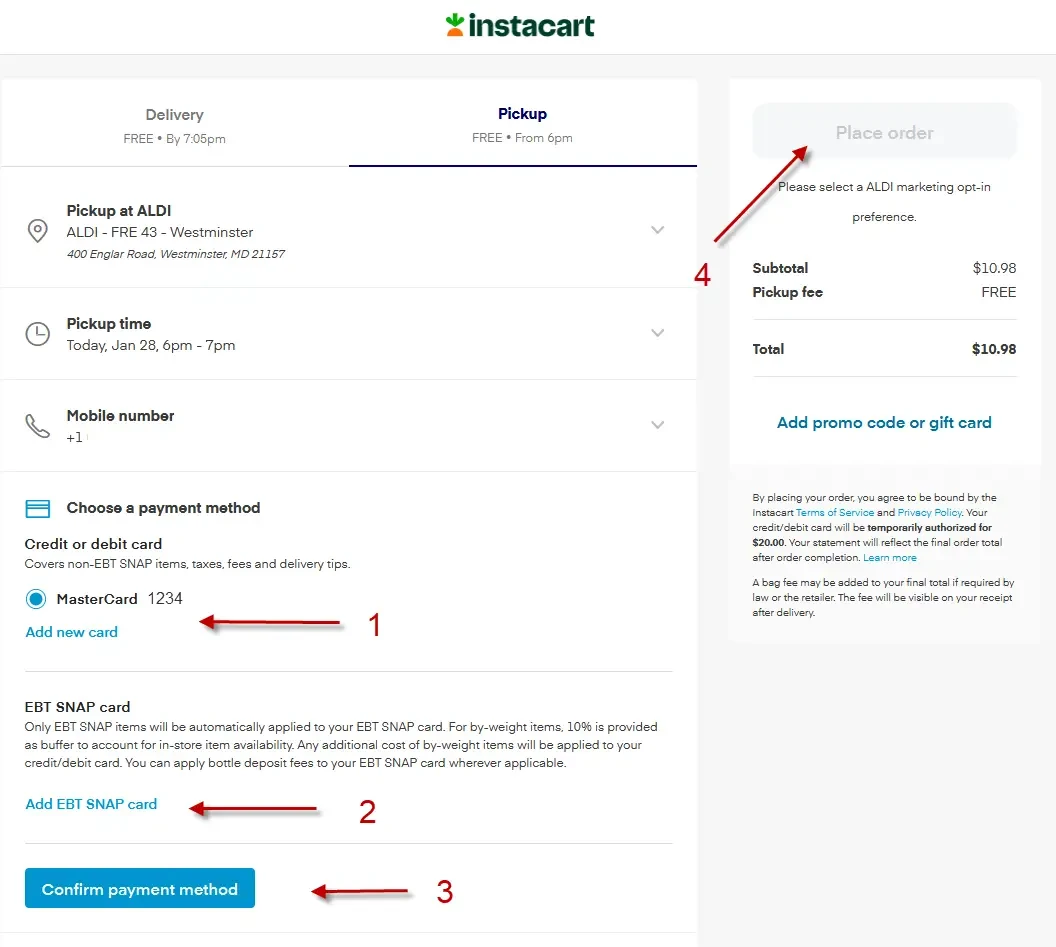 If you opted for Pickup, pull up to the Price Rite store location and curbside spot at the date and time selected. Look for a curbside space and follow instructions on signage. An employee will bring groceries to your car.
If you opted for Delivery, an Instacart Personal Shopper will deliver your groceries direct to your door.
SNAP EBT Card FAQs
Here is a list of our most frequently asked about the SNAP EBT, including grocery shopping online at Price Rite and other Instacart powered grocery stores.
What is an EBT card?
Electronic Benefits Transfer (EBT) is an electronic system that allows a Supplemental Nutrition Assistance Program (SNAP) participant to pay for food using SNAP benefits
An EBT card works similar to a debit card, but funds come from these government-provided nutrition benefits—rather than your bank account.
Does Price Rite accept SNAP benefits?
SNAP (Supplemental Nutrition Assistance Program) refers to a federal program that provides nutrition benefits to low-income individuals and families.
Price Rite accepts accepts SNAP benefits via EBT cards at select online stores in many states. The web-front is powered by Instacart.
Can I use SNAP EBT for grocery delivery or pickup orders on Price Rite?
Yes, SNAP EBT-eligible Price Rite customers in the U.S. can pay for online grocery orders containing eligible items with a valid EBT card, in full or in part, from participating Price Rite stores in select states.
You can shop at any participating stores as long as the state that issued your EBT card is participating in the SNAP Online Purchasing Pilot.
Visit Price Rite's store front here to begin shopping.
Who is eligible to use SNAP EBT on Price Rite's online store?
Price Rite's online shopping presence is powered by Instacart. Instacart is part of a pilot run by the United States Department of Agriculture (USDA) to accept EBT benefits online.
Currently, customers with a valid SNAP EBT card in all states except Alaska can use their SNAP funds on Instacart at participating retailers. EBT funds must be used in the state in which they were provided. Learn more about SNAP eligibility on the USDA SNAP recipient website.
If you don't see SNAP EBT as an option at your local Price Rite store front, make sure you have the latest version of the Instacart app. If you still don't see SNAP EBT, check back later as we work to expand participation to more stores.
What items are eligible for purchase with SNAP EBT funds on Price Rite's store front?
SNAP EBT funds can only be used for eligible staple food items on Price Rite's Instacart store front.
SNAP item eligibility is set by the government and follows the same guidelines as purchases made with SNAP EBT cards in-store.
View the current list of USDA SNAP EBT-eligible food items on the USDA website.
Can I check out using multiple forms of payment on Price Rite?
Yes, you can use multiple forms of payment, such as a SNAP EBT card and a personal credit card, when you check out on Price Rite's store front via Instacart.
Please note that only one SNAP EBT card can be used per order.
All delivery and service fees, bottle deposit fees, taxes, tips, and any items that are not SNAP EBT-eligible will be charged to the credit or debit card linked with your account.
What can you buy at Price Rite via Instacart with EBT?
Here's the list of the most popular food items at Price Rite you can purchase online with SNAP EBT:
Corned Beef Brisket, ground beef, Paisano Italian sausage and other grille worthy delicacies
Green cabbage, red potatoes, carrots and other fresh vegetables
Fish Sticks, pepperoni, salami and a plethora of quick snack/deli items
Breads and cereals
Pepsi cubes, Juicy Juice varieties and non-alcoholic beverages
Bowl and Basket cocktail sauce, Kraft Tartar sauce and mayo and numerous condiment to add flavor to your food
How to Use SNAP EBT Online at Price Rite -Summary
We hope this post about how to use SNAP EBT online at Price Rite was helpful to you.
Questions?
If you have any questions about Food Stamps, EBT cards, or shopping online at Price Rite, please let us know in the comments section below. We are here to help you!
Also, be sure to check out our other articles about SNAP and EBT, including:

Comments
comments