MARTIN'S is one of the retailers approved by the United States Department of Agriculture to accept Food Stamps (SNAP benefits) online. In this post, we will provide step-by-step instructions on how to use SNAP EBT online at MARTIN'S to shop for groceries for pickup and delivery.
Table of Contents:
MARTIN'S Now Accepts SNAP EBT Online
States where you can use EBT Online at MARTIN'S
How to Use SNAP EBT Online at MARTIN'S
SNAP EBT Card FAQs
MARTIN'S Now Accepts SNAP EBT Online
Since March 2020, the United States Department of Agriculture (USDA) has added more grocery stores to the EBT online pilot program after a successful launch in April 2019 with eight retailers.
In August 2021, MARTIN'S joined the USDA's Supplemental Nutrition Assistance Program. The website provides Delivery and Pickup options. The company has also partnered with Instacart in order to provide a limited online store-front. Only pickup orders are handled by Instacart.
As of 2023, MARTIN'S now accepts EBT online in 4 states for delivery and pickup, as listed below.
States where you can use EBT Online at MARTIN'S
There are currently 4 states where MARTIN'S allows SNAP EBT Cards to be used online for delivery and pick-up. Below is the list of States:
Maryland
Pennsylvania
Virginia
West Virginia
If you currently receive SNAP benefits, you can now purchase groceries online with your EBT card from MARTIN'S – for delivery or pick up. You can only use your EBT card to buy eligible grocery items. You will have to add a credit or debit card to pay for non-EBT-eligible items.
How to Use SNAP EBT Online at MARTIN'S
Follow the steps below to use your EBT card on MARTIN'S for delivery or curbside pickup.
Step 1 – Create an Account or Sign In
Start your online shopping with MARTIN'S by creating an account at martinsfoods.com, or sign in with an existing account. Simply click on the "Sign In" icon in the upper right corner of the main page to see links for both options.

Fill out the required fields to create your account and click save.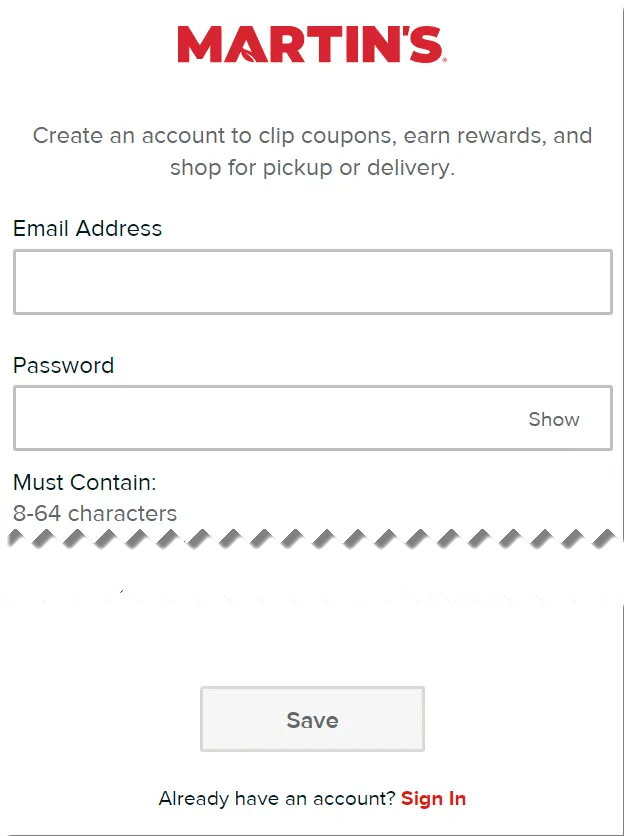 Step 2 – Select Delivery or Pickup
After account creation and a successful sign-in, the next thing to do is to pick a shopping method. There are three options available.
Click on the link below the account icon (see arrow "1" below, it may have defaulted to a pre-selected option) and select either Pickup or Delivery (the "2" arrows in image below).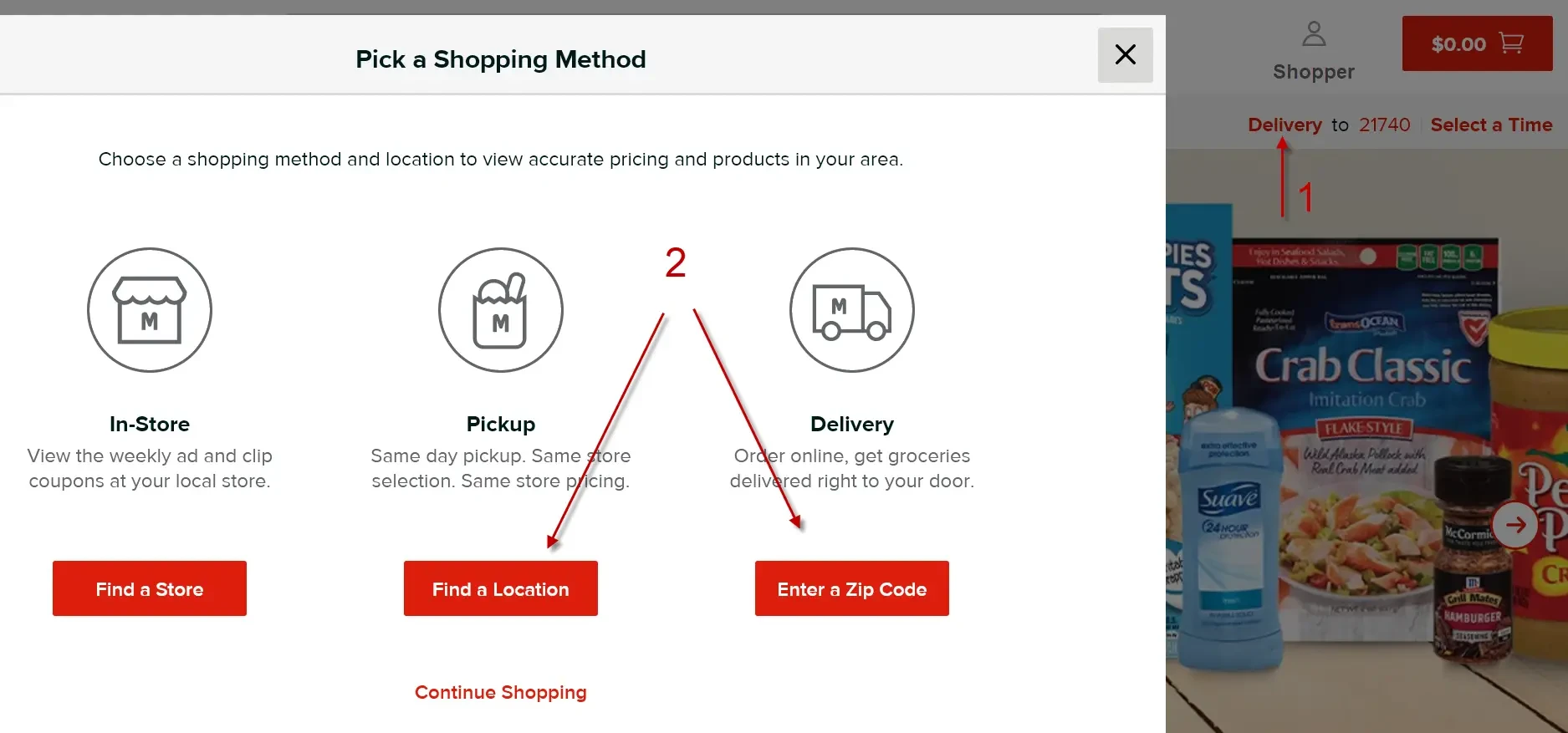 The In-Store option shown above can be used to view weekly ads and clip coupons at a selected store in your locality. Opt for this selection if you plan to drive to the store and shop.
Do not forget to select a time for Delivery or Pickup. Use the link to the right of the option selected (arrows "A" and "B" below) to set a time.
The time selected isn't reserved until you complete check out. Be sure to take your time during your online visit. There is no need to rush.
Step 3 – Shop for Grocery Items
Now it's time to start shopping. The MARTIN'S main page seems daunting at first, with a plethora of ads sliding across. It is actually quite easy to get started.
You may scroll to the bottom of the page and set your dietary preferences to narrow down and reduce the advertisements and aisle items displayed.

To locate items along the virtual shopping aisles,  use the Browse Aisles menu by the red MARTIN'S logo in the upper left corner of the website.

Once an aisle is selected, start adding items to your cart by clicking on the red Add to cart button under an item. The "+" sign increases the count of each item in your cart. A click of the "-" sign reduces the count until the item is removed from your cart. Change the aisle options to navigate the MARTIN'S  online store and build your shopping cart.
Step 4 – Proceed to Checkout
Once your cart has all the items you desire it is time to start the check out process. Click on the red shopping cart button in the upper right corner of the site (arrow "A" below). This will present all the items in your shopping cart for review.

Within the online cart you can increment the count of items in your cart. You can also remove items or empty your cart completely. Each item has a Substitution Options menu where you can leave notes for the MARTIN'S employee that fulfills your shopping list after checkout.
Once the items list meets your satisfaction, click the Checkout button to complete the check out process (see arrow "B" above).
You will now be prompted to confirm your Pickup or Delivery time.

Select a date and  time slot and click the red Checkout button. You will be prompted to enter a delivery address if Delivery was your option.
Step 5 – Add your Payment Information & EBT Card
Now it's time to add your payment information. The first of the payment screens is for your credit or debit card information.

Fill out all required fields and click the Save and Continue button at the bottom of the page to proceed to the next screen for EBT card entry.
If you are placing your first order with MARTIN'S, your EBT card information can only be added on this screen during checkout.

After adding your EBT card, you will now find the SNAP checkbox on the order summary screen. Be sure to enter any promo codes before applying SNAP.

After reviewing your SNAP-eligible grocery items and subtotal, you can enter an amount to charge to your SNAP account. Any balance and fees not covered by SNAP will be paid for using the credit/debit card you set up under your account.

Click the Enter PIN button beside the SNAP Amount entered. This will immediately apply the benefits from your SNAP account. MARTIN'S will charge any remaining balance to your preferred credit or debit card.

Step 6 – Place Order & Receive your Groceries
If you opted for Pickup, pull up to the designated MARTIN'S food store location at the date and time selected. Look for the designated curbside space and follow instructions on signage. An employee will bring groceries to your car.
If you opted for Delivery, a third party Personal Shopper will deliver your groceries direct to your door at the estimated delivery time.
SNAP EBT Card FAQs
Here is a list of our most frequently asked about the SNAP EBT, including grocery shopping online at MARTIN'S and other grocery stores.
Am I eligible for SNAP?
To get SNAP benefits, you must apply in the state in which you currently live and you must meet certain requirements, including resource and income limits.
SNAP income and resource limits are updated annually and cant be found on the USDA SNAP Eligibility website.
Are students eligible for SNAP?
Generally, students ages 18 through 49 who are enrolled in college at least half time are not eligible for SNAP unless they meet certain specific exemptions.
How do I apply for SNAP?
To apply for benefits or get information about SNAP, you must contact your local SNAP office. Visit the USDA SNAP State Directory of Resources for more information about your state's offices.
Can SNAP participants use benefits to pay for shipping or delivery?
Only eligible food may be purchased with SNAP benefits; delivery fees and other associated charges may not be paid for with SNAP benefits.
Which MARTIN'S stores currently accept SNAP EBT payments for groceries?
Online SNAP EBT payments for pickup and delivery orders are available in all our locations. Most of our stores accept SNAP EBT payments for in-store purchases. Call your local store to confirm.
Do I need to have an account to use SNAP EBT for online grocery orders?
Yes, you must create an account or be signed in to your existing account to use SNAP EBT payments.
To place an order, you will also need an alternative payment method such as a credit/debit card or checking account to cover any grocery items or charges not eligible or covered by SNAP funds, including pickup/delivery fees and driver tip.
Is there a minimum order amount required when using SNAP EBT?
No. If you have a SNAP EBT card on file in your account, you do not need to meet the order minimum for pickup or delivery as long as you apply SNAP funds to your order.
However, orders using promo codes will need to meet the minimum required value specified by the promo offer to qualify for the discount. Additionally, MARTIN'S Choice Pass orders will need to meet the order minimum to qualify for free pickup/delivery.
How do I pay for items that are not eligible for SNAP, including pickup/delivery fees and driver tip?
For any balance remaining on your order after you apply SNAP funds, including delivery/pickup fees and driver tip, we'll charge your preferred credit/debit card or checking account. You can select your preferred payment method from the order summary screen.
Please note that your estimated total at checkout is subject to change due to actual weights and availability. We promise to only charge the true, final cost of your order and refund any differences to your SNAP account or payment method. See your final order invoice for details.
Visit your account to update your payment methods and preferences.
Can I use coupons and promo codes when using SNAP EBT online?
Yes! Please make sure to apply all coupons and promo codes before attempting to use SNAP benefits with your order. Standard terms and conditions apply.
How do returns work if I pay with SNAP EBT?
If you need to return an item for any reason, MARTIN'S will credit the refund to your SNAP EBT account or to your selected payment method, whichever applies.
How will I know if MARTIN'S can deliver to my home?
The best way to determine if grocery delivery is available for your location is to visit MARTIN'S website and search by zip code.
The delivery zip codes available are those where MARTIN's is able to provide their full line of groceries, which includes the ability to deliver perishable items to that area.
What can you buy at MARTIN'S with EBT?
MARTIN'S takes pride in improving your overall shopping experience by catering to your specific dietary needs and promoting a healthy lifestyle.
You can personalize your account profile by selecting one or more of the following dietary preferences under your account profile, as indicated in the image below:


Here's the list of the most popular food items at MARTIN'S you can purchase with SNAP EBT:
Healthy Choice Cafe Steamers, Marie Callender's rice bowls, Banquet and other easy to prep frozen dinners
Johnsonville Brats, El Monterey burittos, wraps and other breakfast items
Dairy products such as milk, milk substitutes, eggs and freshly sliced cheeses from the deli.
Lemonades, sodas like Coke and Fresca, as well as popular energy drinks including Red Bull and Reign.
Freshly prepared in store chips and fresh salsa for taco nights
Kosher meats, poultry and other food items
How to Use SNAP EBT Online at MARTIN'S Summary
We hope this post about how to use SNAP EBT online at MARTIN'S was helpful to you.
Questions?
If you have any questions about Food Stamps, EBT cards, or shopping online at MARTIN'S, please let us know in the comments section below.
We are here to help you!
Also, be sure to check out our other articles about SNAP and EBT, including:
Comments
comments