Albertsons is one of the retailers approved by the United States Department of Agriculture to accept Food Stamps (SNAP benefits) online. In this post, we will provide step-by-step instructions on how to use SNAP EBT online at Albertsons to shop for groceries for pickup and delivery.
Table of Contents:
Albertsons Now Accepts SNAP EBT Online
States where you can use EBT Online at Albertsons
How to Use SNAP EBT Online at Albertsons
SNAP EBT Card FAQs
Albertsons Now Accepts SNAP EBT Online
Since March 2020, the United States Department of Agriculture (USDA) has added more grocery stores to the EBT online pilot program after a successful launch in April 2019 with eight retailers.
In July of 2022 Albertsons and its subsidiaries (Albertsons Companies) improved access to nutritious food by integrating SNAP EBT benefits into same-day grocery delivery and curbside pickup.
The service is provided through partnership with Instacart.
As of 2023, Albertsons Companies now accepts EBT online in 14 states for delivery and pickup, as listed below.
States where you can use EBT Online at Albertsons
There are currently 14 states where Albertsons allows SNAP EBT Cards to be used online for delivery and pick-up.
Below is the list of States:
Arizona
Arkansas
California
Colorado
Idaho
Louisiana
Montana
Nevada
New Mexico
Oregon
Texas
Utah
Washington
Wyoming
If you currently receive SNAP benefits, you can now purchase groceries online with your EBT card from Albertsons – for delivery or pick up.
The delivery service is offered in partnership with Albertsons.
You can only use your EBT card to buy eligible grocery items. You will have to add a credit or debit card to pay for non-EBT-eligible items.
How to Use SNAP EBT Online at Albertsons
Follow the steps below to use your EBT card on Albertsons for delivery or curbside pickup.
Step 1 – Create an Account or Sign In
The first thing you want to do is sign in to your account, or create a new one at www.albertsons.com.
Simply click the Sign In/Up button in the up right corner.

Sign in to an existing account with your email address. You may use a password or have the website send you a One-time verification code (see screenshot below with arrow "A").
The Create Account button (arrow "B") is also available to start the new account creation process.

Step 2 – Select Delivery or Pickup
After sign in, you want to choose between a delivery or pickup option. Click the Change link under the Search Products area to toggle a selection.



You can toggle between Delivery and Pickup at any time, even at check out. Just revisit the link to change your shopping option. Note that the delivery service is not available from all stores, depending on your location.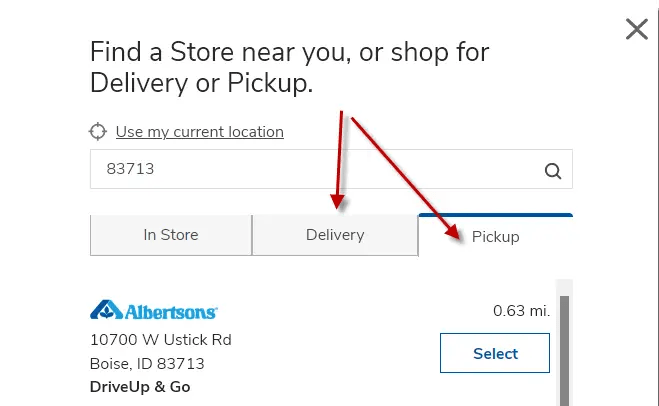 If opting for Pickup, be sure to pick a location nearest to you and reserve a pickup time.


Step 3 – Shop for Grocery Items
Albertsons has a menu on the left that categorizes items on the website to make shopping easier. It also provides a featured items section. To toggle it, simply click on the Shop link in the main menu bar at any time during your online visit.

Fill your cart by clicking on the blue Add buttons by each grocery item. Use the "+" sign to increment the number of each selected item.

Step 4 – Proceed to Checkout
When you're done adding items to the cart, click on the cart button in the upper right corner of the webpage to review all selected items. You will then be able to start the checkout process.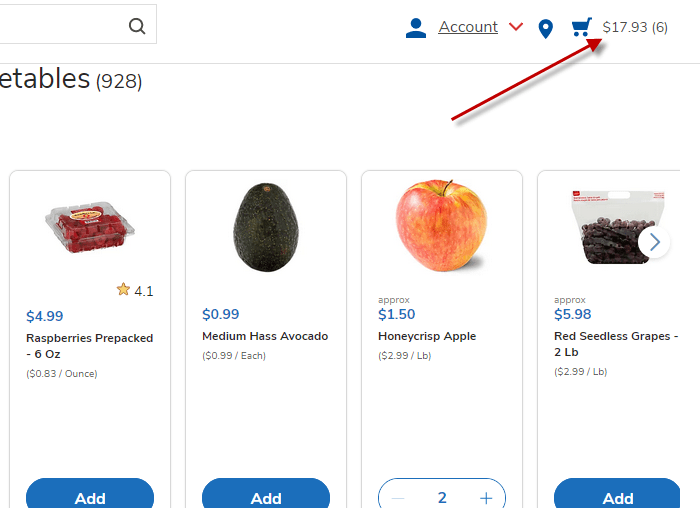 After finalizing your cart items (the View order button expands the list), click the blue Checkout button as shown below.

Next, you will be prompted for payment confirmation and will be able to place your order. You are almost done!
Step 5 – Add your Payment Information & EBT Card
Make sure your contact information is filled out right on the order summary page. This is auto-populated from your sign-up details. Click Continue to proceed to Payment options.

Now you can add your EBT Card information, if you didn't already during account creation ("A" in the screenshot below).
You also want to enter a credit or debit card payment option here as a secondary form of payment. This will be used for non-eligible SNAP items, taxes, tips and fees.

Make sure you select the EBT card as the primary payment method and choose which EBT eligible items your card will be applied to.
Step 6 – Place Order & Receive your Groceries
Once you've completed setting your payment options, click the Place Order button to complete shopping (arrow "B" in image above).
After placing your order, you will be prompted to enter your EBT card pin to verify your purchase.
If this order is for Pickup, drive to the opted Albertsons location and pull up to the pickup spot. Look for the curbside space and follow instructions on signage. An employee will bring groceries to your car.
If this was a Delivery order, then an Instacart Personal Shopper will deliver your groceries direct to your door.
SNAP EBT Card FAQs
Here is a list of our most frequently asked about the SNAP EBT, including grocery shopping online at Albertsons and other grocery stores.
What is EBT?
EBT, or Electronic Benefits Transfer, is a system that allows government programs like SNAP and TANF (Temporary Assistance for Needy Families) to load funds onto payment cards for their recipients.
What is SNAP?
SNAP, or Supplemental Nutritional Assistance Program, is a federally funded program that provides financial assistance to help get healthy food on the tables of millions of Americans.
What is EBT Cash?
EBT Cash (TANF) provides supplemental income for qualifying households. It gives families a certain amount of extra money for necessities other than food.
Can my EBT card be used for online purchases at Albertsons Companies stores?
Yes, Albertsons Companies grocery delivery and pickup now accepts SNAP and EBT Cash as online payment methods (subject to state regulation).
Albertsons accepts SNAP in any state where they have online delivery and pickup service.
However, not all states currently offer EBT Cash as an online payment type (even if you can use EBT Cash at the physical location).
Please check with your EBT office to confirm if EBT Cash is available to use for online transactions.
Which Albertsons locations offer EBT grocery delivery and pickup?
Albertsons is working diligently to offer EBT grocery delivery and pickup at all of their stores.
Please visit their Store Locator page, find a location and click on "View More" under Services to find out if a store in your area is accepting EBT for online payment. Look for "SNAP EBT Online".
Which items are eligible for SNAP EBT?
Check the official USDA What Can Snap Buy? website for items that can be purchased using SNAP EBT.
How do I check out on www.albertsons.com with my SNAP EBT/EBT Cash card?
In the payments section of the checkout page, enter your SNAP EBT card information and click "Apply Payment".
Choose the SNAP and/or EBT Cash amount you'd like to use.
If the total amount for SNAP-eligible items is higher than your SNAP balance amount, or to pay for any non-SNAP eligible items, you can use another form of payment such as a credit/debit card to cover the difference.
How do I check my SNAP EBT/EBT Cash balance?
You can check your balance during checkout by selecting "EBT Balance Check" in the EBT Payment Entry section.
Can I use more than one form of payment when paying with SNAP EBT and/or EBT Cash?
Yes, you can make online purchases with more than one type of payment method, and you can use another payment method to pay for non-SNAP eligible items.
Albertsons accepts Visa, MasterCard, Discover, and American Express credit cards, and most bank-issued debit cards.
Cash, Albertsons gift cards, Safeway Pay, personal checks, and other charge accounts are currently not accepted for online orders.
Residents of Arizona with disabilities who use Electronic Benefit Transfer and need to use the Online Grocery Ordering Service because of their disability may contact Customer Service at (877) 505-4040 for assistance.
If you elect to be transferred to a third-party service provider's website (such as Rush Delivery by Instacart), then the types of payment options and related terms will be established by that company.
What is EBT Weight Debit and why does it appear as a charge on my grocery order?
A 10% weight debit surcharge is added to items that are priced by weight (fruits, vegetables, etc.) when you pay with SNAP and/or EBT Cash.
Do not be alarmed as the final price is determined once the item is picked and weighed.
If the final price is less than what you paid at checkout, the difference will be refunded to your EBT card, and/or reduce the amount charged on your credit card.
How does Albertsons manage refunds when there are multiple payment types used to pay for my order?
You may request a refund for any item you are not happy with.
If SNAP EBT is used as a payment type, Albertsons will follow guidelines from the USDA on how to process SNAP eligible refunds. If your item to be refunded is SNAP eligible and you used SNAP to pay for your order, Albertsons will refund the payment back to SNAP.
When all SNAP funds have been refunded, Albertsons will refund the remaining payment types used in the order. For non-SNAP eligible refunds, they will process refunds according to the EBT Cash and/or other payment card amounts you used to pay for your order.
Can I make an edit after placing an order with SNAP EBT/EBT Cash on Albertsons' website?
You can make edits within certain time frame after placing your order.
Sign in and click "Orders" in the drop-down next to your name at the top of the page to edit or cancel your order.
Items in your order and updating your delivery or pickup date and time may only be edited on the same day your order is placed.
How do I know if I qualify for SNAP?
You can check to see if you qualify for SNAP benefits on the SNAP website.
Does Albertsons accept WIC online?
WIC is currently not supported for Albertsons online delivery and pickup orders but can be used for in-store purchases.
Do I need an account to use your website?
Yes, or delivery or pickup orders you must have an account, or create an account.
Can I use EBT on the Albertsons shopping App?
The Albertsons App allows EBT payments. Just make sure you select the "Checkout with EBT card" option located under the Checkout button.
What can you buy at Albertsons with EBT?
Here's a list of some the most popular food products that people love at Albertsons. You can purchase all of them with SNAP EBT:
Signature Select Mixed Nuts and other snack to eat on the go items
Open Nature Parmesan or Cheddar Cheese Crisps – A healthy alternative packing 13 grams of protein per serving
O Organics French Dark Roast Ground Coffee – A perfect "pick me up" product to start the work day.
Open Nature Uncured Applewood Smoked Bacon – reduced levels of nitrates for the health conscious.
Waterfront Bistro Raw Shrimp and other frozen seafood.
Lucerne Shredded Mexican style Four Cheese Blend – Great for tacos, quesadillas and even salads
Signature Select Macaroni and Cheese – A hit with the kids
These are but a few of the many choices you will find for produce, dairy, snacks and general groceries at Albertsons.
How to Use SNAP EBT Online at Albertsons -Summary
We hope this post about how to use SNAP EBT online at Albertsons was helpful to you.
Questions?
If you have any questions about Food Stamps, EBT cards, or shopping online at Albertsons, please let us know in the comments section below. We are here to help you!
Also, be sure to check out our other articles about SNAP and EBT, including:

Comments
comments