If you have survived a natural disaster such as a hurricane, wildfire, tornadoes, or flooding, you may apply for disaster food stamps or D-SNAP to help you buy food. D-SNAP is a food assistance program funded by the federal government through the United States Department of Agriculture (USDA) and administered at the state level where a natural disaster has occurred. The program is meant to extend benefits to households that typically would not be eligible for food assistance, but have a sudden need because of a disaster.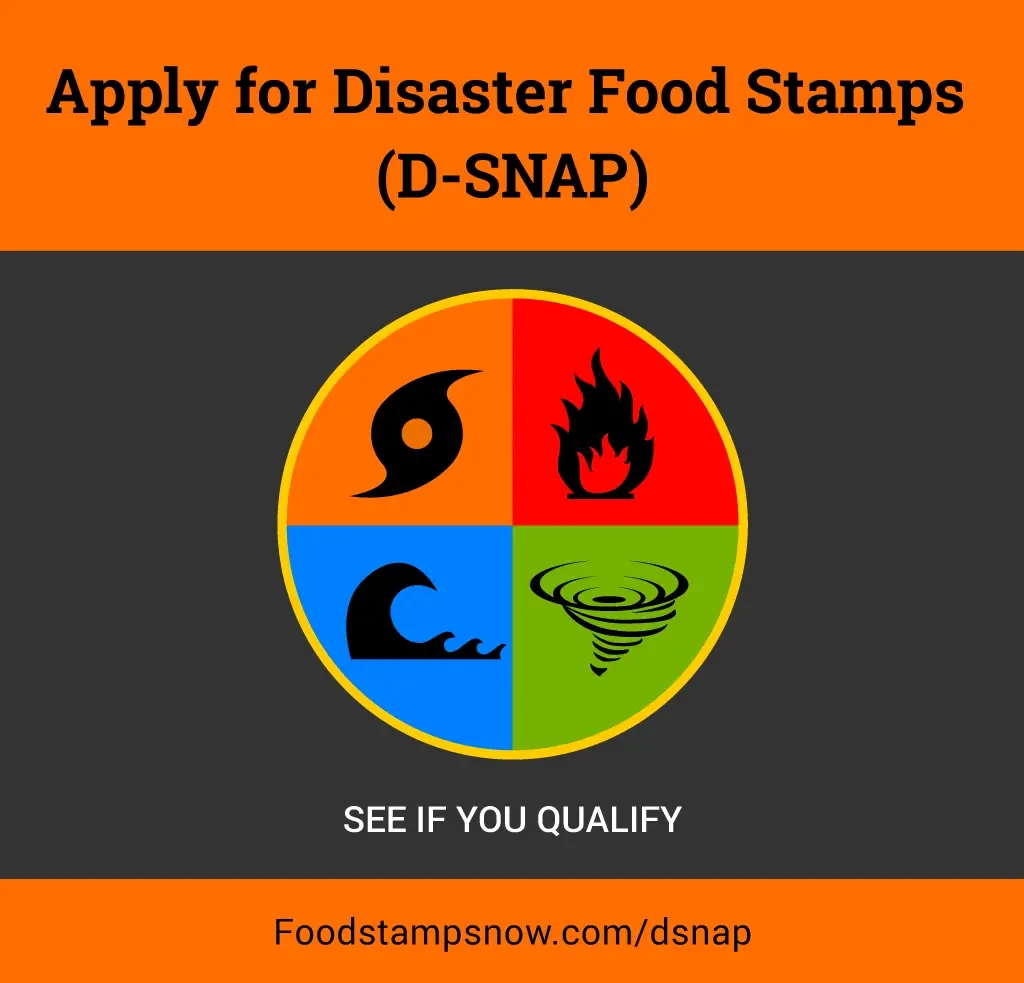 Unlike regular food stamps (SNAP) where there is typically a 30-day waiting period, if you qualify for disaster food stamps, you will receive your benefits no later than seven days after you submit the application. If you are currently receiving food stamps, and have survived a natural disaster, you may apply for D-SNAP and have your current food stamps allocation increased temporarily to help you get through the post-disaster period. Here is what you need to know to apply for disaster food assistance in your area:
Disaster Food Stamps (D-SNAP) Benefit Details
Eligible households receive 1 month of benefits, equivalent to the maximum amount of benefits normally issued to a SNAP household of their size.

Benefits are issued via an electronic benefits transfer (EBT) card, which can be used to purchase food at most grocery stores.

Benefits are

issued

to eligible applicants within 72 hours
How D-SNAP Works
If you have survived a natural disaster and need food assistance, it is important to understand how the disaster food stamps program works, to avoid frustration during this challenging time. There are steps your state will have to take in order to start issuing D-SNAP benefits. Here is how the program works:
Step 1
In the aftermath of a natural disaster, a state can apply to the USDA to offer disaster food stamps once the area has received a Presidential disaster declaration of individual assistance (IA) from the Federal Emergency Management Agency (FEMA). This authority comes from the Robert T. Stafford Disaster Relief and Emergency Assistance Act signed into law in 1988 which allows for emergency food assistance in disaster areas.
Step 2
Once the states receive approval to operate the D-SNAP program in the affected disaster area, information is then sent out to media outlets, listing program eligibility guidelines and application process, including how to apply online or in person. There is usually a list of physical locations where you can apply for D-SNAP in person or get help applying in person. It is important to note that you CANNOT apply for disaster food stamps until your state has been approved for the program and there has been an announcement about accepting applications.
Step 3
Once your state has announced that they have started accepting applications for disaster food stamps in the affected areas, then you are now able to apply for benefits. Click here to check the FEMA website to see if a disaster declaration has been made for your area/state. You can also see the disaster declaration map on this website. The USDA has a map here where you can see parts of the country where they have provided responses to recent disasters and a full list here.
The application process is simplified for D-SNAP and benefits are issued to eligible applicants within 72 hours
How to Apply for D-SNAP
To apply for D-SNAP, you have to contact your state agency that manages your food stamps program to find out the specially designated D-SNAP application sites located in your community. Click here to contact your state's agency responsible for Disaster Food Stamps.
Do I Qualify for D-SNAP?
If you would not normally qualify for food stamps (SNAP), you may qualify for D-SNAP if you had one of the disaster-related expenses below:
Home or business repairs

Temporary shelter expenses

Evacuation or relocation expenses

Home or business protection

Disaster-related personal injury, including funeral expenses

Lost or no access to income due to the disaster, including reduced, terminated, or delayed receipt of income, for a large part of the benefit period

In some cases, food loss after a disaster like flooding or power outages
If you are currently on food stamps (SNAP), you may qualify for D-SNAP if you meet the conditions below:
You currently get benefits that are less than the monthly maximum, and

You have losses from the disaster.
What You Need to Apply
The application process for Disaster Food Stamps is very simplified and approval is quicker, as compared to the regular SNAP program, which can take up to 3 months to get approved in some states. When you apply for Disaster Food Stamps, you will need the following:
Names, Social Security Numbers, and Dates of Birth for each household member

Address and County where you currently live

Monthly income for each household member

All liquid resources for each household member (cash on hand, checking, savings)
To apply, click here to call your state's SNAP hotline to find out where to apply for disaster SNAP in your area.
Below are links to select state Disaster Food Stamps Program websites:
If you have any questions about D-SNAP in general or how to apply for disaster food stamps in your own state, let us know in the comments section below. If you are having trouble applying for D-SNAP in your state, we would like to hear from you. Fill out the comment box below.
Comments
comments