If you live in the state of Texas and are receiving food stamps, there are three ways you can check the balance on your EBT card (Lone Star Card). In this post, we will detail the three ways you can check your Texas EBT Card Balance.
This Post Will Cover:
How to Check Texas EBT Card Balance
List of Stores That Take EBT Online for Delivery

Texas EBT Frequently Asked Questions
News Alert: Did you know you can use your SNAP EBT Card to buy groceries on Amazon? Click here to find out how.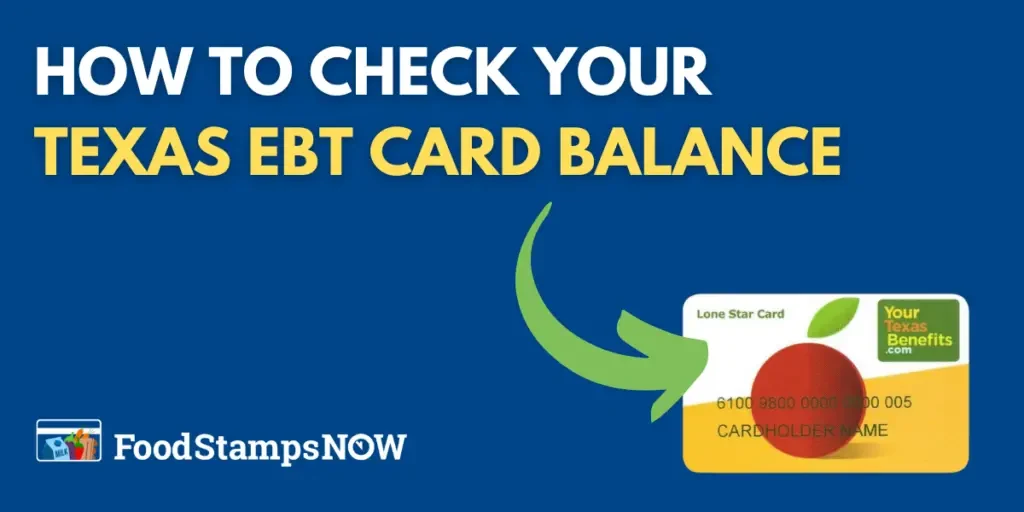 The Texas Health and Human Services (HHS) is responsible for administering Texas Food Stamp benefits to approved, low-income households who meet income and other requirements.
This includes reviewing and approving new applications, renewals and preventing abuse of the program.
If you are approved for Texas food stamps, your benefits will be deposited on an Electronic Benefits Transfer (EBT) card.
The state of Texas deposits food stamp benefits on your EBT Card on the same day every month.
Texas EBT Card benefits can be accessed by 6AM the morning after they are posted to your EBT Card account.
You can use the benefits to make approved food purchases at eligible retail locations.
Most Texas grocery stores accept EBT Cards as payment. Also, some grocery stores accept EBT online for pickup and delivery. 
Additionally, you can use your Texas EBT card at most farmers' markets, including at select locations where you can double your money when you buy produce. 
Lastly, you can get discounts and perks with your Texas EBT, including 50% off Amazon Prime, Free or Discounted phone and internet services, and more.
For instructions on how to check the balance on your Texas EBT Card, keep reading below. 
How to Check your Texas EBT Card Balance
There are three options for checking your Lone Star Card balance. Here they are:
Option 1 – Last Purchase Receipt 
If you kept your last purchase receipt, you can look at the bottom of your receipt and find the current balance on your EBT card. 
This is one of the easiest ways to get the most up to date balance on your card. 
Additionally, to make future purchases easier, you should also get in the habit of keeping your EBT purchase receipts in the same place. 
That way, anytime you are unsure about your card balance, you can reference your last purchase receipt. 
Option 2 – Call Customer Service 
You also have the option to call the Texas EBT Card customer service line and get your card balance.
The Texas EBT Customer Service phone number to call is 1-800-777-7328. 
Option 3 – Check Your Balance at the Store
You can also check your balance at the store before buying anything if the store allows you to do so.
To do this, present your card to the cashier and ask if they are able to check the balance on your card before you make a purchase. 
List of Stores That Take EBT Online for Delivery
The United States Department of Agriculture (USDA) launched the Online Purchasing Pilot that allows select grocery stores to accept EBT cards online.
Currently, there are 20 grocery stores that accept Texas EBT Cards online for home grocery delivery or store pick-up. 
Texas Lone Star EBT cardholders can buy food online for delivery and/or pickup from the approved grocery stores listed below.
Alberstons
Brookshire's Food and Pharmacy
Central Market
FRESH by Brookshire's
H-E-B
Joe V's Smart Shop
Lewis Food Town
Little Red Box Grocery
Pyburn's Farm Fresh Foods
Randalls
Sam's Club Scan and Go
Spring Market
Super 1 Foods Brookshires
Tom Thumb
For more information about how you can use your EBT Card to shop online for delivery, click here.
Texas EBT Frequently Asked Questions
I have seen people purchase non-food items with an EBT card. I thought SNAP was only for food?
Yes, SNAP benefits are only for food. However, some people have an EBT card for their TANF (cash assistance) benefits. You can use TANF benefits to purchase food and non-food items.
For information on TANF eligibility, contact your local government benefits assistance office.
Can I have someone else help me shop using my EBT account?
Ask your county food stamps caseworker about setting up an Authorized Representative (AR). The AR will have a separate card with his or her own account number and PIN.
Additionally, the EBT system is able to track which card is used at any time. The AR will have access to your entire benefit account.
Can I use my EBT card in other counties and other states?
Your EBT card will work at any store or ATM that accepts EBT Cards in the United States, as well as the District of Columbia, the U.S. Virgin Islands, and Guam.
There are no rules against using your EBT card outside of your state of residence. However, you are required to report any address change to your local county public assistance office.
If I don't use all of the benefits I received this month, will these benefits still be available to me next month?
Yes, benefits that are not used in the month issued will stay in the EBT account. You may use these benefits in the following months.
What do I do if I suspect someone has stolen benefits from my EBT account?
If your card is stolen or you think someone knows your PIN, you should immediately call the customer service number at the back of your EBT card. A customer service agent will cancel your EBT card so that it cannot be used and have a new one mailed out to you.
In addition, if you believe your benefits have been stolen, contact your caseworker or county office for assistance. You should also file a police report.
How do I report a store or person that I think is misusing food or cash benefits (committing fraud)?
Misusing benefits on purpose is a federal crime. If you misuse benefits, your benefits can be taken away. To report a store or person misusing benefits, click here.
What items am I allowed to purchase with my EBT card?
For information on items that you are allowed to purchase with EBT food benefits, click here. Cash aid may be used to purchase anything that can be legally purchased with currency (cash).
How do I buy food and items with my Lone Star Card?
Here's how to use your Lone Star Card to purchase food items:
Swipe your card in the store's payment machine.
Then select "EBT".
Next, enter your PIN.
Remember to keep the receipt – it shows the updated amount left on your card.
Texas EBT Card Balance Summary
We hope this article on how to check your Texas EBT Card Balance was helpful. If so, please share it using the "Share this" button below.
If you have additional questions about the Texas Lone Star Card, please leave those in the comments below. We are always happy to help!
Check out the current EBT Discounts and Perks available exclusively to Texas EBT Lone Star Cardholders!
You can save on phone service, museum admission, and even on Amazon Prime! Check out how you can save with your Texas EBT card here.
Also, be sure to check out our other articles about Texas Food Stamps and EBT, including:
Comments
comments