If you are applying for benefits in Texas or have already been approved for benefits and would like to create a Yourtexasbenefits account, we can help. The Your Texas Benefits system is used by the Texas Health and Human Services Department to manage public assistance programs for individuals and families. In this post, we will provide a step-by-step process on how to create a Yourtexasbenefits.com. You can use the account to apply for or manage the following benefit programs:
Food Stamps (SNAP)
TANF Cash Help
Healthcare (Medicaid)
Childrens Health Insurance Program
Support Services
WIC Food Benefits
If you are applying for benefits, there are several advantages to applying online and creating a Yourtexasbenefits.com account. There are two types of accounts you can create: Full Access or Limited Access.
With a full access account, you can use the website to:
Apply for and renew benefits
Check the status of your benefits
View benefit amounts
Report changes
Manage case alerts
View letters and forms online
Upload and send files
View Medicaid services
Print a Medicaid card
A limited access account means you can only use the website to:
Apply for benefits
See the status of your application
How to Create a Yourtexasbenefits Account
Step 1
Click here to be taken to the website to set up your account. You may be asked to answer some pre-screening questions before you will be taken to the account set up page to create your account. Be sure to select whether you want to create a Full Access account or Limited Access. You will then be asked to provide the following information:
Name
Address
Date of Birth
Email Address
Phone Number
Sex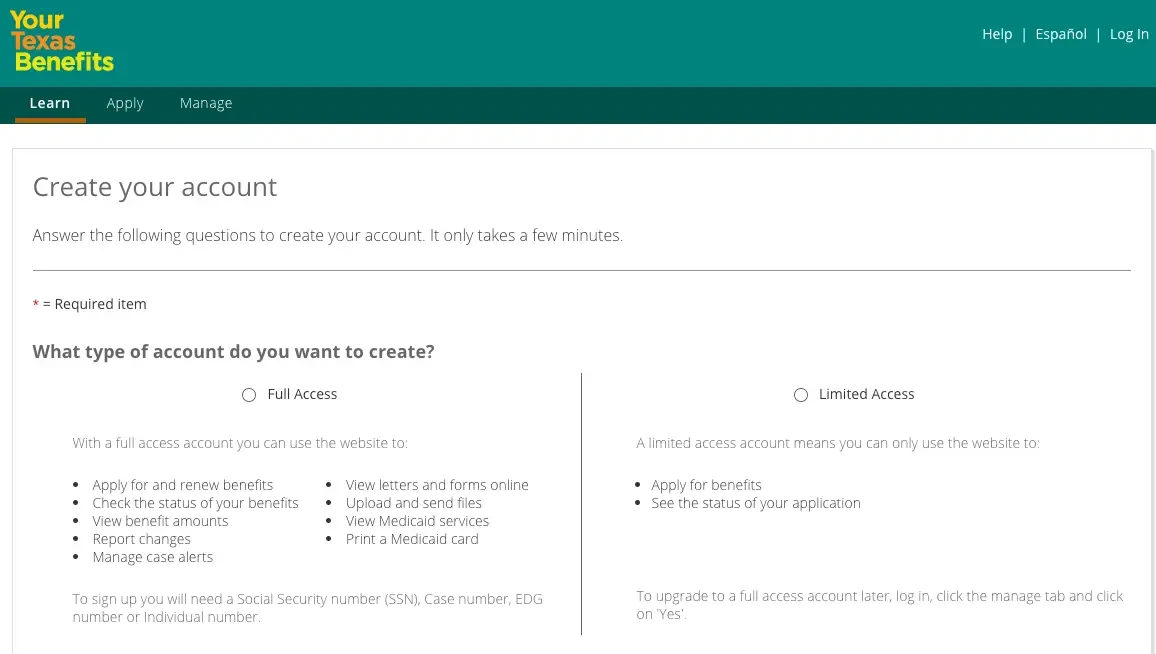 Once you are done entering the requested information, click "Next". You will be taken to a page where you will be required to enter one or more of the following information to confirm your identity as shown below:
Case Number
Social Security Number
EDG Number
Individual Number
Once you enter one or more of this information successfully, you will be taken to a page create your account – by entering a User Name and Password. You will then have to pick security questions that will be used to identify you when necessary, especially when you have to reset your password.
Once you complete this information, click "Next". You will be taken to a confirmation page like the one below – which lists all the services you can access with the Your Texas Benefits account you just created:
After that, you can click on the "Log In" link at the bottom of the page to log into your newly created yourtexasbenefits account. You can then apply for benefits or manage your existing benefits, as shown in the image below.
Note that if you created a limited account, you can only apply for benefits and view the status of that application. To get the other benefits the site can offer, you have to upgrade to a full access account. You can always upgrade your account later.
The short video below explains in detail what the website has to offer and the benefit programs managed by the Texas Department of Health and Human Services. We highly recommend it.
Create Your Texas Benefits Account Summary
We hope this article on how to create a YourTexasBenefits Account was helpful.
If so, we encourage you to share this article with anyone who may also find it helpful by using the "Share this" button below.
For more help navigating the Texas Benefits website, please call the Department of Health and Human Services customer service at 1-877-541-7905 or Call 2-1-1.
If you have additional questions about the Texas SNAP or EBT, please leave those in the comments section below. We are here to help you!
Be sure to check out our other articles about Texas Food Stamps and EBT, including:
Comments
comments