Do you know about Michigan EBT Discounts? Your EBT card not only allows you to buy food but also qualifies you for some amazing discounts, perks, and free stuff. Yes, that's true, your Michigan Bridge Card comes with a lot of perks that many cardholders are not aware of.
This includes almost half off Amazon Prime membership, discounted or Free home phone, cell phone, and home internet service, free or reduced admissions to museums and other family-friendly places.
If you would like to take advantage of these great deals, read below for details.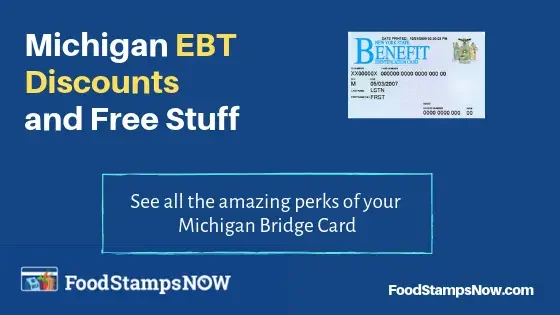 National EBT Discounts
Below are the discounts that are available to all EBT Cardholders across the United States, that can also be redeemed by Michigan EBT Card Holders.
Amazon Prime EBT Discount
If you have a Michigan Bridge Card, you can now sign up for Amazon Prime EBT Discount and get all the great benefits that come with Prime membership, at a fraction of the cost.
The regular Amazon Prime membership is $12.99 a month. However, if you have an EBT Card, you can get Prime Membership for $5.99. That's over 50% off the regular price.
Given that Amazon is part of the USDA pilot of vendors approved to accept food stamps online for delivery, prime membership allows you to order groceries through Amazon Pantry in certain parts of the country.
Sign-up for Amazon Prime EBT Discount HERE
If you are not sure if the Amazon Prime EBT Discount is worth it, here is a summary of the what you get with your Amazon Prime membership:
FREE, Fast Delivery on Millions of Items
With Amazon Prime membership, you get fast, free shipping on over 50 million eligible items on Amazon.com. They have also rolled out a program recently that allows people who live in certain metropolitan areas to get FREE Same-Day Delivery on over a million items and FREE 2-hour delivery with Prime Now on daily essentials and groceries.
Instantly Stream TV Shows and Movies
One of the most popular features is the instant streaming of TV Shows and Movies. Your Prime membership includes instant access to thousands of movies and TV shows at no additional cost. You can stream all these on select Smart TVs, Roku, Xbox, Amazon Fire TV, iPhones, tablets, and Android devices.
Other Benefits of Amazon Prime
Buy groceries online with your EBT Card through Amazon Pantry for delivery (in states where this is available)

Over two million songs. Thousands of playlists and stations (On-demand, ad-free music streaming)

Books, Magazines & More (Unlimited reading on any device)

Original audio series from Audible (Unlimited listening to original audio series)

Twitch Prime (Get free game content every month, exclusive discounts, plus loads more)

All your photos, together at last (Free unlimited photo storage)
Michigan EBT Discounts for 2022
Lifeline Program
If you are currently on Food Stamps/EBT Cardholder, and your income is below a certain level, you may qualify for FREE or low-cost home or cell phone service for you or a member of your family through the Federal Lifeline Program, which serves nearly 13 million Americans.
The Lifeline program helps to lower the monthly cost of phone and internet service. Eligible customers will get at least $9.25 toward their monthly bill. You can only use Lifeline for either phone or internet service, but not both.
Discounted Cell Phone Services
Below is a list of cell phone providers that participate in the Lifeline program in the state of Michigan.
Discounted Home Phone Services
Below is a list of home phone providers that participate in the Lifeline program in the state of Michigan.
Discounted Internet Service
The new Affordable Connectivity Program (ACP) provides discounted internet to EBT Cardholders. The program provides households with a $30 discount on their internet service each month.
Plus, you could also get a one-time $100 discount on the purchase of an eligible laptop, desktop or tablet.
You can combine the $30 ACP internet credit with your Lifeline phone service to save even more on your phone and internet bill each month.
To find out how to apply, check out our article here.
Discounted Museums Admission
As an EBT cardholder in Michigan, you also get discounted or FREE access to museums and other great family-friendly places. We have compiled the list below for your convenience.
The Michigan Museums listed below all offer individual admission fees ranging from FREE to $3.00 to individuals and families who have an Electronic Benefits Transfer (EBT) card, and a valid form of photo ID.
The offer covers up to four individuals per EBT card, which means that if you have a family of 4, you can use your Michigan EBT card to get the special discounted rate or the free admission for all four members.
These rates are available during all normal operating hours. We advise that you call the museum first before you go – so that you can find out what their special rate is for EBT Cardholders (whether it's free admission or $3).
Here is the list of participating Museums:
Impression 5 Science Center
200 Museum Drive 
Lansing, Michigan 48933
517-485-8116
Flint Children's Museum
1602 W. University Ave. 
Flint, Michigan 48504
810-767-5437
Flint Institute of Arts
1120 East Kearsley Street 
Flint, Michigan 48503
810-234-1695
Saginaw Art Museum
1126 North Michigan Avenue 
Saginaw, Michigan 48602
989-754-2491
Mt. Pleasant Discovery Museum
5093 E. Remus Rd. 
Mt. Pleasant, Michigan 48858
989-317-3221
Kids 'N' Stuff Children's Museum
301 S. Superior Street 
Albion, Michigan 49224
517-629-8023
Alden B. Dow Museum
1801 W. St. Andrews 
Midland, Michigan 48640
989-631-5930
Grand Rapids Children's Museum
11 Sheldon Ave. NE 
Grand Rapids, Michigan 49503
616-235-4726
Urban Institute for Contemporary Arts (UICA)
2 Fulton West 
Grand Rapids, Michigan 49503
616-454-7000
Grand Rapids Art Museum
101 Monroe Center St NW 
Grand Rapids, Michigan 49503
616-831-1000
Forever Curious Children's Museum
202 E Main St 
Fennville, Michigan 49408 United States
(269) 561-8494
Michigan Science Center
5020 John R. Street 
Detroit, Michigan 48202
313-577-8400
Michigan EBT Discounts Summary
We hope you found our list of Michigan EBT discounts helpful. If you have any comments, suggestions for other perks or EBT discounts to add, please tell us in the comments section below or contact us.
If you found value in this post, please share it using the "Share this" link below. 
Be sure to check out our other articles about Michigan Food Stamps and EBT, including:
Comments
comments