This is healthy and delicious Tacos made with Instant Pot. It's a vegetarian recipe that packs lots of protein because of one of our favorite ingredients, lentils. In case you are not familiar with lentils, here is why lentils will make a great addition to your cooking.
The lentil is a legume and a is a dietary staple throughout regions of India, Sri Lanka, Pakistan, Bangladesh, and Nepal. Lentils are rich in minerals, protein, and fiber.
Here are more facts about lentils:
Lentils are an excellent natural source of folate and manganese.
They are an inexpensive source of protein.
Evidence suggests they protect heart health.
Lentils are an easy-to-prepare, versatile, and nutritious ingredient.
From a nutrition perspective here is what you get with 1 cup (198g) of cooked lentils contains:
230 calories
17.86 g of protein
0.7 g of fat
39.86 g of carbohydrates, including 15.6 g of fiber and 3.56 g of sugar
0g of Cholesterol
As mentioned above, lentils are rich in minerals and are an inexpensive and nutritious way to meet the daily intake requirements of the following minerals:
iron
manganese
phosphorus
thiamin
potassium
vitamin B6
Now that you know how nutritious lentils are, here's the recipe for lentils Tacos made with Instant Pot. First, you have to cook the lentils and rice.
After that, you prepare the ingredients to make the Tacos. See below for both recipes.
Smoky Instant Pot Lentils and Rice Recipe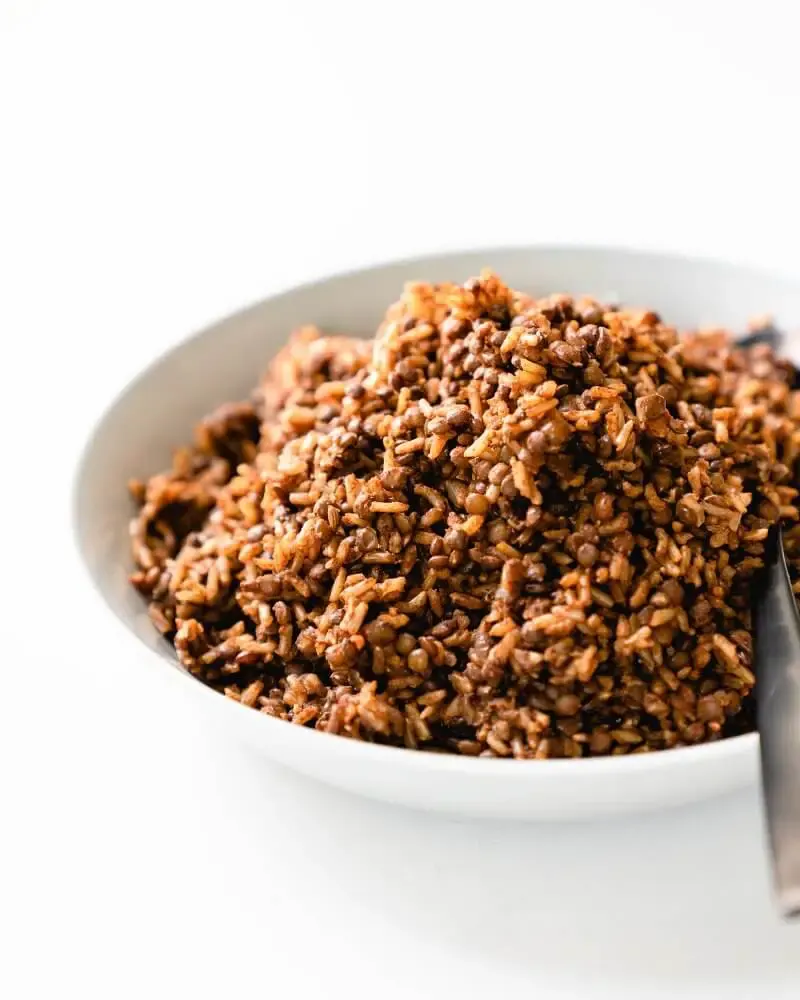 INGREDIENTS
4 cups vegetable broth
2 cups long grain brown rice (do not sub short grain or white rice)
2 cups French green lentils (also known as Puy; green works if you can't find French)
2 tablespoons smoked paprika (pimentón; do not sub sweet)
2 teaspoons fennel seeds
2 teaspoons onion powder
1 teaspoon granulated garlic powder
1 teaspoon black pepper
1 teaspoon kosher salt
1 tablespoon apple cider vinegar
INSTRUCTIONS
In the Instant Pot, place all ingredients except the vinegar and give them a stir. Lock the lid and place the vent in the "Sealing" position.
Cook the lentils: Press the Pressure Cook button (making sure the "High Pressure" setting is selected) and set the time for 16 minutes. Wait while the Instant Pot cooks.
Wait for natural release: After the pot beeps, use the Natural Release method and wait another 16 minutes to let the pot cool down naturally. Then vent any remaining steam by moving the pressure release handle to "Venting", covering your hand with a towel or hot pad.
Open the lid and stir in the apple cider vinegar. Taste and add additional salt as necessary (veggie broth does vary in salt content, so you may need to add more salt). Serve warm.
Instant Pot Tacos with Lentils Recipe
INGREDIENTS
4 cups Instant Pot Smoky Lentils and Rice 

1 cup cherry tomatoes, multi-colored if desired

1 head romaine lettuce

1/2 small red onion

8 corn tortillas

1 cup salsa (any high-quality brand)

1/2 cup feta crumbles (optional)

Cilantro (optional)

*Other ideas for sauces: Cilantro drizzle (vegan), Chipotle cashew cream (vegan), Avocado cream, or sour cream
INSTRUCTIONS
Make the Instant Pot Smoky Lentils and Rice recipe (takes about 40 minutes).

Meanwhile, chop the cherry tomatoes and lettuce. Thinly slice the red onion.

Warm the tortillas, or char them by placing a tortilla on an open gas flame on medium for a few seconds per side, flipping with tongs, until slightly blackened and warm.

To assemble each taco, load the tortilla with smoky lentils, lettuce, tomatoes, onions, salsa, feta crumbles, and torn cilantro leaves. Feel free to customize with any other toppings you like!
Prep Time: 3 minutes
Cook Time: 37 minutes
Yield: 8 tacos (4 servings)
Recipe and images courtesy of acouplecooks.com.
Comments
comments