Last updated on 4/13/23
FoodStampsNow is reader-supported. When you buy through links on our site, we may earn an affiliate commission at no additional cost to you. You can read our full disclaimer here.
You have probably heard that Amazon will soon begin accepting food stamps online. One of the questions related to this topic is this – Does AmazonFresh Accept EBT for online purchase for delivery? In this post, we will explain how AmazonFresh works and whether you can use EBT to make purchases using the service.
This post will cover:
Does AmazonFresh Accept EBT?
How to Sign up for AmazonFresh free trial
USDA EBT Online Pilot Program
How we think EBT will be used on AmazonFresh
What is Amazon Fresh?
AmazonFresh is a grocery delivery and pickup service available exclusively to Amazon Prime members. As of March 2019, the service is available in major cities, including the following:
Atlanta
Baltimore
Boston
Chicago
Dallas
Denver
Los Angeles
Miami
New York City Metro
Northern Virginia
Philadelphia
Sacramento
San Diego
San Francisco
Seattle
Prime members in these cities can shop for groceries, everyday essentials, favorites from local shops and restaurants, and more with AmazonFresh.
Benefits of Amazon Fresh
There are several benefits to having an AmazonFresh membership:
Convenience
The first benefit is one of convenience. You can place an order in the morning for same-day service or order your groceries at night and have them delivered in the morning.
You can choose to be present at the time of the delivery or have Amazon leave the items at your doorstep.
More Choices 
In addition to groceries, AmazonFresh delivers household essentials, Personal Care, Health & Beauty and specialties from local shops and markets.
The video below explains how the process works, including the delivery service.
What is the cost of Amazon Fresh?
AmazonFresh is $14.99 a month and is only available to Amazon Prime members.
This means that to get started with AmazonFresh, you'll first need to obtain an Amazon Prime membership, which costs $12.99 for a month.
However, as you may be aware, Amazon offers a more than 50% discount on Amazon Prime for EBT Cardholders – which brings the cost of Prime to $5.99 a month. To sign up for the Amazon Prime discount, click here.
Delivery is free for AmazonFresh orders $50 or more.
What can I buy on AmazonFresh?
Here's what you can buy on AmazonFresh:
Groceries: Whole Foods products, produce, prepared foods, deli, dairy, frozen foods, meat & seafood, meal kits, beverages, breads, snacks, etc.
Household, Health & Beauty: Cleaning supplies, over-the-counter essentials, personal care items, baby products, and pet supplies
Local Market: Local products, such as prepared meals, pressed juice and baked goods, delivered right to your door with the rest of your AmazonFresh order.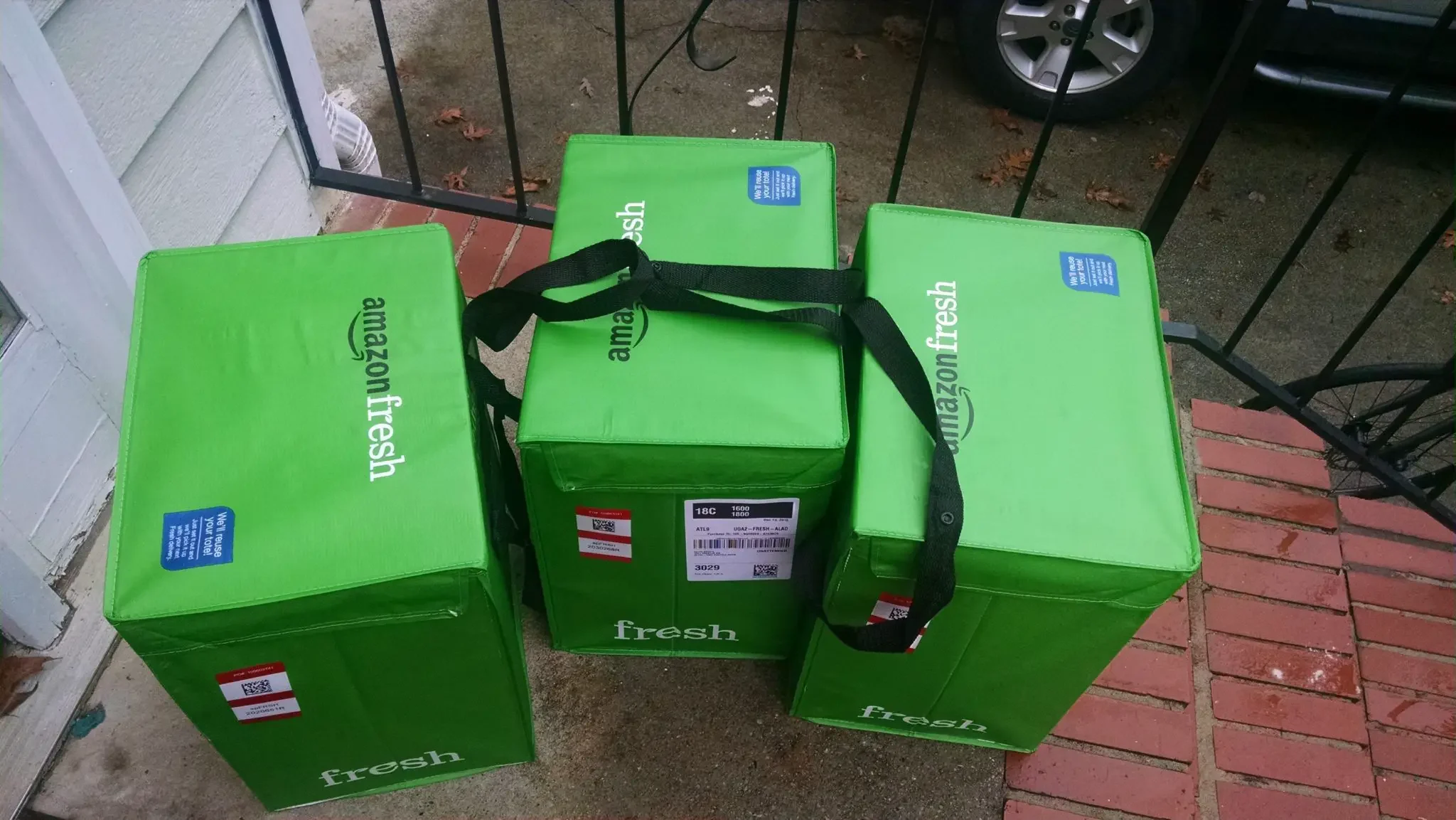 Does AmazonFresh Accept EBT?
Not Yet, but that will change soon. Amazon.com is getting ready to accept EBT for purchases online starting in 2019. That's according to an update from the United States Department of Agriculture (USDA).
Amazon is one of the retailers selected for a USDA pilot that began in 2017.
Since Amazon Fresh is a grocery delivery service, only Amazon Prime customers who also have Amazon Fresh will be able to use the service when Amazon starts accepting EBT for online purchase.
Does AmazonFresh offer a free trial?
Amazon offers a FREE 30-day trial of AmazonFresh. You'll automatically be upgraded to a paid membership at the end of your trial period unless you cancel. To sign up for the 30-day FREE trial of AmazonFresh, click here or click on the link below.
Try AmazonFresh for 30 Days FREE!
NOTE: You need Amazon Prime to sign up for AmazonFresh. If you have an EBT Card and want to sign up for the AmazonFresh free trial below, you should FIRST sign up for Amazon Prime (click on the link and button above).
If you do not sign up for Amazon Prime before you sign up for AmazonFresh, you will automatically be signed up for a FREE Amazon Prime 30-day trial. After the 30 days, if you don't cancel, you will be charged $12.99 a month for Amazon Prime and $14.99 a month for AmazonFresh.
Sign up for Amazon Prime EBT Discount
If you are an EBT cardholder, here is great news from Amazon.com. You can get Amazon Prime for $5.99 a month. That is more than a 50% discount from the regular price of $12.99 a month.
If you are not familiar with Amazon Prime and all the amazing perks and benefits that come with it, see our article here.
Sign up for Amazon Prime EBT Discount here.
USDA EBT Online Pilot Program
The food stamps program is intended to help eligible low-income people afford food. However, some food stamps recipients do not have access to healthy and fresh food around where they live, especially in some urban and rural areas of the country.
These people live in what is called a "food desert." To help address this problem, the USDA started a pilot program in 2017 allowing the following retailers to set up programs to allow food stamps recipients to purchase eligible food online for delivery.
Amazon
Dash's Market
FreshDirect
Hy-Vee, Inc.
Safeway
ShopRite
Wal-Mart Stores, Inc.
Wright's Markets, Inc
As you can see, Amazon is one of the retailers selected. They have since been working on setting up their systems to be able to accept EBT cards.
While Amazon has not yet started accepting EBT online for purchases, including for Amazon Fresh, the USDA expects Amazon and other retailers in the pilot to start accepting EBT in 2019, according to this February 2019 update.
How we think EBT will be used on AmazonFresh
Shopping Experience: If you have an EBT card, you will be able to order only items eligible food stamps items. If you are not sure what you can buy with your EBT, see our post here.
Once you select your items, you will be able to use your EBT Card to pay at checkout. There may be a minimum order amount, just like FreshDirect currently does with online EBT orders.
Delivery Process: If you have an AmazonFresh account as part of your Amazon Prime service, your order will be delivered to you.
Just like with Fresh Direct, you may be required to swipe your EBT card and enter your PIN to confirm your purchase total at the time of delivery.
Since the Amazon is yet to start accepting EBT cards, there is no way of knowing exactly how the service will work with AmazonFresh. However, given how EBT is currently being accepted by other retailers online, we are making an assumption that Amazon will operate in similar fashion.
We will continue to post updates to this post as we learn more about Amazon's intentions regarding launching their pilot to accept EBT online for eligible food stamps purchases.
If you have any questions about how AmazonFresh works, you can ask us in the comments section below.
If you found this post on "Does AmazonFresh Accept EBT?" helpful, help us spread the word by sharing it using the "Share this" button below.
Comments
comments