If you live in Pennsylvania and would like to apply for government benefits, the easiest way to do that is to apply online through the Department of Health and Human Services COMPASS Website. In this post, we will explain the step by step process on how to create Compass.state.pa.us Account.
This Post will Cover:
Benefits of COMPASS Account
How to Create Compass.state.pa.us Account
How to Apply for Benefits Using myCOMPASS Account
Benefits of COMPASS Account
There are several benefits to signing up for a COMPASS account. You can use the COMPASS account to:
A COMPASS account provides you access to many of Pennsylvania's health and human services benefits online and allows you to:
Learn about benefits and see if you qualify
Apply for benefits and renew existing benefits
Manage your benefits
Connect to other benefits that aren't available on COMPASS
Benefits you can access through COMPASS include:
Health Care Coverage
Medical Assistance
Medicaid for Former Foster Care Youth
Medical Assistance for Workers with Disabilities (MAWD)
Medicare Savings Program (MSP)
Children's Health Insurance Program (CHIP)
Health Insurance Marketplace
Supplemental Nutrition Assistance Program (SNAP or Food Stamps)
Cash Assistance (TANF)
Long Term Living Services – Home and Community Based
Long Term Living Services – Nursing Home and Related Facilities
Low-Income Home Energy Assistance Program (LIHEAP)
Free or Reduced Price School Meals
Child Care Works
How to Create Compass.state.pa.us Account
Here's how to create a PA COMPASS account and sign up or manage your benefits.
Step 1 – Visit Compass site
The first step in creating a COMPASS account is to visit the PA COMPASS website. Click here to be taken there. Once there, Click on "LOGIN/REGISTER" at the top as shown below:
You will be taken to a page like the one below.
Step 2 – Complete Registration Form
You will be taken to a page where you will be required to complete a registration form with the following personal information:
First Name
Last Name
Date of Birth
Email Address
Username (you can also choose to use your email as your username)
Password

Note: The same username and password you create for COMPASS will also work for other Commonwealth services, including Pennsylvania Child Welfare Information Solution, PA Disaster Training Registration, PA Child Support Program, and JobGateway.
Step 3 Select Secret Questions
The next step is to select three secret questions that will be used to help you log into your account in case you forget your username or password.
Select three questions you are likely to remember the answers to.
Step 4 – Select Program Options
The final step is to select one of the options below. This allows you to connect your existing case to your COMPASS account.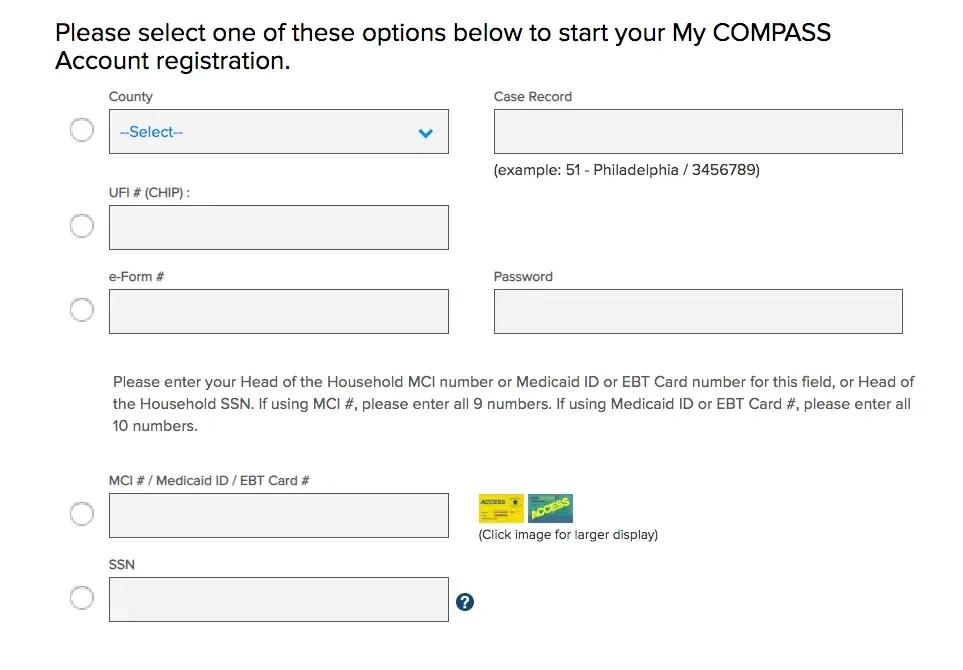 Once you have completed the step above, accept the "Terms and Conditions" by checking the box below and click "Register" to proceed.
Congratulations!!!! You have successfully created a COMPASS account. Now, watch the video below to see how easy it is to use your myCOMPASS account to apply for benefits or manage and renew your benefits online.
How to Apply for Benefits Using myCOMPASS Account
The video below explains in detail how to use COMPASS to apply, manage or renew your benefits.
Create Compass.state.pa.us Account Summary
We hope this article on Create Compass.state.pa.us Account was helpful.
If so, we encourage you to share this article with anyone who may also find it helpful by using the "Share this" button below.
If you have any questions or experience any issues while using PA Compass, call the Department of Public Welfare Helpline toll-free at 1-800-692-7462 (1-800-451-5886 TDD number for individuals with hearing impairments) or your local county assistance office.
For additional questions about the Pennsylvania SNAP or EBT, please leave those in the comments section below. We are here to help you!
Be sure to check out our other articles about Pennsylvania Food Stamps and EBT, including:
Comments
comments