Your EBT card does more than allow you to purchase eligible food items at approved locations. Did you know that you can get Washington EBT discounts with your independence card?
In this post, we will share all the
amazing discounts and perks
that come with your WA food stamps card. All you have to do is present your card at a participating location to take advantage of these awesome discounts.
The first discount we want to highlights is the Amazon Prime EBT discount. If you have a Washington EBT card, you can
get up to 50% off
Prime Membership. Prime Membership gives you:
Free Same-Day Delivery
Free Two-Hour Delivery
Get Paid for No-Rush Delivery
Free Music
Free Books, Magazines, Audiobooks
Binge on Your Favorite Shows
Early Access to Lightning Deals
Whole Foods Discounts and Delivery
Membership Sharing
Amazon Prime Day Deals
Free Delivery to Your Car
Prime Pantry's Flat Fee
Unlimited Photo Storage (Videos and Documents, Too)
Furthermore, You also may qualify for free or discounted cell phone or home phone plans under the Federal lifeline program as described in details below.
In addition, there are also discounted home internet services for those who qualify.
Also, your Washington Quest Card gives you discounted or FREE access to museums and other great family-friendly places in the state of Washington.
In this post, we are going to share all the exciting Washington EBT discounts, perks, and free stuff available to cardholders.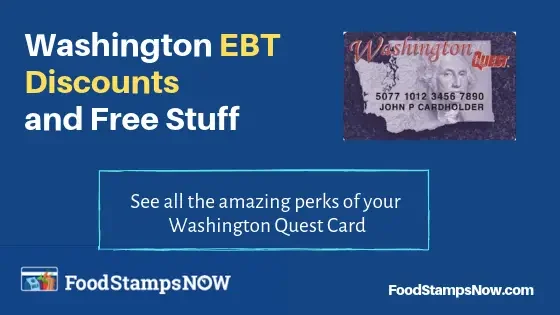 National EBT Discounts
Below are the discounts that are available to all EBT Cardholders across the United States, that can also be redeemed by Washington EBT Card Holders.
Amazon Prime EBT Discount
If you have a Washington Quest Card, you can now sign up for Amazon Prime EBT Discount and get all the great benefits that come with Prime membership, at a fraction of the cost.
The regular Amazon Prime membership is $14.99 a month. However, if you have an EBT Card, you can get Prime Membership for $6.99. That's over 50% off the regular price.
Given that Amazon is part of the USDA pilot of vendors approved to accept food stamps online for delivery, prime membership allows you to order groceries through Amazon Pantry in certain parts of the country.
Sign-up for Amazon Prime EBT Discount HERE
If you are not sure if the Amazon Prime EBT Discount is worth it, here is a summary of the what you get with your Amazon Prime membership:
FREE, Fast Delivery on Millions of Items
With Amazon Prime membership, you get fast, free shipping on over 50 million eligible items on Amazon.com. They have also rolled out a program recently that allows people who live in certain metropolitan areas to get FREE Same-Day Delivery on over a million items and FREE 2-hour delivery with Prime Now on daily essentials and groceries.
Instantly Stream TV Shows and Movies
One of the most popular features is the instant streaming of TV Shows and Movies. Your Prime membership includes instant access to thousands of movies and TV shows at no additional cost. You can stream all these on select Smart TVs, Roku, Xbox, Amazon Fire TV, iPhones, tablets, and Android devices.
Other Benefits of Amazon Prime
Buy groceries online with your EBT Card through Amazon Pantry for delivery (in states where this is available)

Over two million songs. Thousands of playlists and stations (On-demand, ad-free music streaming)

Books, Magazines & More (Unlimited reading on any device)

Original audio series from Audible (Unlimited listening to original audio series)

Twitch Prime (Get free game content every month, exclusive discounts, plus loads more)

All your photos, together at last (Free unlimited photo storage)
Washington EBT Discounts for 2023
Lifeline Program
If you are currently on Food Stamps/EBT Cardholder, and your income is below a certain level, you may qualify for FREE or low-cost home or cell phone service for you or a member of your family through the Federal Lifeline Program, which serves nearly 13 million Americans.
The Lifeline program helps to lower the monthly cost of phone and internet service. Eligible customers will get at least $9.25 toward their monthly bill. You can only use Lifeline for either phone or internet service, but not both.
Discounted Cell Phone Services
Below is a list of cell phone providers that participate in the Lifeline program in the state of Washington.
Discounted Home Phone Services
Below is a list of home phone providers that participate in the Lifeline program in the state of Washington.
Discounted Internet Service
The new Affordable Connectivity Program (ACP) provides discounted internet to EBT Cardholders. The program provides households with a $30 discount on their internet service each month.
Plus, you could also get a one-time $100 discount on the purchase of an eligible laptop, desktop or tablet.
You can combine the $30 ACP internet credit with your Lifeline phone service to save even more on your phone and internet bill each month.
To find out how to apply, check out our article here.
Discounted Museums Admission
As an EBT cardholder in Washington, you also get discounted or FREE access to museums and other great family-friendly places. We have compiled the list below for your convenience.
The Washington Museums listed below all offer individual admission fees ranging from FREE to $3.00 to individuals and families who have an Electronic Benefits Transfer (EBT) card, and a valid form of photo ID.
The offer covers up to four individuals per EBT card, which means that if you have a family of 4, you can use your Washington EBT card to get the special discounted rate or the free admission for all four members.
These rates are available during all normal operating hours. We advise that you call the museum first before you go – so that you can find out what their special rate is for EBT Cardholders (whether it's free admission or $3).
Here is the list of participating Museums:
KidsQuest Children's Museum
1116 108th Ave NE 
Bellevue, Washington 98006
425.637.8100
Imagine Children's Museum
1502 Wall Street 
Everett, Washington 98201
425-258-1006
Children's Museum of Tacoma
1501 Pacific Avenue 
Tacoma, Washington 98402
253.627.6031
Foss Waterway Seaport
705 Dock Street 
Tacoma, Washington 98402
253-272-2750
Museum of History and Industry (MOHAI)
860 Terry Ave N 
Seattle, Washington 98109
206-324-1126
Museum of Pop Culture
325 5th Ave N 
Seattle, Washington 98105
206-770-2700
Seattle Children's Museum
305 Harrison Street 
Seattle, Washington 98109
206-441-1768
Kids Discovery Museum
301 Ravine Lane 
Bainbridge Island, Washington 98110
206-855-4650
Hands On Children's Museum
414 Jefferson St. NE 
Olympia, Washington 98501
360-956-0818
Washington EBT Discounts Summary
We hope this article on Washington EBT Discounts for 2023 was helpful.
If so, we encourage you to share this article with anyone who may also find it helpful by using the "Share this" button below.
If you have additional questions about the Washington SNAP or EBT, please leave those in the comments section below. We are here to help you!
Be sure to check out our other articles about Washington Food Stamps and EBT, including:
Comments
comments