Do you know about Kentucky EBT Discounts and perks? Most Kentucky cardholders are not aware of the awesome benefits that come with their Card. If you have a Kentucky EBT Card, your card comes with discounts and perks exclusive to EBT cardholders.
This includes discounted admission to museums, zoos, and aquariums, more than 50% discount on Amazon Prime Membership.
In addition, your Kentucky EBT Card qualifies you for discounted or FREE cell phone and home internet plans. 
In this post, we are going to share with you the most exciting Kentucky EBT discounts, perks, and free stuff.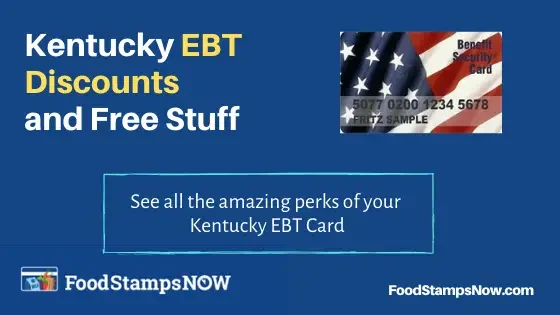 National EBT Discounts
Below are the discounts that are available to all EBT Cardholders across the United States, that can also be redeemed by Kentucky EBT Cardholders.
Amazon Prime EBT Discount
If you have a Kentucky EBT Card, you can now sign up for Amazon Prime EBT Discount and get all the great benefits that come with Prime membership, at a fraction of the cost.
The regular Amazon Prime membership is $14.99 a month. However, if you have an EBT Card, you can get Prime Membership for only $6.99. That's over 50% off the regular price.
Given that Amazon is part of the USDA pilot of vendors approved to accept food stamps online for delivery, prime membership allows you to order groceries through Amazon Pantry in certain parts of the country.
Sign-up for Amazon Prime EBT Discount HERE
If you are not sure if the Amazon Prime EBT Discount is worth it, here is a summary of the what you get with your Amazon Prime membership:
FREE, Fast Delivery on Millions of Items
With Amazon Prime membership, you get fast, free shipping on over 50 million eligible items on Amazon.com. They have also rolled out a program recently that allows people who live in certain metropolitan areas to get FREE Same-Day Delivery on over a million items and FREE 2-hour delivery with Prime Now on daily essentials and groceries.
Instantly Stream TV Shows and Movies
One of the most popular features is the instant streaming of TV Shows and Movies. Your Prime membership includes instant access to thousands of movies and TV shows at no additional cost. You can stream all these on select Smart TVs, Roku, Xbox, Amazon Fire TV, iPhones, tablets, and Android devices.
Other Benefits of Amazon Prime
Buy groceries online with your EBT Card through Amazon Pantry for delivery (in states where this is available)

Over two million songs. Thousands of playlists and stations (On-demand, ad-free music streaming)

Books, Magazines & More (Unlimited reading on any device)

Original audio series from Audible (Unlimited listening to original audio series)

Twitch Prime (Get free game content every month, exclusive discounts, plus loads more)

All your photos, together at last (Free unlimited photo storage)
Kentucky EBT Discounts for 2023
Get the complete list of Kentucky EBT Discounts for 2023 below:
Lifeline Program
If you are currently on Food Stamps/EBT Cardholder, and your income is below a certain level, you may qualify for FREE or low-cost home or cell phone service for you or a member of your family through the Federal Lifeline Program, which serves nearly 13 million Americans.
The Lifeline program helps to lower the monthly cost of phone and internet service. Eligible customers will get at least $9.25 toward their monthly bill. You can only use Lifeline for either phone or internet service, but not both.
Discounted Cell Phone Services
Below is a list of cell phone providers that participate in the Lifeline program in the state of Kentucky.
Discounted Home Phone Services
Below is a list of home phone providers that participate in the Lifeline program in the state of Kentucky.
Discounted Internet Service
The new Affordable Connectivity Program (ACP) provides discounted internet to EBT Cardholders. The program provides households with a $30 discount on their internet service each month.
Plus, you could also get a one-time $100 discount on the purchase of an eligible laptop, desktop or tablet.
You can combine the $30 ACP internet credit with your Lifeline phone service to save even more on your phone and internet bill each month.
To find out how to apply, check out our article here.
ACP Internet Providers in Kentucky
Currently, Kentucky has 97 ACP internet providers. We've provided a list of all the Kentucky companies offering discounted internet to EBT Cardholders below.
Kentucky Affordable Connectivity Program (ACP) Internet Providers
Internet Provider Name
Phone Number
Type of Service
Free with ACP
Mediacom LLC
855-330-6918
Home Internet
Yes
Clear Wireless, LLC
888-341-3471
Home Internet
Yes
Twigby
ACP Home Int
Home Internet
Windstream Communications, LLC*
866-445-8084
Home Internet
Cellular Services, LLC
606-297-3501
Home Internet
Highland Communications, LLC
423-346-4050
Home Internet
LTC Deregulated
270-542-4121
Home Internet
Zito West Holding, LLC
800-365-6988
Home Internet
EARTHLINK, LLC
888-327-8454
Home Internet
W.A.T.C.H. TV Company
800-589-3837
Home Internet
Yes
Culture Wireless
404-254-6236
Home Internet
Yes
Metro Communications LLC
800-229-6004
Home Internet
Verizon Wireless
800-922-0204
Home Internet
City of Barbourville
606-546-3187
Home Internet
AT&T*
866-986-0963
Home Internet
Yes
Hopkinsville Electric System
270-887-0763
Home Internet
Foundation for California Community Colleges
866-325-3222
Home Internet
Maxsip Telecom Corporation
866-629-7471
Home Internet
Cathect Communications, Inc
866-961-9941
Home Internet
Yes
South Central Telcom LLC
270-678-2111
Home Internet
IJ Wireless
833-652-7527
Home Internet
Yes
Viasat
855-463-9333
Home Internet
Spectrum (Charter Communications Operating, LLC)
866-980-3107
Home Internet
Yes
South Central Rural Telecommunications*
270-678-8230
Home Internet
U2 CONNECT NOW
844-679-0909
Home Internet
TOAST.net Internet Service
419-292-2200
Home Internet
IgLou Internet Services
502-966-3848
Home Internet
Shentel, Glofiber, and Beam Wireless
800-743-6835
Home Internet
JB-Nets Broadband Services
740-446-2975
Home Internet
City Communications, Inc
888-424-5588
Home Internet
Yes
Yes
MetroNet
877-407-3224
Home Internet
Integrated Path Communications, LLC
888-224-6958
Home Internet
Yes
Hughes Network Systems, LLC
844-737-2700
Home Internet
Armstrong Telecommunications, Inc.
800-734-1146
Home Internet
SprintFone
786-259-0002
Home Internet
Yes
Lingo
866-405-4646
Home Internet
H2O Wireless
888-543-3620
Mobile Internet
Yes
InterConnection
206-633-1517
Mobile Internet
Yes
AT&T Mobility LLC*
866-986-0963
Mobile Internet
Yes
Gen Mobile, Inc
833-528-1380
Mobile Internet
Yes
Upward Mobile LLC
404-487-0931
Mobile Internet
Yes
Liberty Mobile Wireless
855-566-1776
Mobile Internet
Yes
PCs for People
651-354-2552
Mobile Internet
Yes
Yes
Cintex Wireless, LLC
800-931-0141
Mobile Internet
Yes
Yes
Thrive Mobile
888-384-7483
Mobile Internet
Yes
T-Mobile USA, Inc.
888-863-8768
Mobile Internet
Torch Wireless
877-998-6674
Mobile Internet
Yes
Infinity Mobile
214-323-8000
Mobile Internet
Yes
Yes
human-I-T
888-268-3921
Mobile Internet
Yes
Via Wireless, LLC
877-346-1501
Mobile Internet
Yes
Unity Wireless Inc.
800-701-3231
Mobile Internet
Yes
Yes
Insight Mobile, Inc.
866-330-0902
Mobile Internet
Yes
Rural4G
870-451-0373
Mobile Internet
Yes
Yes
Verizon Wireless
800-922-0204
Mobile Internet
North American Local, LLC
888-247-3903
Mobile Internet
Yes
Yes
Access Wireless*
866-594-3644
Mobile Internet
K20 Wireless
717-400-5573
Mobile Internet
Yes
Yes
Boost Mobile
866-402-7366
Mobile Internet
Yes
Comlink Total Solutions Corp
833-526-0200
Mobile Internet
Red Pocket, Inc
888-993-3888
Mobile Internet
SWA CONNECT
877-732-7987
Mobile Internet
Yes
UVNV, Inc.
888-777-0446
Mobile Internet
Hello Mobile Telecom LLC
888-854-3556
Mobile Internet
Yes
Boftech
248-905-1907
Mobile Internet
Yes
Yes
NewPhone Wireless, LLC
855-204-3667
Mobile Internet
Yes
Yes
Cricket Wireless
844-246-8364
Mobile Internet
Yes
Sage Telecom Communications, LLC*
800-430-0443
Mobile Internet
Yes
Yes
Excess Telecom, Inc.
800-615-0898
Mobile Internet
Yes
Yes
Selectel Wireless
877-218-5744
Mobile Internet
Yes
Yes
ALLDATA COMMUNICATIONS CORP.
877-324-3424
Mobile Internet
Yes
Straight Talk, Total Wireless, Simple Mobile, Walmart Family Mobile, TracFone, Net10, Page Plus & Go Smart*
833-333-9227
Mobile Internet
Yes
Whoop Connect Inc.
888-200-1076
Mobile Internet
Yes
Sarver Wireless
888-744-8950
Mobile Internet
Yes
Yes
IDT Domestic Telecom, Inc.
800-689-0617
Mobile Internet
Yes
Sano Health LLC
866-970-7299
Mobile Internet
Yes
Yes
Life Wireless*
888-543-3620
Mobile Internet
Yes
TAG Mobile, LLC*
866-959-4918
Mobile Internet
Yes
AT&T*
866-986-0963
Mobile Internet
Yes
Airtalk Wireless*
855-924-7825
Mobile Internet
Easy Wireless*
877-476-3451
Mobile Internet
Yes
Yes
Wrazzle, Inc.
800-380-0547
Mobile Internet
Yes
SafetyNet Wireless*
888-224-3213
Mobile Internet
Yes
Yes
Ztar Mobile, Inc
800-416-3003
Mobile Internet
Yes
Clear Wireless, LLC
888-341-3471
Mobile Internet
Yes
Tempo Telecom, Inc.*
833-998-3676
Mobile Internet
Yes
Tone Communication Services LLC
800-515-8182
Mobile Internet
Z1 Wireless
561-434-4509
Mobile Internet
IJ Wireless
833-652-7527
Mobile Internet
Yes
Culture Wireless
404-254-6236
Mobile Internet
Yes
City Communications, Inc
888-424-5588
Mobile Internet
Yes
Yes
Assurance Wireless*
888-321-5880
Mobile Internet
Boomerang Wireless, LLC*
866-488-8719
Mobile Internet
Yes
Hoop Wireless, LLC
833-367-4667
Mobile Internet
Yes
Yes
Global Connection Inc. of America*
800-544-4441
Mobile Internet
Yes
Yes
American Assistance and Your Call Wireless*
877-266-7212
Mobile Internet
Yes
Q Link Wireless LLC*
855-754-6543
Mobile Internet
Yes
Yes
LTE Wireless
877-388-2232
Mobile Internet
Yes
As mentioned earlier, your Kentucky EBT Card gives you discounted or FREE access to museums and other great family-friendly places. For more information, continue reading below.
Discounted Museums Admission
One of the great benefits of the Kentucky EBT Card is access to great tourist, cultural, educational and adventure museums. You get discounted admission to museums, zoos, aquariums and many more.
Currently, there are over 7 locations offering free or discounted admission to Kentucky EBT Cardholders.
The Kentucky Museums listed below all offer individual admission fees ranging from FREE to $3.00 to individuals and families who have an Electronic Benefits Transfer (EBT) card and a valid form of photo ID.
This reduced rate is available during all normal operating hours to up to four individuals per EBT card. That means if you have a family of 4, you can use your KY EBT card to get the special discounted rate or free admission for all four members.
We advise that you call the museum first before you go – so that you can find out what their special rate is for EBT Card holders (whether it's free admission or $3).
Here is the list of participating Museums in Kentucky:
Aviation Museum of Kentucky
4029 Airport Road
Lexington, Kentucky 40510
Behringer-Crawford Museum
1600 Montague Road
Devou Park
Covington, Kentucky 41011
715 West Main Street
Louisville, Kentucky 40202
727 W Main Street
Louisville, Kentucky 40202
578 West Main Street
Lexington, Kentucky 40507
The Filson Historical Society
1310 S. 3rd St.
Louisville, Kentucky 40208
Kentucky EBT Card Discounts Summary
We hope this article on the Kentucky EBT Discounts for 2023 was helpful to you.
If so, we encourage you to share this article with anyone who may find it helpful.
For additional questions about the Kentucky Food Stamps Program or Kentucky benefits, please let us know in the comments sections below.
In the meantime, be sure to check out our other articles on Kentucky Food Stamps and Kentucky EBT, including:
Comments
comments