In this post, we will outline step-by-step how to apply for food stamps online in Tennessee. Food stamps are a part of the Supplemental Nutrition Assistance Program (SNAP) that enables low income families with the ability to purchase eligible food items that promote better health and nutrition. SNAP benefits, also referred to as Families First benefits are administered by the Tennessee Department of Human Services. For help on how to apply for food stamps online TN, keep reading our post below.
In order to be eligible for SNAP benefits in Texas, you must first meet certain income requirements. First and foremost, you must be a resident of the state of Tennessee in order to receive SNAP benefits. Eligibility for SNAP benefits is also based on citizenship, income, employment, assets, and deductions. To find out whether you qualify to receive Food Stamps benefits, please refer to the monthly income limit chart below.
If you're eligible to receive SNAP benefits in Tennessee, you'll be issued an Electronic Benefits Transfer (EBT) card, also known as a Benefit Security card. EBT is an online system in which food stamp and cash assistance benefits are stored and electronically accessed by customers at a point of sale machine with an EBT card. Your EBT card can be used just like a debit card at any participating grocery stores to purchase qualified food items. Your benefits are delivered to your EBT card on the same day each month.
If you qualify to receive SNAP benefits, then follow our step-by-step guide on how to apply for food stamps in Tennessee online. If you wish to apply for SNAP benefits but are unable do so online, you may also apply at your local Department of Human Services county office. To find the nearest office to you, access the following page. To download the SNAP application, click the link here. If you wish to continue by applying for SNAP benefits online, please read our guide below.
How to Apply for Food Stamps Online TN:
Step 1 – Do you qualify to receive SNAP Benefits?
Before going through the process of applying for benefits, it's important that you determine whether you are eligible to receive benefits. To determine eligibility, a Department of Human Services caseworker may ask for documentation like birth certificates, social security cards, check stubs, bank statements, utility bills, rent receipts, tax returns, and insurance policies. Applicants are notified by mail within 45 days of the application date of their eligibility decision.
Step 2 – Apply for Tennessee SNAP Benefits
Once you've determined your eligibility, the next step is to submit your SNAP application. You will be able to apply for benefits online at the Tennessee Department of Human Services website. If you have not done so already, sign up a DHS account before completing your SNAP application. Be sure to have the following information ready for each member of your household before applying for benefits.
Social Security Number
Personal Identification (Example: driver's license, school ID with photo, Passport, Resident Alien Card, I-94 card, voter's registration card)
Residence Information (Example: lease agreement, utility bill, phone bill, or driver's license with your address on it)
Income (Example: check stubs, employer statement)
Shelter costs (Example: mortgage payments, property tax, homeowner's insurance, rent receipt, lease agreement)
Utilities Costs (Example: electric bill, water bill, gas bill)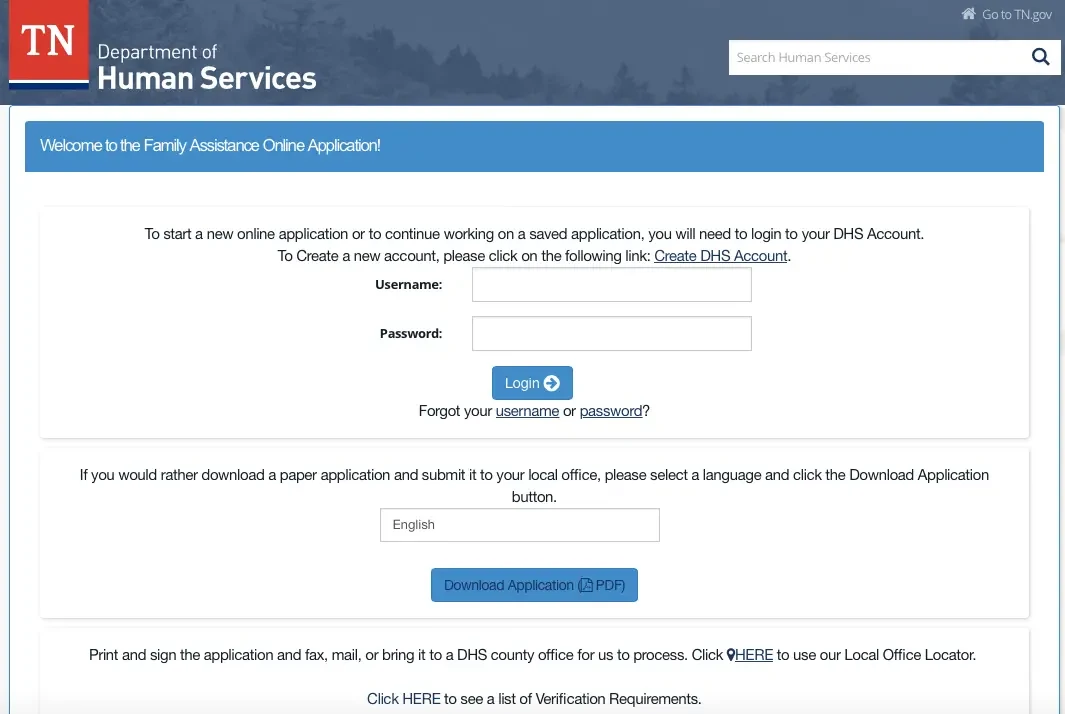 Step 3 – Complete an Interview
Once your application has been received by your local office, a local department agent will contact you to set up an interview. Interviews are usually done in-person or by phone. You will receive more information regarding the interview process after your SNAP application has been submitted. You may be asked to provide more information to determine your eligibility during your interview. Your agent will explain what information is needed, how to get it, and help you if you need assistance. Please be aware all information is kept confidential.
Step 4 – Tennessee EBT Card
If you've made it to this step, then that means you've been approved to receive SNAP benefits in the state of Tennessee! You'll be receiving your debit-like EBT card, also known as Benefit Security card in the mail. Your card is to be used exactly like a debit card at point-of-sale terminals. Be sure to set up your 4-digit Personal Identification Number (PIN) once your EBT card is received in the mail. Be sure not share this number with anyone.
Your benefits can be used to redeem approved food items at participating retailers. If you wish to know the current balance on your EBT card, please access that information here by logging into your EBT account.
Apply for Tennessee Food Stamps Summary
We hope this article on how to Apply for Food Stamps Online TN was helpful.
If so, we encourage you to share this article with anyone who may also find it helpful by using the "Share this" button below.
If you have additional questions about the Tennessee SNAP or EBT, please leave those in the comments section below. We are here to help you!
Be sure to check out our other articles about Tennessee Food Stamps and EBT, including:
Comments
comments