Having failed to expand work requirements for millions of Americans who receive food stamps (SNAP) through the 2018 farm bill, the Trump administration is moving ahead with plans to introduce a rule to restrict the number of people that can receive food stamps without working. In this post, we will review in detail the new work requirements food stamps and how it will affect current SNAP recipients and those who apply for benefits in the future.
One thing is immediately clear: If the proposed rules go through, nearly 3 million people currently on food stamps could be at risk of losing their benefits, and many more could follow if the administration gets its way to implement all the changes they wanted under the farm bill.
In order to understand how the new rules came about, it helps to understand the President's view on the food stamps program and his determination to cut millions of people from the program.
President Trumps's Plan for Food Stamps
The President has had his sights on the food stamps program even before he became President. Here is how his views on SNAP has progressed.
During the Campaign
During his campaign for President, Trump repeatedly complained about the food stamps program and how millions of people on SNAP benefits were taking advantage of the taxpayer.
Some of the claims he made about the program turned out to be false. For example, in the video below, he claimed that there were 50 million people on food stamps, which at the time was not true.
The number of people on food stamps went up during the great recession but never reached 50 million.
As was expected, the number of people on food stamps grew quickly during the peak period of the great recession, from 2007-2009, when millions of people were out of work.
As a result, government assistance for people who were out of work went up, including food stamps benefits.
Congress made this possible by the passage of the stimulus legislation, which President Obama signed into law in 2009. At the peak of the recession, food stamp enrollment grew to 47.8 million people in December 2012.
In President Obama's last month in office, there were just under 42.7 million Americans receiving SNAP assistance, meaning that more than 5 million people were already off the program by the time President Obama left office, in part due to the improving economy.
However, as the economy continues to improve and unemployment levels go down, the number of people on food stamps has been decreasing at a slower pace than expected, as shown by the graph below.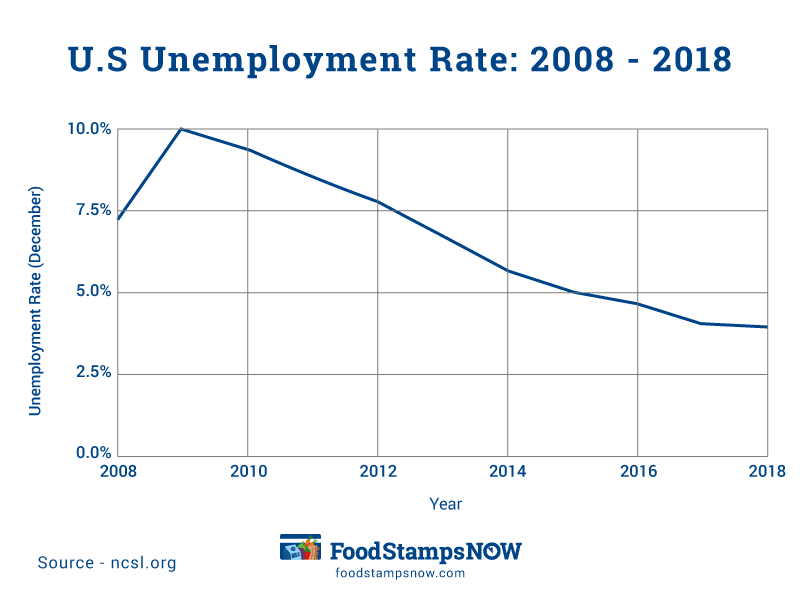 The unemployment rate has dropped from its peak of 10% in October 2009 (shortly after President Obama came into office in the middle of the great recession), to 4.7% when he left office.
It is currently 3.9% percent, as of December 2018.
The graph below shows the average number of people on food stamps during the same period. As you can see, the food stamps population increased sharply during the recession, from an average of 28.2 million people to a peak of 47.6 million in 2013.
As you can see, while unemployment continues to fall, the number of people on food stamps has not fallen as fast.
Why Food Stamps Enrollment is Still High
Many experts were hoping that the number of people on food stamps will fall just as the unemployment rate has fallen. That has not happened.
The main explanation for this is that the job market has continued to show scars from the Great Recession that the unemployment rate does not fully reflect.
First, while the unemployment rate has declined sharply over the past few years, there issues underneath the employment story that is not being shown by the numbers.
For example, while the share of the population with a job remains abnormally low, the number of people working fewer hours than they would like remains abnormally high.
In addition, long-term unemployment remains unusually high, and wage growth continues to be slow to non-existent.
Second, the jobs that were lost during the Great Recession has taken years to dig out. The additional job creation needed to catch up with population growth since 2007 and restore full employment has barely begun.
Third, the number of unemployed workers who aren't receiving any unemployment insurance benefits has continued to grow and is higher now than at the bottom of the recession.
This means that even as the overall number of unemployed workers has declined, the number of unemployed workers receiving no employment benefits has increased. These are the people likely to continue to receive food stamps.
Trumps Plan for Food Stamps After Becoming President
Immediately after becoming President, Donald Trump set his sights on cutting spending on the safety net for those on low income and the poor by proposing cuts to government programs such as Medicaid, affordable housing, and other anti-poverty programs.
In his first budget submitted to Congress, President Trump proposed $193 billion in cuts to the food stamps program over 10 years. That is 25 percent of the program's budget.
Should that plan be approved, it was guaranteed to kick millions of people from the food stamps program.
A big part of the President's proposal to cut food stamps targets the work requirements.
The President wants Congress to change to tighten requirements for waivers that allow people who are considered capable of working but can't find a job to continue to receive food stamps.
Proposal to Cut Food Stamps in 2018
The food stamps program, which is managed by the United States Department of Agriculture came up for renewal in 2018 under the farm bill.
The Trump administration, with Congressional Republicans, saw this as an opportunity to implement the deep cuts to food stamps they have been wanting for years.
They introduced a bill in the House of Representatives in April 2018, that not only cuts the food stamps program by $9 billion, but would require able-bodied beneficiaries between the ages of 18 and 59 to prove they were working at least 20 hours per week or were enrolled in school to continue to receive food stamps.
Food stamps beneficiaries are already required to work or look for work to continue to receive benefits, but how they do that varies by state.
However, the bill introduced in the house will tighten existing work requirements across the board, and if beneficiaries could not prove they were at least looking for work, they will lose their benefits.
The House bill also imposed new requirements on parents with children ages 6 to 12 who are receiving food stamps.
In addition, the bill imposed stringent penalties for low-income families who make paperwork errors when applying for benefits.
The first error would have cost a household a full year of food stamps benefits. A second error would have cost them 36 months — that's three years without food assistance.
The Congressional Budget Office estimated that the bill would have cut around 1.5 million people off from the food stamps program.
While the bill passed in the House of Representatives, the Democrats in the Senate blocked it from being passed in the Senate. It was eventually dropped from the version of the farm bill that the President signed into law in December 2018.
Millions Have Lost Benefits Under Trump
The President's push to cut millions of people off food stamps seems to be working. Since President Trump took office in January 2017, about 4.1 million people have been off food stamps.
Some of that may be due to the improving economy. However, there is no denying that the pressure the administration has been applying to reduce the number of people on food stamps seems to be working.
Between January 2017 and September 2018, the average number of people falling off the food stamps rolls is about 200,000 a month. That is more than at any period in the last 10 years.
The graph below illustrates the point clearly.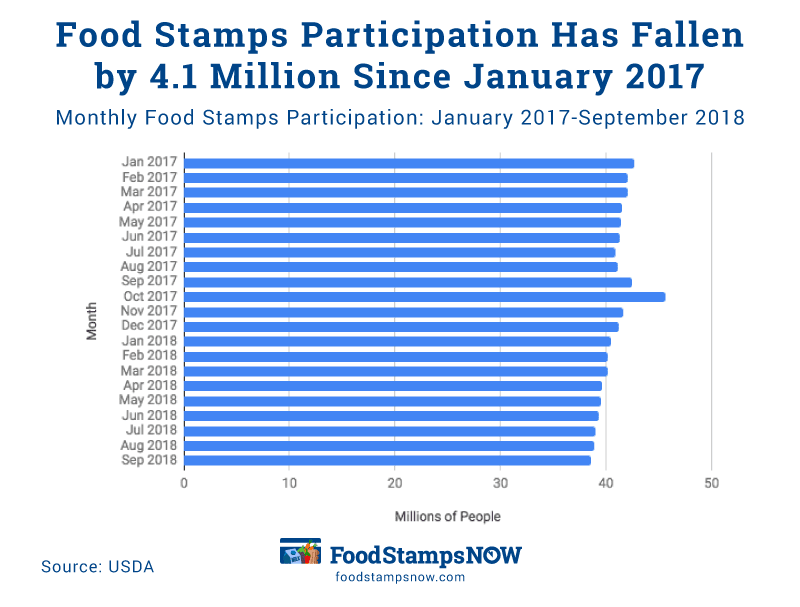 Trumps New Work Requirements For Food Stamps
The Trump administration failed to include their proposed strict work requirements for food stamps into the farm bill, but that does not mean they were done trying.
During the signing of the farm bill, the President announced that they were going to bypass Congress and use executive powers to tighten the food stamps work requirement.
The new rules, which will be introduced by the USDA, will force hundreds of thousands more Americans to hold jobs if they want to keep receiving food stamps.
An Attack on State Waivers
Under current rules, able-bodied adults without dependents — or ABAWDs, are eligible for food stamps for only three months in a three-year period if they do not work or participate in a job-training program for at least 20 hours each week.
However, current USDA regulations allow states to waive the requirement in areas with unemployment rates that are at least 20 percent greater than the national rate.
This waiver extends the period ABAWDs could get benefits from 3 months to up to two years if they live in areas with high unemployment.
Currently, Thirty-six states and territories have waivers for some adults without dependents. States can also bank exemptions for later use.
The new rule would crack down on the ability of states to access waivers by restricting them to areas where the unemployment rate is greater than 7 percent.
The waivers would also be good for only one year. This means that states will have to reapply for waivers every year, rather than every two years.
The change would not apply to elderly, disabled, or pregnant women.
It is estimated that as of 2016, there were 2.8 million people on food stamps that don't have dependents and are also not currently working.
These are the people that will be most affected by this new rule from the Trump Administration.
One estimate shows that about 755,000 will immediately lose their food stamps benefits once the rule goes into effect.
Does Food Stamps Discourage Work?
While it is a commonly held belief by some people that food stamps discourages people from working, there is very little evidence to support that.
But according to the researchers who study food stamps, there's no good evidence that food stamps discourage people from working.
In fact, the majority of non-disabled, working-age households that start to get food stamps don't actually stop working.
How About Food Stamps Fraud
What may come as a surprise to many is that there is also little waste and fraud in the food stamps program, contrary to the narrative pushed especially by conservative and right-wing media.
USDA data shows that 95 percent of federal dollars spent on food stamps go directly to benefits.
That is because the USDA takes food stamps abuse very seriously, which is why the rate of fraud has declined dramatically over the years.
According to reporting by Forbes Magazine, USDA data show that food stamps fraud jumped to $592.7 million in 2016, from $367.1 million in 2012
That's because the USDA stepped up fraud investigations. In 2016, the number of fraud investigations totaled 963,965, up more than 30% from 2012.
Yet, compared to the overall cost of the food stamps program, which was $66.5 billion in 2016, the fraud identified in 2016 amounted to a mere 0.9% of the total program cost. That was up from 0.5% in 2012.
In other words, 99% of the food stamps benefit dollars were in no way associated with fraud or less than 1% of the food stamps budget is used fraudulently.
Comments
comments