If you are currently receiving SNAP Benefits (Food Stamps) and want to know what foods you can buy with your EBT card, you've come to the right place. In this post, we are going to provide the list of eligible food stamp items you can buy with the EBT card. The key point to remember is that the SNAP benefit program is aimed at providing nutritious foods to eligible low income persons and families. The United States Department of Agriculture (USDA), which manages the program has strict guidelines to make sure that the money is being spent to buy nutritious foods.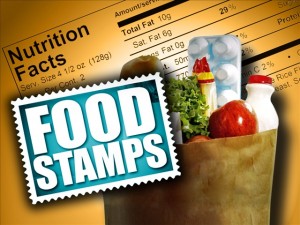 As a general rule, you can use SNAP food stamps to buy any food item except food that is hot when sold, or food that is sold to be eaten in the store like restaurant food. Eligible food items include: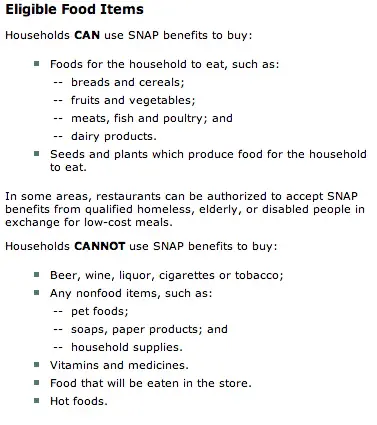 You can buy snacks, but there are stick guidelines regarding junk foods as outlined by the USDA below: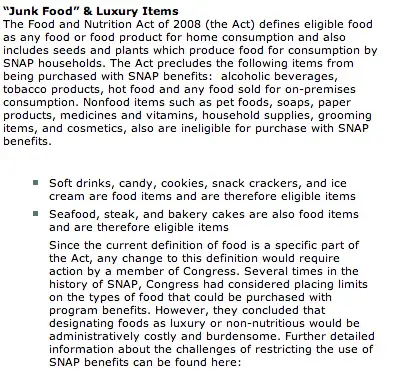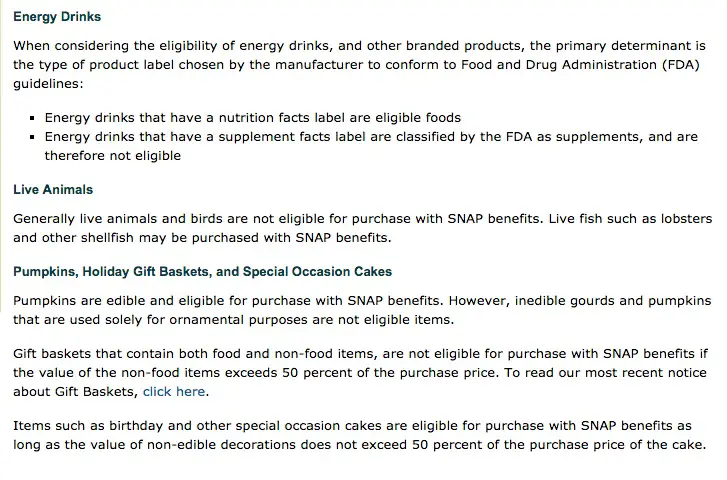 As you can see from the USDA list above, the following foods are allowed:
any food products or ingredients used to prepare meals at home
cold prepared sandwiches, salads, and other deli items
ethnic and health foods
snack foods, candy, soda, and ice
You can also use your EBT card to buy seeds or plants that you intend to grow to produce food for for your household consumption.
It's also clear from the list that there are certain items you CANNOT buy with the EBT card. It is important that you pay close attention to this list, as violating the rules, or conspiring with another person to violate any of the rules constitutes Food Stamp Fraud and could land you in big trouble with the government, including possible jail time.
If you don't think food stamp fraud could land you in jail, see the stories below – all happening in August and September 2013 alone:
Raleigh police make arrest in alleged food stamps for tattoos fraud
Shakopee Man Ordered to Pay Back Nearly $30,000 for Food Stamp Fraud
Over $600,000 seized in Phoenix food-stamp fraud probe

That's pretty much the List of Eligible Food Stamp Items you can buy with your EBT Card. If you stay within these guidelines, you will be within the law.
Comments
comments